BWW Review: EN EL TIEMPO DE LAS MARIPOSAS at GALA Hispanic Theatre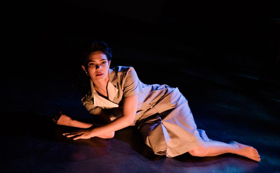 The four Mirabal sisters, who resisted the oppressive dictatorship of Gen. Rafael Trujillo in the Dominican Republic in the mid 20th century, became folk heroes decades after three of them were murdered by the regime nearly 70 years ago.
Eventually, the Butterflies, as they secretly called themselves, were on stamps of their home country. The United Nations in 1999 designated the date of the sisters' killing, Nov. 25, as International Day for the Elimination of Violence Against Women.
And Dominican-American author Julia Alvarez wrote an internationally recognized novel about the sisters "In the Time of the Butterflies," that was adapted into a 2001 movie with Salma Hyek.
But the story was also turned into an effective play by Caridad Svich, getting its D.C. premiere currently in a superbly-acted production of "En El Tiempo De las Mariposas" at the GALA Hispanic Theatre.
In the hands of New York director José Zayas, who previously directed "Chronicle of a Death Foretold" at the theater, it's a forceful and creative recreation of the sisters' lives, which were insular in some ways, but not when Trujillo - El Jefe, as he was called - got an eye for a middle sister and was soundly rejected.
Cuban TV star Broselianda Hernández returns to Gala as the surviving Mirabal sister Dedé, who recounts her tale to a visiting American writer with Dominican heritage, played by Karen Romero. As the story unfolds, the earlier days of the Mirabal sisters are recreated as the four cavort in white dresses (delightful costumes throughout are by Moyenda Kulemeka).
Patria (Lorena Sabogal) is the eldest; Minerva (played by another Cuban TV star Alina Robert) is determined to have a law career and to avoid the advances of Trujillo, something that leads to her being unable to practice law.
Inés Dominguez del Corral is very good as the youngest sister María Teresa, full of apolitical exuberance at first but becoming defiant as well as the three go off with a driver to visit incarcerated husbands never to return.
GALA company member Delbis Cardona has the job of playing every male role, from revolutionary to DJ to dictator and the driver who ends up getting killed as well.
Performed without an intermission to increase the intensity, "In the Time of Butterflies" gets a vivid staging by Zayas, making full use of swinging walls (set by Mariana Fernández) and myriad projections (by Alex Basco Koch).
But as splendid as the acting is, Svich's play is structured such that a lot of action taking place offstage, including crucial moments at play's end, is described instead of shown.
Alternately, Svich also takes time for give and take between the Dominican lifer and the writer who tried to maintain island traditions despite having been raised in the states.
Any connection of the play's events with today's political situation needs not to be overtly stated; indeed, as the opening night performing ran, a contemporary strongman ordered an airstrike on another country.
Running time: 100 minutes, no intermission.
Photo credit: Alina Robert; photo by Rose Campiglia.
"En El Tiempo De las Mariposas (In the Time of the Butterflies)" is presented in Spanish with English supertitles, through May 13 at GALA Hispanic Theatre, 3333 14th St. NW. Tickets available at 202-234-7174 or online.