Interview: Theatre Life with Jennifer Moeller
Today's subject Jennifer Moeller is currently living her theatre life as the costume designer for Twelfth Night at Shakespeare Theatre Company (STC). The production runs through December 20th at STC's Sydney Harman Hall space.
Jennifer is an STC affiliated artist and has previously designed The Tempest (mainstage, 2016 Free For All), A Midsummer Night's Dream (mainstage, 2015 Free For All), Julius Caesar (mainstage, 2011 Free For All), The Merchant of Venice, Richard II, Romeo and Juliet, Antony and Cleopatra, Tamburlaine, and Richard III.
Her work has been seen on Broadway with Sweat. Off-Broadway credits include Shakespeare in the Park with Love's Labour's Lost; Public Theater with Sweat and Tiny Beautiful Things; Playwrights Horizons with Aubergine; Signature Theatre with Dance and the Railroad; and Primary Stages: with Happy Now?.
Her many regional credits include La Boheme at Washington National Opera; Bachelorette and Venus in Fur at Studio Theatre; Candide at Glimmerglass Opera; The Last Goodbye at Old Globe; The How and the Why at McCarter Theatre Company; and Six Degrees of Separation at Williamstown Theatre Festival.
Jennifer holds a MFA from the Yale School of Drama.
Jennifer has designed many productions for STC and as you will read, she has many reasons why she keeps returning to this fine area venue.
With all of the holiday fare that's around at this time of year, it's important to remember that Shakespeare's work is just as much of a classic as Dickens'.
Twelfth Night is one of Shakespeare's best comedies and with a top-notch designer like Jennifer Moeller designing costumes for a Ethan McSweeney-helmed production, it's guaranteed to be a hit for you this holiday season.
"Play On" with your holidays as you will, but please consider putting Twelfth Night on your holiday viewing list. "Be not afraid of greatness." Just go and enjoy!!
At what point did you know costume design was going to be your chosen area of working in the theatre?
My father would say that it was when I was four and made clothes for my dolls with toilet paper and scotch tape. But I didn't become involved with the theatre until I was in college. I began as a sculptor and painter, but found it to be rather lonely. I don't think I realized it at the time, but I was longing for a form of creative expression that wasn't so isolated. So, when I fell into the theatre quite by accident, I embraced it because I loved having collaborators. I suppose this is also why I choose costumes. I enjoy people.
Where did you receive your training and who would you say were some of your most influential professors?
I met with the designer Georgi Alexi-Meskhishvili when I was at Dartmouth. Georgi gave me my first job out of school as his assistant on The Gambler at the Metropolitan Opera. In the years that followed, I worked with him on several operas around the world. He has a playfulness and sense of adventure in both his work and in his life that I really admire.
At Yale, I studied with Jane Greenwood, Jess Goldstein, and Ming Cho Lee. It was Jess and Ming who recommended me to Michael Kahn for his production of Richard III, which began my relationship with STC.
Can you please talk about your costume design concept for this current production of Twelfth Night at STC?
At our first meeting, director Ethan McSweeny described Illyria as "not a real place but a state of mind." He wanted a contemporary world, but encouraged me to embrace the topsy-turvy nature of the play and make it quirky and dreamlike. I immediately thought of Alessandro Michele's recent designs for Gucci that have taking the fashion world by storm. The eclectic blend of whimsical appliques, colorful patterns, and vintage details create a sort of nostalgic romance. The clothes are also gender fluid - women in suits and ties, men in pussy-bow blouses and bold florals. All of this is really great for Twelfth Night.
This production also begins with a brief prologue showing a group of strangers brought together in a plane crash that lands in Illryia. The very real and mundane clothes of this prologue provide a nice contrast to the exaggerated looks in Illyria.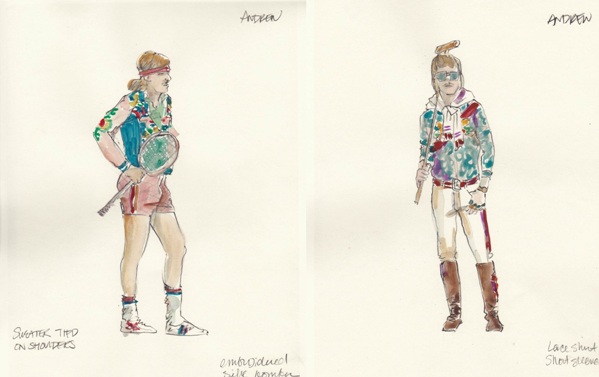 We all know that nothing just materializes onstage. How long from first sketches to final costumes does it take for you to create any given production?
This really varies depending on the production. For Twelfth Night, we had our initial meeting back in early March. I started collaging images and sketching in the months that followed. We began building clothes and shopping at the end of September and the show opened just before Thanksgiving. So, this process was about eight months.
What is the most bizarre or unique costume request you have received from a director?
This came not from a director, but from playwright Nick Jones in his play Important Hats of the Twentieth Century. This wacky play is about rival fashion designers in the 1930s, one of whom time travels to a teenage boy's closet in Albany in 1998 to steal things like sweatshirts and skater pants. There is a sequence where the characters snap though various moments in time landing in the year 8991 where they encounter several mutant monsters completely covered with hair like sasquatches and with large phalluses. This was bizarre.
You have designed a number of productions at STC. What do you enjoy the most about working there?
Twelfth Night is my tenth production at STC. Walking in to the costume shop feels like coming home. There is something very comforting about the funny smell of the hallway, the bright light streaming in the front windows, and the warm smiles that greet me as I arrive. The women and men of the costume shop are good friends and inspiring collaborators. We have a lot of fun together.
Also, there are very few theaters dedicated to producing classic plays on the scale STC does. It is a joy to work with such a wealth of talent and resources.
Of all the productions you've designed at STC or elsewhere, which stick out as your favorites?
Sweat saved me in the wake of the presidential election. I felt so defeated and lost. Sweat gave me focus and purpose. It gave me a voice when I was too devastated to speak. I am so proud to have worked on such an incredibly relevant and powerful play. I am also thankful for the opportunity to work alongside Lynn Nottage and Kate Whoriskey - two of the fiercest women I know.
I have worked on so many memorable productions at STC, but A Midsummer Night's Dream is probably my favorite. It was a delightful production that I never tired of watching. The production called for a wide range of designs - from wickedly sexy fairies to absurd mechanicals, from glamorous Charles James frocks to gritty mud fight!
Aubergine, Julia Cho's play about family, loss and the capacity of food to conjure memories touched me in a very personal way. Like Julia and her character Ray, I am second generation Korean American and lost a parent as a young adult. In my case, it was my mother who also happened to be a truly magical cook. Working on Auburgine reunited me with an increasingly distant culture and helped me to feel closer to my mother than I had in years.
What does the rest of the 17/18 season hold in store for you?
Cardinal by Greg Pierce at 2nd Stage and Candide at the Kennedy Center.
Special thanks to STC's publicist Amy Hughes for her assistance in coordinating this production.
Theatre Life logo designed by Kevin Laughon.