BWW Interview: Playwright David Meyers Explores the Cost of Freedom in CATF's WE WILL NOT BE SILENT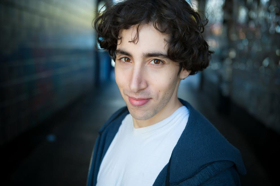 If doing the right thing meant losing your life and history potentially never remembering you, would you do it anyway?
That's the underlying question of We Will Not Be Silent, a new play by David Meyers receiving its world premiere next month at the Contemporary American Theater Festival (CATF). It's the true story of Sophie Scholl, a leader of the underground Nazi resistance living in Germany during the Second World War.
"In so many places around the world today, North Korea, Uzbekistan, Syria, there are people fighting for the freedoms we have, who aren't remembered at all. This play is for them, for those who opposed tyranny, because it was the right thing to do," says Meyers in a phone interview shortly before rehearsals begin at CATF.
For Meyers, We Will Not Be Silent was the perfect intersection of his two loves - theatre and advancing the cause of universal freedom. "As a columnist, I've written about promoting human rights in Russia and all over the world. It's easy for us in America to say something about freedom for everyone, but how much would we be willing to give up for it?"
The inspiration for the play came after Meyers read an article about the White Rose group, a non-violent resistance movement in Nazi Germany led by students and a professor at the University of Munich. Horrified by reports of German war crimes, Scholl joined her brother Hans and several others in mounting an intellectual argument against Hitler's regime in 1942.
"Here was a group of German students who were not Jewish, had no reason to protest against Hitler, except that they knew it was the right thing to do, knew they might not prevail, and yet still did the right thing," says Meyers. "Wow, you can only imagine the type of moral strength and courage that would take?"
Located 70 miles outside of Washington, DC in Shepardstown, West Virginia, CATF was heralded in May by The New York Times as one of the top theatre festivals nationwide. Every summer it produces new plays seeking to tell daring and diverse stories.
"Finding a theatre who will take a chance on a new production is really hard," says Meyers. "CATF is run by the dynamic team of Ed Herendeen and Peggy McKowen, and are all championing new playwrights."
CATF's production, however, is also a bittersweet moment for Meyers. While he's excited to see the play staged, he feels uneasy about benefiting from a Trump Presidency. Furthermore, while Meyers is hesitant to draw comparisons between Scholl's story and that of the anti-Trump resistance movement, he says there are a few parallels.
"One thing about Trump and his White House is we see them constantly reporting lies and falsehoods. Now for a segment of America, those lies are taken as truth," says Meyers. "The play wrestles with that - how do you know what truth is?"
Meyers' interest in politics and current events goes beyond that of a casual observer or interested citizen. From June of 2006 to Inauguration Day 2009, Meyers was a political appointee in the George W. Bush Administration serving as Assistant Staff Secretary and Communication's Project Director. With an office in the coveted West Wing, and having flown on Air Force One, Meyers had an up close view of the Bush Presidency.
"You could give me 10 plays on Broadway, and I wouldn't trade my White House experience for the world," says Meyers. "I believed in what I was doing and the president I was serving. People have seen how outspoken I've been against Trump, and that's because President Bush is the exact opposite of Donald Trump in terms of thoughtfulness, leadership and vision."
And while Scholl and the White Rose group may not have any direct correlation to the forty-third president, We Will Not Be Silent's themes of freedom and democracy does have a connection to Meyer's White House work.
"The part of President Bush's agenda I related to the most was the freedom agenda. Supporting freedom and democracy globally is the right thing to do morally, and drawing it back to the play, that's what we see as Sophie and the White Rose group resisted the Nazis. It's an incredible story to tell, and more importantly, to remember," says Meyers.
We Will Not Be Silent runs July 7-30 at the Contemporary American Theater Festival - 92 West Campus Drive, Shepherdstown, WV 25443. For performance times, information on CATF's other plays and to buy tickets, please click here.
Photo: David Meyers. Credit: David Meyers
Related Articles View More Washington, DC

Stories

Shows