BWW Interview: Ben Cherry's Journey From Broadway to DC with Arena's INDECENT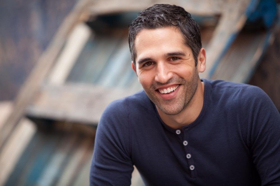 Every role takes an actor on a journey. For Ben Cherry, the role of Lemml in Paula Vogel's play Indecent has taken him from Broadway to Minneapolis' Guthrie Theatre and, starting this week, to Washington's very-own Arena Stage. It is an opportunity for Cherry to once again reconnect with a character and play he not only loves, but which speaks to his very core.
"I have always loved movies, TV shows, plays with the premise that art makes us better people," says Cherry in a phone interview. "Art gives mankind a chance to look at itself. It offers a space where people can feel hope, anger, and joy as a community. Through that shared experience I think we can't help but be kinder to each other. This theme is important to Lemml, the character I play, and it's important to me."
Indecent is the true story about the play God of Vengeance and the controversy surrounding its 1923 Broadway opening when the cast and producers were arrested on opening night for obscenity.
"It [Indecent] is a very layered piece in that it looks at art, integrity, and censorship while examining the themes of immigration, anti-Semitism, assimilation in American and identity. It does all this without preaching to the audience," says Cherry.
The themes could not be timelier. Arena Stage's production opens barely a month after the massacre at Pittsburgh's Tree of Life Synagogue and two weeks after a drunken patron shouted "Heil Hitler" at a Baltimore production of Fiddler on the Roof.
"I sometimes worry that because of the contentious times we live in, the potent themes of the play might seem like a challenge," says Cherry. "I can't stress enough how much hope, how much love and perseverance [Paula] Vogel has infused into the proceedings."
Despite rave reviews, three Tony Award nominations, and the production marking celebrated playwright Paula Vogel's Broadway debut, Indecent ran for only 128 performances. Cherry, who was an understudy, called the experience profoundly moving.
"Working with Paula [Vogel] and our Director Rebecca Taichman, who co-created the piece, it opened my eyes to what art can be. Truly a life changing experience. So when the production at the Guthrie was announced, I campaigned hard for Lemml," says Cherry.
In Indecent, Lemml is the stage manager for God of Vengeance, almost the caretaker of the play within a play. The role was modified a bit by Vogel, who continued to work on the play after its Broadway run at the Guthrie Theatre.
"Paula is a best friend, a brilliant mind and an Earth mother, she really is just astoundingly wonderful," says Cherry. "While we were at the Guthrie, she continued to refine the piece, and therefore that production saw Lemml as the character who helped walk the audience through the piece."
Arena's Indecent is Cherry's third production of the play. When asked if the role has changed on the journey from Broadway to the Guthrie to Arena, he goes back to Lemml's core.
"The core, the very heart of Lemml and who he is remains the same. There definitely is a rhythm in my body from Broadway and the Guthrie, but you have to be flexible. This is a new production, and you get your energy from the actors you're working with," says Cherry.
Adding to that energy is the realization that Cherry will also be making his Arena Stage debut with Indecent. "I have wanted to work at Arena forever, and ever, and ever. This is such a fantastic complex, and a great group of artists, and I'm thrilled that my journey with Lemml has taken me here," says Cherry.
Indecent runs thru December 30 at Arena Stage - 1101 Sixth Street Southwest, Washington, D.C. For tickets please click here.
Photo: Ben Cherry. Credit: Arena Stage.
Related Articles View More Washington, DC

Stories

Shows