LITTLE SHOP OF HORRORS Offers Big Things on a Small Stage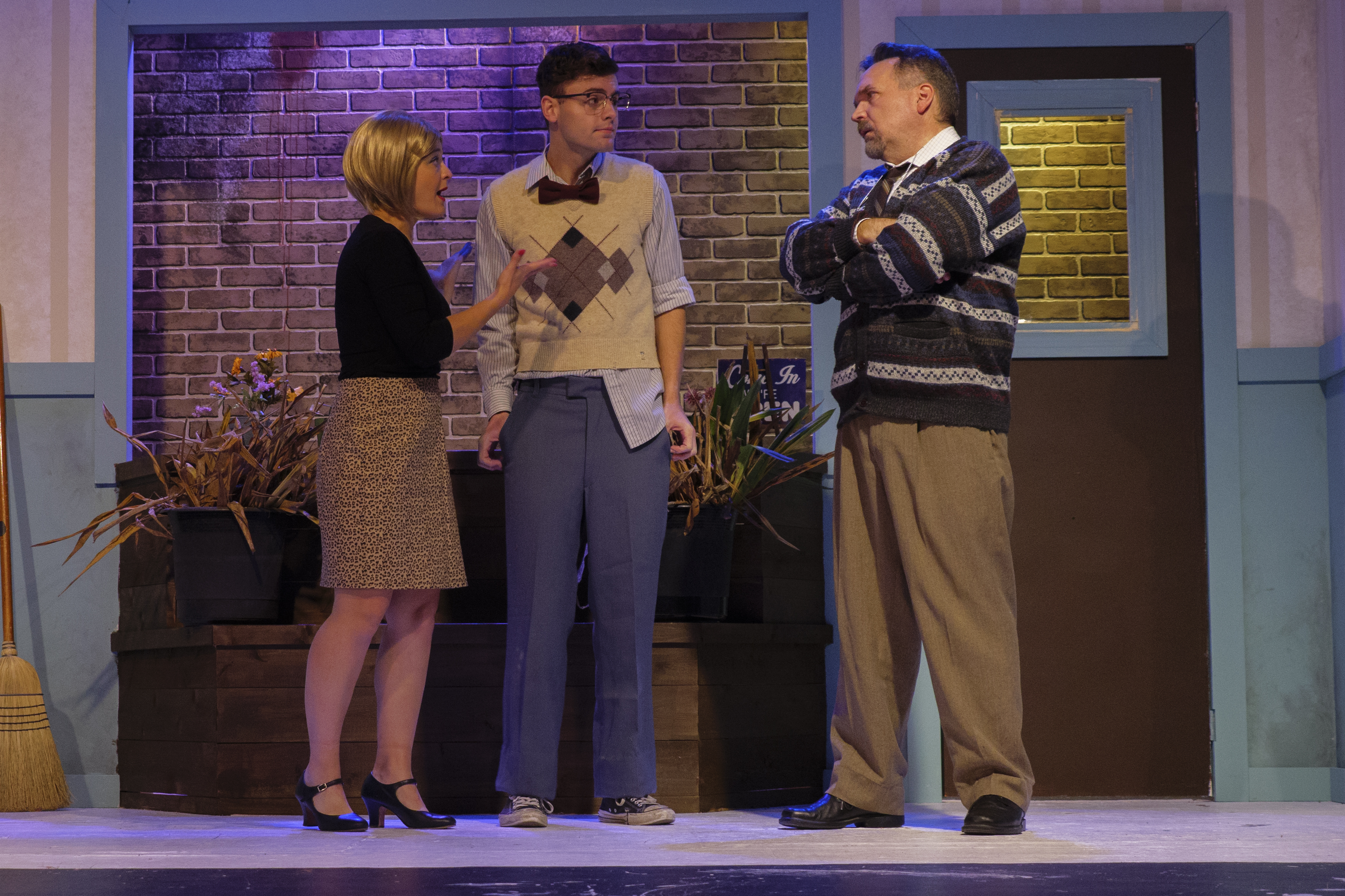 "Little Shop Of Horrors" may be presented by community theatre club Vagabond Players, yet there are such pros on and offstage as well as high production values you quickly forget it.
Director Matthew Davenport has assembled a crack production team and along with music director Julie Atchison and choreographer Damon Bradley Jang a cast that is second to none. There is a lot about this production that really shines.
Davenport (who also acts as set designer) finds humour and humanity with the scene work that allows the actors to become much more three dimensional. The set is reminiscent of a 1960s kitchen with a sea foam green trim and base and cream walls, dirtied and stained.
This accents Matthew Piton's lighting design which bathes the set in warm and cool colors that focuses the emotional state of what is happening in the scene. I should note he has created some of the best lighting effects I have ever seen. The custom-made Audrey 2 puppets created by Gillies Malnarich and team are gorgeous and while the largest version wasn't my favourite aesthetically when it revealed the full version  itself during the finale, it all came together. Atchison does an excellent job with a talented small band made up entirely of high school or recent graduates, but you would never know it by just listening. The sound is slick and the synthesizer provides some awesome campy sound effects. Another thing to mention is Carly Friesen's costumes. The sequined dresses and the street wear were definitely a hit while the odd fitting green and white dresses were a bit of a miss.
A big kudos though goes to Damon Bradley Jang who's innovative choreography and variety of stage pictures to create depth is astonishing considering how small the stage is. Jang has a good sense of 1960s dance styles and has tight comedic timing especially in numbers like "Skid Row", "It's Just the gas" and "Meek Shall Inherit"
Casting is pretty much on point.
The three street urchins of Crystal (Carly Friesen), Ronnette (Janelle Reid) and Chiffon (Tiana Swan) combine to create a beautiful blend of harmonies that bring a ton of sass and satisfaction to any scene they're in. I especially enjoyed Swan and Reid's vocal riffing and Freisen's Jersey girl toughness. Ross Friesen plays the befuddled and quick-tempered Mr. Mushnik with ease and the talented Thomas Lamont plays Audrey's abusive boyfriend Orin Scrivello with the right amount of sadistic humor you love to hate. Annie Arbuckle plays as an adorable Audrey with the right amount of sweetness only matched by her vocal ability. Newcomer Ryan Waechter handles the dorky botanist Seymour Krelborn like a well fitting gardening glove. He has a nice voice and good sense of character.
The unseen heroes of the show has got to be Richard Wiens (the puppeteer) who gets quite the workout and a few hilarious onstage cameos and Regi Nevada (who also makes a quick cameo) providing a refreshing female voice of the plant. Her soulful singing voice and sultry speaking makes me wonder why this part isn't cast as female more often.
It's not all roses in this flower shop though. A few thorns from opening night were mostly technical.
A noisy set change behind a curtain, clunky set pieces moving off and on, a few flubbed lines, and what I can only think were technical sound errors. Sometimes the balance was right on and sometimes it seemed too quiet. In terms of the overall look, some of the set pieces looked like they were just painted and the crew ran out of time to distress them.
Despite some hiccups, this production does more than deliver and it is indeed the perfect sticky licky treat that will satisfy anyone this Halloween.
Playing Wednesday to Saturday 8pm and Sunday at 2pm until October 29th
Vagabond Players at the Bernie Legge Theatre, Queens Park, New Westminster
www.vagabondplayers.ca/tickets