Victorian Playwright Rediscovered For Finborough's 150th Birthday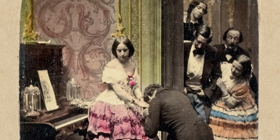 As part of the Finborough Theatre building's 150th birthday celebrations, the first London productions since the 1860s of three comediettas - A Winning Hazard, Allow Me To Apologise and Orange Blossoms - by J. P. Wooler play at the Finborough Theatre for nine Sunday and Monday evenings and Tuesday matinees from Sunday, 9 September 2018 (Press Night: Monday, 10 September 2018 at 7.30pm).
Rediscovering and celebrating the work of Victorian playwright J. P. Wooler (who died in 1868, the year the Finborough Theatre building was constructed - the exact 150th anniversary of his death will occur during this run of performances), A Winning Hazard is an evening of three of his comediettas which combine insightful observations on the hypocrisy and vanity of the English ruling class, coupled with characters and situations that are both deeply Victorian, but also vividly progressive in their views on gender, money, and class.
A Winning Hazard (1865) centres on Dudley Croker and Jack Crawley who are unsuccessfully vying for the hands of two young ladies, Aurora and Coralie Blythe. When Dudley's uncle Colonel Croker threatens to exclude both of them from his will unless they marry, they decide to win their respective partners by concocting a fake duel...
A Winning Hazard was the very first play produced by Marie Wilton (one of London's very earliest female theatre managers) at the Prince of Wales' Theatre in 1865, starring both herself and her future husband, Sir Squire Bancroft. Both Sir Squire and Lady Bancroft are buried in Brompton Cemetery, close to the Finborough Theatre.
Allow Me to Apologise (1850s) Goliath Goth is off to find himself a wife, and his heart (and loins) are set on the young wards of Sir Peter Pedigree. Goth's own ward, Fanny Fairlove, sees her opportunity, and proposes a deal: should Goth marry one of Pedigree's girls, then she would be free to marry her love and leave his house. His refusal forces her to concoct a plan to shame him into releasing her, leading to an epic cross-dressing debacle of miscommunication, misidentification, failed seductions and absurd trysts...
Orange Blossoms (1860s) - Septimus Symmetry is a famed woman-hater - until he is visited in his garden by his friends and relations who are determined to get him to face his greatest fear: marriage. When his guests arrive, they discover that they all have histories of unfulfilled love - with each other. And, to his horror, Septimus find himself besotted by Loo who is famed for her hatred of men. He decides to upset the apple cart by reigniting old flames and fanning jealousy to prove his point about the absurdity of marriage and society.
Playwright John Pratt Wooler was born in 1824. He was a prolific playwright, producing over sixty short comedies, farces, serio-comedies and libretti during the 1850s and 1860s, performed at many of the leading theatres of the day. He died in Islington on 18 September 1868.
Director Phillip James Rouse makes his London debut at the Finborough Theatre. Phillip is a prolific and much acclaimed director and writer from Sydney, Australia. Phillip has been the Artistic Director of Don't Look Away Theatre Company whose works have been nominated for over ten awards in Sydney and Melbourne. Phillip's previous work includes Night Slows Down (Kings Cross Theatre, Sydney), Frankenstein, The Resistible Rise of Arturo Ui and The Rivers of China (Theatre Works, Melbourne), Inner Voices and Babes in the Wood (The Old Fitz, Sydney), The Legend of King O'Malley (La Mama Courthouse, Melbourne, and Seymour Centre, Sydney). He assisted on Arcadia and After Dinner (Sydney Theatre Company), Birdland (Melbourne Theatre Company), and observed at Opera Australia on the Verdi masterpiece Falstaff. He trained at National Institute of Dramatic Art.
FINBOROUGH150. 2018 marks 150 years of the Finborough Theatre building, originally designed by prominent Victorian architect George Godwin. During the year, we have been celebrating our birthday with an anniversary selection of the best plays with links to 1868. #finborough150
Book online at www.finboroughtheatre.co.uk
No booking fees on online, personal or postal bookings
Box Office 01223 357851. (Calls are free. There will be a 5% booking fee.) Lines are open Monday- Saturday 10.00am-6.00pm
Tickets: £18, £16 concessions.
Performance Length: Approximately two hours including one interval of fifteen minutes.