UK Premiere of ISABELLE HUPPERT READS SADE Comes to Southbank Centre's Queen Elizabeth Hall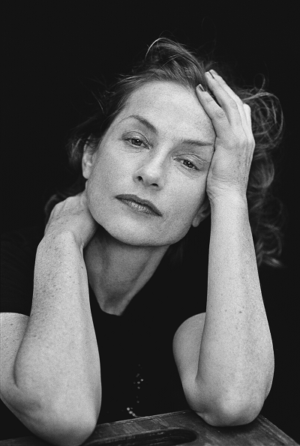 'Isabelle Huppert reads Sade: Juliette and Justine, the Vice and the Virtue' is the electrifying one-woman show by the internationally renowned, multi-award winning French film actress Isabelle Huppert which she will perform - for one night only - at Southbank Centre's Queen Elizabeth Hall on Saturday June 9th at 7.30pm.
In this solo performance Isabelle Huppert masterfully brings to life the fictional characters of Justine and Juliette, emblematic figures from the work of the prolific French novelist, philosopher, politician and libertine Marquis de Sade (1740-1814). (Photo of Isabelle Huppert by Peter Lindbergh)
Justine and Juliette, sisters with opposite destinies, were introduced to the post-French Revolution public via two of Sade's many notorious novels: 'Nouvelle Justine' (1791) is about a virtuous young woman whose moral lifestyle ultimately leads to misery, despair and abuse; 'Juliette' (c1801) is about her amoral sister Juliette, whose passion for a louche way of life makes her Justine's polar opposite.
Both novels are packed with scandalous detail and philosophical debate ranging across sex, society, religion, morality and many other ideas that fuelled Sade's already shocking reputation. On stage the fabulous Huppert - whose stellar career spans over 100 films and dozens of awards including the 2017 Golden Globe for 'Elle' - alternates between the two sisters bringing the world of Sade viscerally to the present in this solo performance performed in French with English surtitles.
Tickets are £48-£88 are will go on sale to Southbank Centre members on Tuesday 27 February and to the public on Wednesday 28 February.
Tickets from www.southbankcentre.co.uk
Box office: +44 20 3879 9555
Isabelle Huppert stood out straight from her very first movie appearances and made her name internationally in La Dentellière ('The Lacemaker') by Claude Goretta, for which she received the BAFTA Best Newcomer Award. She has appeared in many different movie genres including comedy Rien Ne Va Plus, 8 Women; drama Une Affaire de Femmes, Amour; thrillers Merci pour le Chocolat, literary adaptations Madame Bovary; comedy drama In Another Country (the South Korean film in which she plays all three characters); political drama with L'Ivresse du Pouvoir (Comedy of Power) and most recently, Paul Verhoeven's Elle and Michael Haneke's Happy End.
She has earned dozens of international film awards including Best Actress Awards at the Golden Globes, the Cannes, Venice, and Moscow Film Festivals, the Cesar, the Independent Spirit, New York Film Critics' Circle and more. She was nominated for a Best Actress Academy Award for Elle and won the Cesar for Best Actress in France for her performance in that film.
She has worked with globally known directors including Jean-Luc Godard, Joachim Trier, Michael Cimino, Otto Preminger, Claire Denis, Eva Ionesco and many more. The Venice Festival awarded her a Special Golden Lion Award from the Jury for her part in Patrice Chéreau's Gabrielle, as well as for her entire career. Twice rewarded at the Cannes Festival as Best Actress (the second time for Piano Player by Michael Haneke), she was a Jury Member and Master of Ceremonies, and Chairwoman of the Jury for the 62nd Edition of the Cannes Film Festival.
Isabelle Huppert has worked extensively on stage, both in France and internationally: her credits include Orlando by Virginia Woolf staged by Bob Wilson, Shakespeare's Measure for Measure, Medea by Euripedes, Hedda Gabler by Henrik Ibsen, God of Carnage by Yasmina Reza, and The Maids by Jean Genet which was staged by Benedict Andrews with Cate Blanchett at the Sydney Theatre Company and during the Lincoln Center Festival in New York. She was recently directed on the stage by Krzysztof Warlikowski for the play Street Car and Phedrae(s).
Isabelle Huppert is an Officer of the (French) National Order of the Légion d'Honneur, Officer of the National Order of Merit, and Commander of the Order of Arts and Letters.
Since it was founded in 2012, Piu Entertainment has developed a substantial reputation for presenting theatrical events and live music concerts by world class artists nationally and internationally.
Says Managing Director Cemil Demirok: "At Piu it is our great pleasure to present one of the most influential and successful Hollywood artists of our era at the iconic Queen Elizabeth Hall. This is truly a unique opportunity for audiences to witness Isabelle Huppert's masterful performance and presence live. We'd like to thank Southbank Centre and Institut Français Royeamu-Uni for their support in making this event possible."
Southbank Centre is the UK's largest arts centre, occupying a 17­ acre site that sits in the midst of London's most vibrant cultural quarter on the South Bank of the Thames. The site has an extraordinary creative and architectural history stretching back to the 1951 Festival of Britain. Southbank Centre is home to the Royal Festival Hall, Queen Elizabeth Hall, Purcell Room and Hayward Gallery as well as The National Poetry Library and the Arts Council Collection. For further information please visit www.southbankcentre.co.uk.