Tobacco Factory Theatres' WAITING FOR GODOT Visits Stephen Joseph Theatre Next Month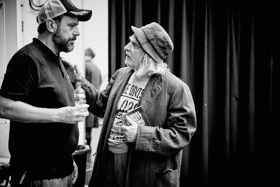 A new production from Bristol's Tobacco Factory Theatres of Samuel Beckett's iconic Waiting for Godot visits Scarborough's Stephen Joseph Theatre next month.
Christopher Bianchi, Colin Connor, David Fielder (last seen at the SJT in last year's touring production of And The Come the Nightjars) and John Stahl star in this iconic play, with young local actors Seth Pickering and Sam Tennant taking on the role of The Boy. The production plays at the Stephen Joseph Theatre from Wednesday 22 to Saturday 25 November.
When it was first performed in Paris in 1953, Waiting for Godot shook the foundations of the theatrical landscape at the time. Brought to London by the late Sir Peter Hall, at its British premiere two years later the theatre critic Kenneth Tynan remarked that the play had 'changed the rules of theatre'. Now, 65 years later, Waiting for Godot is as fresh and urgent as ever.
Tobacco Factory Theatres' production of Waiting for Godot is directed by Mark Rosenblatt, who was Associate Director at the West Yorkshire Playhouse from 2013 to 2016. He was the Associate Director at the National Theatre Studio from 2011 to 2013 and ran Dumbfounded Theatre from 2001. In 1999 he won the JMK Award for Young Directors and he now serves as the JMK Trust's Vice-Chair.
Mark says: "There aren't many plays that make a splash in popular culture. It's a high-wire act and yet it is written with such certainty and confidence, so precisely and with such brilliant comic patterns. It plays with the biggest universal ideas - hope, trying hard to get through life, filling time, purpose, wondering what it all means and how we use and abuse relationships. And yet, somehow - and I think this is where its magic really lies - it manages to do so in a way which resists explaining itself. It's rich and specific and inexplicably about everything and nothing."
Waiting for Godot is designed by Janet Bird with sound design and composition by Dave Price. The lighting designer is Matthew Graham.
This production marks a landmark moment for Tobacco Factory Theatres as a solo producer and looks ahead to the recently announced Factory Company season in spring 2018 and the creation by Tobacco Factory Theatres of its own company of actors.
Tobacco Factory Theatres is grateful to The JMK Trust which has worked in partnership with them to offer an Assistant Director Bursary to Chloe Masterton, a participant of the JMK Directors' Group in Bristol.
Waiting for Godot can be seen at the Stephen Joseph Theatre at 7.30pm on Wednesday 22 and Friday 24 November, at 1.30pm and 7pm on Thursday 23 November, and at 2.30pm and 7.30pm on Saturday 25 November. Tickets are priced from £10 to £25, and can be booked via the box office on 01723 370541 or the website: www.sjt.uk.com.
Photo credit: Mark Dawson Photography