THE HAUNTING OF BLAINE MANOR Embarks on Halloween Tour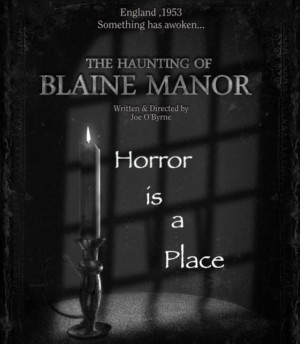 England, 1953
Renowned American parapsychologist Doctor Roy Earle, famous for discrediting hauntings and exposing fake mediums, is invited to attend a seance in what is said to be the most haunted building in England, a building with a horrific history, Blaine Manor. Even the locals won't set foot there, as all who walk within those grounds will be cursed.
But his arrival at the manor has awoken something, something horrific within the walls. As a raging storm closes off Blaine Manor from the outside world, Earle and the others find that what is waiting there is not nearly as horrific as what has entered with him
The Sell Out Hit Haunter is back! Written and directed by Joe O'Byrne, The Haunting of Blaine Manor returns for a 3 Venue Halloween Tour taking in the classic dome featured Kings Arms in Salford, the haunting Hermon Chapel Arts Centre in Oswestry and finishing as part of this years The London Horror Festival at The Old Red Lion Theatre Pub. Eleven nights of Horror spread across three wonderful venues, tickets on sale on weblinks at all three venues.
In the spirit of M R James, England's most accomplished ghost story writer (Casting the Runes, Whistle and I'll Come To You My Lad, The Haunted Doll's House) and with a nod to the classic black and white film classics of Columbia Pictures, Metro Goldwyn Mayor, Universal Pictures, 20th Century Fox and RKO Pictures. O'Byrne's latest play leaves behind the modern world of his critically acclaimed Tales from Paradise Heights series of plays and films for this, his first period piece. This is his love letter to the works of M R James and the Classic Hollywood Film Era.
Featuring a firecracker cast of Peter Slater, Jo Haydock, Phil Dennison, Andrew Yates, Daniel Thackeray and Joe O'Byrne, the play features an original chilling sound design and haunting title theme by Justin Wetherill.
The Kings Arms, Bloom Street, Salford, M3 6AN 23rd to 29th Oct, 7.30pm
Tickets: £10/£8 cons
Tickets @ http://www.kingsarmssalford.com/whats-on/
Hermon Chapel Arts Centre, Chapel Street, Oswestry SY11 1LF, 31st Oct to 2nd Nov, 7.30pm
Tickets: £7
Tickets @ http://www.hermonchapel.com
London Horror Festival, The Old Red Lion, 418 St John Street, London EC1V 4NJ
4th Nov, 3:00 pm Matinee. Tickets £10/£8 cons
Tickets @ http://www.oldredliontheatre.co.uk/the-haunting-of-blaine-manor.html
The Halloween Tour
We played the fabulous Kings Arms in Salford last year and the show had a magnificent sold out run, so we are more than delighted to be returning for a full 7 nights, with the Sunday evening show being part of a full Horror Day - STAGE FRIGHT.
We then open on HALLOWEEN! At the charming (and ever so slightly haunting) Hermon Chapel Arts Centre in Oswestry. What better way to spend your Halloween than in a Haunted Manor? We run there for three nights finishing on the 2nd November.
We are then delighted to join the renowned London Horror Festival as part of their line up in this year's Festival of Horror. We will be playing one matinee performance on the final day of the Festival at celebrated The Old Red Lion Theatre pub. That's 11 chances to visit our haunted manor, we'd love you to join us....
The Cast & Crew (and a few ghosts...)
I've Always Wanted To Do A Haunted House Story...
Not just a ghost story though. I wanted it to be a period piece, something that would fit the world of M R James, Edgar Allan Poe or H P Lovecraft. At the same time tipping the hat to the Hammer Horror Classics that I watched in my youth, and how many of these classics tapped into England's cultural history of haunted castles, demons and witchcraft? Blaine Manor has something of the Borley Rectory about it.
In tandem with this I also wanted to create something that was a throwback to the Hollywood Golden Age, where glamour mixed with danger like bourbon poured over rocks, where you would see the likes of Claude Rains, Vincent Price, Sydney Greenstreet, Peter Lorre, Boris Karloff, Bette Davis, Humphrey Bogart, Robert Mitchum, Lauren Bacall, Ida Lupino and Virginia Mayo (so many more, but I'd be here forever) strutting their stuff. I think they'd all feel at home in Blaine Manor. There is fear here, yes, my original sound designer left due to having nightmares based around the production - true story! The play delivers, we already know that from its first sold out run.
So come join us in 1953: It was the year Columbia Pictures released the James Mason narrated animated classic The Tell Tale Heart by Edgar Allan Poe,
Aldous Huxley tried the psychedelic hallucinogen, mescaline, inspiring his book The Doors of Perception.
Four million workers went on strike in France to protest against austerity measures.
Sir Edmund Hillary and Tenzing Norgay become the first men to reach the summit of Mount Everest.
Elvis Presley made his first ever recordings at Sun Records Memphis Recording Studios.
Renowned Parapsychologist Doctor Roy Earle entered Blaine Manor, reputedly the most haunted house in England. He was never seen again...
Horror is a place...
Joe O'Byrne
More details on the play, plus trailers and extensive galleries:
http://www.talesfromparadiseheights.com/the-haunting-of-blaine-manor.html