THE GIRL ON THE TRAIN Makes a Stop At The Belgrade Theatre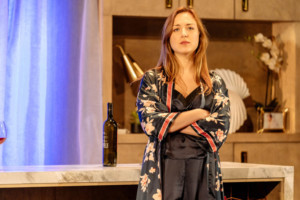 Following its phenomenally successful West End stage debut in 2018, Paula Hawkins' nail-biting thriller The Girl on the Train heads out on a UK tour this spring, pulling into the Belgrade Theatre 13-18 May.
Samantha Womack (EastEnders, Kingsman: The Secret Service) stars as Rachel Watson in this gripping production from Simon Friend, Amblin Entertainment and Josh Andrews. Rachel longs for a different life. Her only escape is the perfect couple she watches through the window of her train every day, always happy and in love. Or so it appears.
When Rachel learns that the woman she's been secretly watching has suddenly disappeared, she finds herself becoming a witness and even a suspect in the case, drawn deeper into a mystery that will unravel with bigger revelations than she could ever have anticipated.
First published in 2015, Paula Hawkins' The Girl on The Train debuted at number one in The New York Times Fiction Best Sellers list, a position it held for 13 consecutive weeks. Since then, it has gone on to sell over 20 million copies worldwide, occupying the top spot in the UK hardback book chart for a record-breaking 20 weeks.
In September 2015, DreamWorks released a film adaptation starring Emily Blunt as Rachel Watson, a role that earned her a BAFTA nomination. The film became a box office hit, grossing $173 million worldwide.
Best known for playing the "no-nonsense" Ronnie Mitchell in BBC One's EastEnders, Samantha Womack has performed extensively in theatre, film and TV, most recently appearing as Tanya Porter in Sky One comedy-drama Mount Pleasant and as Michelle in the Kingsman film franchise. She first rose to prominence as Mandy Wilkins in the 90s sitcom Game On.
Samantha Womack said: "Having been thoroughly captivated by the novel, the opportunity to take on a role like this is incredibly exciting. I've been fascinated by thrillers for a long time and this kind of storytelling, like Hitchcock's Rear Window, offers us a voyeur's journey into a world which is dangerous and full of suspense."
After watching the show, author Paula Hawkins said: "Sam was amazing. You could literally hear a pin drop. Everyone was holding their breath."
Also joining the cast as Rachel's neighbour Scott Hipwell is Oliver Farnworth, best known for his roles as Andy Carver in Coronation Street, Will Hackett in Hollyoaks and Florian Dupont in Mr Selfridge.
Completing the cast are John Dougall as DI Gaskill, Naeem Hayatt as Kamal Abdic, Adam Jackson-Smith as Tom Watson, Lowenna Melrose as Anna Watson, Kirsty Oswald as Megan Hipwell and Philippa Flynn and Matt Concannon as ensemble.
The Girl on the Train is directed by Anthony Banks and adapted for the stage by Rachel Wagstaff and Duncan Abel, with set and costumes by James Cotterill, lighting by Jack Knowles and sound by Ben and Max Ringham. Projection design is by Andrzej Goulding and fight direction is by Alison De Burgh.
The Girl on the Train runs at the Belgrade Theatre Coventry from Monday 13 until Saturday 18 May. Tickets are available to book now by calling the box office on 024 7655 3055 or visiting www.belgrade.co.uk where prices are cheaper.
Photo Credit: Manuel Harlan