Panto Comes Home To The Exeter Northcott Theatre With DICK WHITTINGTON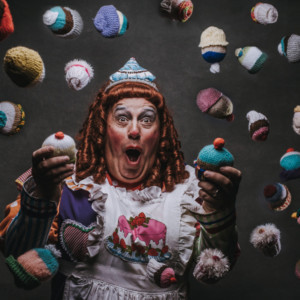 Panto is coming back home to the Exeter Northcott Theatre with a new production by one of the country's leading pantomime directors.
Dick Whittington is set to open next month, marking a spectacular return to the theatre's tradition of producing its own pantomimes.
The show follows Dick as he leaves his Exeter home for the bright lights of London in search of fame and fortune, his faithful Puss by his side.
The first Northcott panto since 2009, it promises plenty of audience participation, live music, magic, mayhem and lots of laughter as Dick reaches the big city and travels the high seas in search of his fortune ahead of a showdown with the evil villain King Rat.
Steve Bennett returns as the Dame, a role he played previously at the Northcott for 14 years, in a show he also co-wrote with director Tony Lidington, a respected authority on pantomime.
Steve, who is from Exeter and will be appearing in his 15th Northcott panto, is delighted to be treading the familiar boards again, the 20th professional pantomime of his career.
He said: "I've done panto elsewhere but nothing compares to the Northcott. I really feel like I'm coming home."
Tony Lidington, a respected authority on British popular entertainment forms, has worked at theatres up and down the country and is now based in Devon.
He said he is also delighted to be working at the Northcott and with such an experienced co-writer and Dame.
"I have been creating and producing pantomimes that combine traditional history and conventions with rollicking family entertainment for over 30 years," he added.
"Having created unique, box office-breaking pantomimes for the last six years at Richmond's Georgian Theatre Royal, it is fantastic to be working close to my home in Dawlish."
The Northcott earned a reputation as the home of panto, starting more than twenty years ago but last produced a pantomime in 2009, the much acclaimed Mother Goose.
Audience favourite Steve Bennett was the resident dame between 1996 and 2010, appearing in three Cinderellas, two Aladdins, two Dick Whittingtons, two Mother Gooses, two Jack and the Beanstalks, two Sleeping Beauties and one Babes in the Wood.
The latest addition to this tradition, Dick Whittington, sees Gordon Cooper take on the role of Captain Darling, Jeremy Harmer playing the evil King Rat and Martin Reeve appearing as Alderman Fitzwarren.
The cast also includes Emily Essery as Dick Whittington and Exeter native Annabel Warwick as Alice Fitzwarren.
Annabell has just landed her first professional role having just graduated from Bath Spa (BA Hons Musical Theatre) having completed BTEC ED Performing Arts at Exeter College three years ago.
The cast also includes current and former students of Performing Arts at Exeter College, partners of the theatre through the Performing Arts Academy.
Current students Jazmin Price, Alanta Cook and Lotus Lowry are playing Dick Whittington's Cat.
Owen Thomas, a BTEC ED Performing Arts 2016 graduate, has an understudy role.
Set and costume design is by Kelly Jago with musical direction by Paul McClure.
Tickets range from £11 to £26, with discounted tickets for family groups starting at £8 each, and can be bought online at www.exeternorthcott.co.uk or by calling the Exeter Northcott Box Office on 01392 726363.
BSL - British Sign Language Interpreted Performance - Sat 9 Dec 2pm
AD - Audio Described Performance Sat 9 Dec 2pm with Touch Tour at 12.30pm
RP - Relaxed and Dementia Friendly Performances Wed 13 Dec 2pm * & Thu 28 Dec 11am +
+ Relaxed Performances create a safe environment for those to enjoy theatre that would not normally have the opportunity to do so. If a member of your family is on the Autistic Spectrum then this performance is designed for you to enjoy in a relaxed and welcoming environment.
Preview Performances (tickets £15; family groups £12 each)
Sat 2 Dec 2pm 7pm
Sun 3 Dec 2pm 7pm