Hoxton Hall Sets 'Female Parts' Spring Season Celebrating Creative Women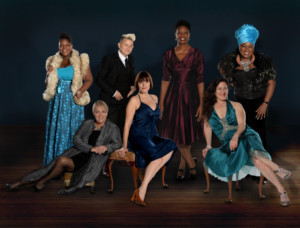 Karena Johnson, Artistic Director of Hoxton Hall today announces its spring 2018 season, Female Parts.
The programme presented in the centenary year of female suffrage is curated and produced by female artists from across the UK and internationally, placing women at the centre of a varied contemporary programme. The season opens with a Hoxton Hall world première production, Oranges and Elephants - an all-female musical by Lil Warren.
The season continues with Funny Women Awards: London Regional Final, and previous winner of the competition, Desiree Burch's Unf*ckable; Vintage Misfits presents Afropean club night, Organic Nubians Club Night; and Patrizia Paolini returns with a one off, entirely female, special of Ms Paolini's Phantasmagoria Cabaret. Also returning to Hoxton Hall is Jumoke Fashola with Jazz Verse Jukebox and The Swing Time Dance Company's Spring Swing.
The season culminates with a trio of short monologues, produced by Hoxton Hall, which will run through March, A Mother and A Woman Alone both by Franca Rame and Dario Fo, and OneNess Sankara's The Immigrant. These three confessional plays explore what it is to be a wife, mother and immigrant.
Artistic Director of Hoxton Hall, Karena Johnson said, "Female Parts is a season of curated and produced performances that place women at the centre and is a perfect way to open 2018, the centenary year of female suffrage. We're thrilled to be welcoming so many talented artists, who also happen to be women to the venue; breaking new ground in producing an all-female musical and celebrating A Contemporary Theatre classic. Hoxton Hall is a fitting venue to welcome diverse women's voices across music, theatre, comedy and cabaret having the unusual history of being led by women for the last 44 years. This wonderfully interconnected season shouts loud and proud with a host of roaring women and we're so excited."
Continuing their work with the participation programme, Hoxton Hall will be offering a series of workshops alongside the season, which include a response piece for Oranges and Elephants, a Tonic Celebrates conversation with phenomenal women in theatre and they will host a Future Women debate on equality with young women to mark International Women's Day.
Also supported by the Andrew Lloyd Webber Foundation, Hoxton Hall aims to encourage creatives from BAME backgrounds in the industry, welcoming three trainees into the venue to work in the technical department, directorial team and marketing and development department.
Karena Johnson is Artistic Director and CEO of Hoxton Hall. She has worked for 20 years as a theatre director, producer and champion facilitator of emerging artists; her pioneering career includes being Artistic Director of The Broadway in Barking, Director of Loud Talkin', Acting Artistic Director of Contact Theatre in Manchester, Artistic Director of touring theatre company Kushite and five years as Head of Theatre Programming at Oval House Theatre. She has also been an Associate at Theatre Royal Stratford East, Nottingham Playhouse and NOW festival. Her work has been recognised with a TMA special award nomination for "theatre with cojones" for her Spin season at The Broadway an artistic response to the 2010 election and the local race between Labour and the official opposition the BNP. Johnson has also won Arts and Business Award for Diversity and a Jerwood Young Directors Award. Her directing credits include The Royal Duchess Superstore (The Broadway in Barking, Half Moon Theatre), Forty (Hackney Empire), Sweet Yam Kisses (Lyric Hammersmith), Safe (West Yorkshire Playhouse), The Key Game (Riverside Studios), The Oddest Couple (Theatre Royal Stratford East) and Under Their Influence (Tricycle Theatre). She has also made a number of site specific works including the critically acclaimed Underneath - Nothing as Silent as Snow commissioned for the Black Seas Festival in the Ukraine, Bulgaria, Romania, Crossings at the Liverpool docks, and Whose Blood performed in the Old Operating Theatre, London Bridge.
Nestled in the heart of lively Hoxton, the Grade II* listed Victorian Music Hall is rightfully known as the variety hall for the 21st century and is the home of contemporary performance. Since its re-launch in 2015 the stunning venue has hosted a range of productions from new writing, live music, immersive experiences and the best in stand-up, whilst also building a reputation for developing some of the most exciting emerging London talent; the Hall continues to nurture creators of the future through its flagship Youth Arts programme. Hoxton Hall celebrates Hackney's grassroots talent, using a mix of professional artistic work and community engagement. Hoxton Hall are committed to ensuring that creativity is accessible to everyone regardless of background or circumstance in Hackney's official creative hub.
---
Hoxton Hall present...
The world première of
ORANGES AND ELEPHANTS
Book and lyrics by Lil Warren
Director: Susie McKenna; Music and Arrangements: Jo Collins; Designer: Sara Perks
20 January - 10 February 2018
Press night: 23 January, 7.30pm
A new all-female musical about two rival female gangs in Victorian London. An Actor-Musician show blending Music Hall, Fairground and Musical Theatre storytelling.
The story follows Mary's arrival in London and her introduction to gang life. How will she make her life expectancy of twenty-five when the two gangs are after owning her? Mary wants to be a Music Hall star. Nellie of The Elephants falls in love with Mary and they try to escape from thievery to the bright lights of Piccadilly.
This is a story of how important your wits are to survive if you are a poor woman in Victorian London. How you play the fame game set against a backdrop of a West End pickpocket turf war and an enormous divide between the rich and poor. "Same ol gravy, different flavour."
Lil Warren has been creating for live performance for over twenty years. Her credits include Nine Lives, Ten Tales, Blackout (Soho Theatre), Lost Souls and Lunatics, Strange The Road (The Hope Theatre) and a promenade play The Changeling through Abney Park. She is currently working on a new play about the Miss World Competition. There is also a forthcoming film adaptation of Strange The Road.
Susie McKenna directs. She is currently Creative Executive Producer at Hackney Empire with the remit to develop new musical theatre for the venue - having left her role as Creative Director in January 2017. Her credits for Hackney Empire include Rudy's Rare Records, Blues in the Night, Beau Jest, Sit and Shiver, Kat and Tameka Show, La Variété, Sing Out , Alter Ego, Once on this Island and Ha Ha Hackney. Other credits include A Midsummer Night's Madness (National Black Theatre of Harlem, Hackney Empire Edinburgh Festival), A Christmas Carol (Arts Theatre London) and The Silver Sword (Coventry Belgrade Theatre, UK tour). Acting credits for theatre include Cats (Ambassadors Theatre), Ragtime (Piccadilly Theatre ), Chicago (Cambridge Theatre), The Witches of Eastwick (Drury Lane Theatre), Hair, The Rocky Horror Show, Jesus Christ Superstar and In The Midnight Hour (UK tour). For film her credits includes Jack and Sarah and Muppets Most Wanted.
Jumoke Fashola presents
JAZZ VERSE JUKEBOX
16 February & 9 March 2018
The eclectic Jazz Verse Jukebox returns to Hoxton Hall with a stunning line-up of wordsmiths and singers.
Jazz Verse Jukebox continues the age-old tradition of intertwining jazz improvisation and spoken word from some of the freshest female exponents on the scene. Plus a 'Jukebox' Open Mic for poets and singers. Hosted by, and with music from broadcaster/vocalist Jumoké Fashola.
Jumoké Fashola is the creator and host of Jazz Verse Jukebox. As a broadcaster she currently presents Inspirit with Jumoké Fashola on BBC Radio London. She previously presented The Ronnie Scott's Radio Show. As a singer she has performed at venues including Royal Albert Hall, Royal Festival Hall and London Arena. She has also released a solo album The Condition of Being a Woman.
ABOUT JAZZ VERSE JUKEBOX
Established and upcoming spoken word poets and singers gather to share their artistry. Since its inception in 2009, Jazz Verse Jukebox, (the brainchild of Jumoké Fashola), has welcomed established poets & musicians such as Lemn Sissay, Soweto Kinch, Michael Horovitz, David Grant, Colin Salmon, Jacob Sam-La Rose and Katrina Naomi.
The Swing Time Dance Company present
SPRING SWING
17 February 2018
A fantastic opportunity for new or experienced dancers to learn in a unique setting.
Specialising in the Lindy Hop and the American Jitterbug, The Swing Time Dance Company has been running events and teaching for 20 years, offering fun and friendly swing dance tuition.
Led by UK open Lindy Hop Champion, Natasha Hall who dances Hollywood Style Lindy Hop. They set up the Swing Time Dance Company to provide high quality authentic dance teaching from the 1920s, 30s, 40s and 50s.
The company specialises in Lindy Hop, the American Jitterbug that originated in Harlem in the late 1920s. It is an energetic partnered dance that includes many Charleston steps as well as tricks, dips and aerial moves. Collegiate Shag, the crazy college dance of the 30s, is a favourite along with the Balboa, a more refined and smoother dance with intricate footwork. They also teach original 50s line dances or strollers and classic routines like the Shim Sham and the Dean Collins Shim Sham.
With a beautiful and stylish collection of original clothes from the era they also enjoy bringing that period look to their appearance as well as to dancing.
Funny Women present
FUNNY WOMEN AWARDS: LONDON REGIONAL FINAL
22 - 23 February 2018
The awards that definitively answers the question 'are women funny?' - the Funny Women Awards - are now in their 15th year and take place this Autumn with heats around the country.
The Funny Women Awards have left a massive impression on the UK comedy scene. Previous winners and finalists include Bridget Christie, Zoe Lyons, Sara Pascoe and Katherine Ryan.
Since 2003 Funny Women has travelled the country in search of the stars of tomorrow, seeing over 3,000 contestants perform live at hundreds of heats. This year London's Regional Final will take place at Hoxton Hall, the Funny Women Awards will also touch down in Dublin, Manchester, Exeter, Wolverhampton and Brighton.
Hoxton Hall and Jesus Paolini Park present
MS PAOLINI'S PHANTASMAGORIA CABARET
24 February 2018
Ms Paolini's Phantasmagoria Cabaret is an unashamed celebration of theatre and comedy, which examines the issue of flitting between the real and inauthentic self. Questions are asked of the id, the ego and the super-ego. Such as 'Being wrong is right?'and 'Urinating in the street is wrong, no?'....
Patrizia Paolini, the three gorgeous girls of Jesus Paolini Park, plus guest artists of a remarkable calibre make Phantasmagoria cabaret a highly engaging and original experience.
Patrizia Paolini is an award-winning theatre maker, performance artist, director and curator. Her work as a solo artist includes What Else? (Ovalhouse) and Where Are You From? (Ovalhouse, Camden People's Theatre, UK and international tour). She has also collaborated with companies such as Wishbone, Dende Collective and the multi award-winning Ridiculusmus. Paolini is the founder of Jesus Paolini Park, their work includes Phantasmagoria (BAC, Exeter, Croydon Festival), Why Do We Dance? and Why Do We Dance? The Marathon (Battersea Arts Centre).
Upfront Comedy present
Desiree Burch: UNF*CKABLE
2 March 2018
Desiree Burch is a brash and provocative stand-up comedian, solo performance artist and storyteller from New York currently based in London. She takes a bull-in-a-china-shop approach to social anthropology - and riffs on the horrors of sleeping with someone born in the 1990s and being an expat amongst many other things. She is about to reach her biggest audience yet in the new series of Live at the Apollo. Age restriction: 18+
Vintage Misfits present
ORGANIC NUBIANS CLUB NIGHT
3 March 2018
Organic Nubians Club Night will take you on a musical journey of pure unadulterated Afropean sounds from the past, present and the future.
With Organic Nubian Explorers DJ Nubian Soul and DJ Marcia Carr playing beautiful Afropean earthly seeds such as Soul, R&B, Funk, Broken Beats, Neo Soul, Soulful House, Afro beats, Reggae, Disco and Classic Hip Hop all night to delight. Age restriction: 18+
DJ Nubian Soul has performed as the main resident DJ for a Soul II Soul, Leicester Jazz, Blues & World Music Festival, Drop Beats not Bombs in Birmingham, UK Black Pride and Bruk Up. She has organised club nights around the UK including Sugahill (Preston/Liverpool), Urban Griot (Liverpool), Eclectik Lady (Birmingham), Soul Naturelle (UK) and Soulfly (London). She currently presents The Organic Nubian Show on Sonic Stream Radio. Her previous credits include The Upfront Show on BBC Radio Merseyside, The Expression Show on ELLE FM and Neonation Show on New Style Radio.
Hoxton Hall present
FEMALE PART SHORTS: A WOMAN ALONE
By Franca Rame and Dario Fo
In a translation by Gillian Hanna
Directed by Karena Johnson
13 March - 31 March 2018
Female Part Shorts press night: 15 March 2018, 7.30pm
A hilarious tragic farce about a housewife imprisoned in her own home by her 'loving' husband who incessantly calls her throughout the day to check on her. With no company except that of her injured hand wondering brother-in-law, she begins to make friends with the next door neighbour.
As she talks to her neighbour through the window, she suddenly comes to realisation her life isn't as perfect as she thought, and that loving husband of hers is a pig like the rest of them.
A Woman Alone is a comedy that makes serious commentary on freedom, misogyny and power.
Produced by Hoxton Hall, A Woman Alone falls into Female Part Shorts series.
Hoxton Hall present
FEMALE PART SHORTS: THE IMMIGRANT
By OneNess Sankara
Directed by Karena Johnson
13 March - 31 March 2018
Female Part Shorts press night: 15 March 2018, 7.30pm
The Immigrant follows Ama, a highly accomplished Caribbean woman and space pioneer in her field. Instead of being praised as a role model she is portrayed as ruthless career woman who abandoned her child in order to pursue her career goals.
The Immigrant explores the guilt of a working mother amplified by distance. As she ponders the emotional cost of her choices and the judgement she faces from outsiders.
Produced by Hoxton Hall, The Immigrant falls into Female Part Shorts series.
OneNess Sankara is an award-winning singer, songwriter, lyricist, actress and director. She has performed at Glastonbury, Royal Festival Hall as well as on BBC, SKY and Choice FM. She has also performed as part of a poetry quartet, Best Kept Secret.
Hoxton Hall present
FEMALE PART SHORTS: A MOTHER
By Franca Rame and Dario Fo
In a translation by Ed Emery
Directed by Karena Johnson
13 March - 31 March 2018
Female Part Shorts press night: 15 March 2018, 7.30pm
Imagine you're at home, after a long day at work, having dinner, mindlessly watching TV. As your eyes glaze over you hear a voice from the newsreader saying, "terrorist captured", and the photo of the ruthless criminal flashes across your screen. Your heart suddenly stops as you realise that you know that ruthless criminal on your screen. Not only do you know him, he is your family member... even worse he's your son!
A Mother tells the story of woman who discovers her son is a terrorist by seeing him on the news. As she watches the news she contemplates her part in his fate - Where did she go wrong in raising him?
Produced by Hoxton Hall, A Mother falls into Female Part Shorts series.
---
Hoxton Hall is located at 130 Hoxton Street, London N1 6SH. Box Office: 020 7684 0060 (Monday - Friday, 12pm-6pm for advance sales and inquiries). Tickets for all shows are available to collect from the box office from one hour before the performance. Concessions and group rates available, please contact the box office for more information. Visit www.hoxtonhall.co.uk for more information, or, follow on Twitter @HoxtonHall, Facebook: /HoxtonHallTheatre and Instagram: hoxtonhall.