Garrett Millerick Brings THE DEVIL'S ADVOCATE to London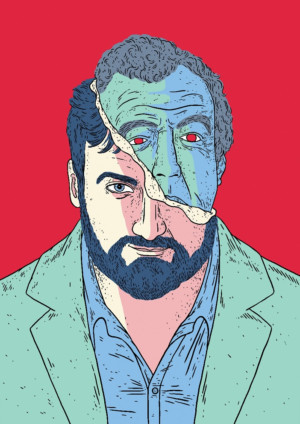 Garrett Millerick is to take his popular 2017 Edinburgh show The Devil's Advocate to London for a five night run at 2Northdown in Kings Cross - from Wednesday 29th November - Sunday 3rd December 2017.
What would you do if you came to the slow and horrifying realisation that you were the living embodiment of the Essex based remake of Kafka's Metamorphosis? For Garrett this terrifying prospect has become a reality. He has become what he once feared most; he has become Jeremy Clarkson.
But he's not going to go down without a fight. In this angry, smart, and roaringly funny show, Garrett tells us just how this deeply disturbing transmogrification came about.
It started with nothing more than an error when Garrett found he had accidentally bought a house that turned out to be right in the heart of Brexit country. But pretty soon he found this one small step to be a path to cataclysmic consequences; his membership of the Urban Liberal Elite was rescinded and soon, to his abject dismay, he found himself making the slow march into the ranks of the silent majority. To Garrett's horror he began to be consumed by home improvement, car magazines, property values, bin day and reality television. That presenting job on Top Gear is surely only months away and now all Garrett can do is to let it happen, trapped in a silent scream as he descends into the masses.
Garrett is an increasing force to be reckoned with on the UK Circuit. A diverse and unique performer, he is in high demand across a broad range of shows. From regularly hosting End of The Road Festival alongside some of the biggest names in comedy, to performing for United Nations peace keeping troops his distinct comedic voice is establishing a growing audience. Already a regular at the most respected comedy clubs in the country, earlier this year he became one of the new generation of comics to be making weekend appearances at the world famous Comedy Store in London's Leicester Square.
His stewardship of The Schadenfreude Cabaret has led to hosting some of the best and most exciting live events on the circuit, such as Hat Trick's Sabotage nights and cult comedy favourite Group Therapy. In May he became resident host at 2Northdown, this collaboration led to The Devil's Advocate being the venue's first co-production since opening earlier this year.
With some hugely exciting screen and radio projects in the pipeline, Garrett is also a talented and successful writer and director. His debut sitcom Do Gooders, a comedy about mid-level charity workers, has been produced by Hat Trick Productions. The pilot, starring Jack Dee and Meera Syal is due for release shortly through Amazon's Audible.
TICKETS: https://www.tickettext.co.uk/garrett-millerick/
Related Articles View More UK Regional

Stories

Shows
More Hot Stories For You