Casting Announced for the European Premiere of DOLPHINS AND SHARKS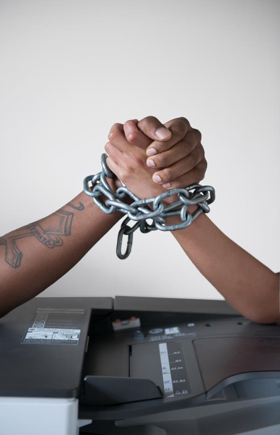 "My first supervisor was a African girl named Ann, and she had the nerve to tell me that I don't have a right to call myself African American. I had to tell that heffa just because your people sold my people doesn't mean I don't got African roots."
The European premiere from new African-American playwright James Anthony Tyler, Dolphins and Sharks opens at the Finborough Theatre for a three week limited season on Tuesday, 12 September 2017 (Press Nights: Thursday, 14 September and Friday, 15 September 2017 at 7.30pm).
Yusuf needs a break - his philosophy degree from NYU isn't opening any doors, but his new job would help him pay his overdue rent; Xiomara doesn't want to settle for the marriage scenario her Dominican mother keeps pushing on her; and Isabel needs her job to put three kids through school, but still manages to keep her sense of humour.
All three are employees of Harlem Office, New York, a neighbourhood copy shop where promotions are rare, raises are even rarer, and racism is often on display.
But when one staff member is given the chance to move up to manager, friendships are tested and loyalty turns out to be less valuable than cold hard cash. Soon cutbacks and office politics have everyone fighting to keep their jobs and their sanity...
A searing new comedy about clocking in, clocking out and rising up.
Dolphins and Sharks receives its European premiere following its reading as a part of Vibrant 2016 - A Festival of Finborough Playwrights It won the 2015 Fire This Time Festival in New York City, was developed through staged readings and workshop performances as part of Labyrinth's 2015 Up Next and 2016 Barn Reading Series and recently enjoyed a successful run at Labyrinth Theater, New York City. It was also a finalist for the 2016 O'Neill Playwrights Conference.
Playwright
James Anthony Tyler is an award-winning playwright who holds a MFA in Film from Howard University and a MFA in Dramatic Writing from New York University. His work has been presented by OBIE Award-winning playwright Israel Horovitz at the Cherry Lane Theatre (Hand Held Out) and La MaMa Theatre (Some Old Black Man), all in New York City. Some Old Black Man was also produced at the Berkshire Playwrights Lab. His play The Drop Off was featured as part of The Classical Theatre of Harlem's Playwrights Playground and their Future Classics Series. You're Sitting In The Dark and hop tha A have been recent semi-finalists for the O'Neill Playwrights Conference. James is one of the first recipients of the 2015 First Round Fellowship presented by Open Bar Theatricals, and his honours include being selected by the OBIE award-winning '48 Hours in Harlem' Festival, the Paul Robeson Award, and a John Golden Award for Excellence in Playwriting from NYU. He is a proud member of Harlem's Emerging Black Playwrights Group and a 2014-2015 Dramatists Guild Fellow. Recently, he was awarded The Playwrights Center's Many Voices Fellowship, and accepted to the 2016 Ars Nova Play Group and The Juilliard School's Lila Acheson Wallace American Playwrights Program.
Director
Lydia Parker is Artistic Director of Over Here Theatre Company which produced ObamAmerica, a festival of new American writing at Theatre503 in 2014 and Our American Cousin at the Finborough Theatre in 2015. Originally from New York, Lydia has written and directed A Better Pronoun (Old Red Lion Theatre), directed Love, Sex and Apps (Bread and Roses Theatre), Rebranding Britain, Witch Hunt, Ice Cream, We Really Should Do Something and Love (all at Southwark Playhouse), A Big Fridge (Hen and Chickens Theatre and the Park Theatre), Something There That's Missing (Theatre503 and Edinburgh Festival), Skinhead (Brockley Jack Studio) and Our Children Will Be Next (Theatre503). She is also an Associate Director of new writing company, Little Pieces of Gold. For three years, Lydia produced The American Actors UK Playreading Festival of New American Work (Tristan Bates Theatre). Before moving to London, Lydia founded an English language theatre in Puerto Rico which produced Steve Martin's Picasso at the Lapin Agile.
The cast is:
Shyko Amos | Isabel Peters
Trained at Queen Mary University of London, The Guilford School of Acting and William Esper Studios in New York.
UK Theatre includes One Love (The Bob Marley Musical) (Birmingham Rep), Mamma Mia (World Tour), In Time (Almeida Theatre), Once On This Island (Birmingham Rep, Nottingham Playhouse and Hackney Empire), Anansi (Shaw Theatre), Chocolate Bounty (Brockley Jack Studio Theatre) and Andrew Lloyd Webber's 50th Birthday Celebration (Royal Albert Hall).
US Theatre includes Familiar (Yale Rep, New Heaven), Generations and the Obie award winning An Octoroon (Soho Rep, New York City) and Un Utero (Signature Theater, New York City).
UK Workshops include Charlton Heston And The Prodigal Son (National Theatre)
US Workshops include Megastatis (New York Theatre Workshop), School Girls (Lark Theatre, New York City) and Dirty Blood (Rattlestick Playwrights Theater, New York City).
Hermeilio Miguel Aquino | Danilo Martinez
Trained at Drama Centre London.
Theatre includes Rosencrantz And Guildenstern Are Dead (The Old Vic), One Night In Miami (Donmar Warehouse), Well (West End), Black Lives Black Words (Bush Theatre), Snow Angels and Broken Fences (Off Broadway).
Television includes The Final Hours Of Marvin Gaye, Doctor Who, Blue Bloods and Boardwalk Empire.
Miquel Brown | Amenze Amen
Productions at the Finborough Theatre include Rachel.
Trained at Ladre Ballet Academy, Seattle, and at the Royal Academy of Dramatic Art.
Theatre includes Dessa Rose (Trafalgar Studios), The Amen Corner (National Theatre), Reflection Day (Theatre503), Menopause - The Musical (Shaw Theatre and National Tour), Stamping Shouting And Singing Home (Polka Theatre), Stepping Out (Theatre Royal Lincoln), Showboat (Royal Albert Hall), A Streetcar Named Desire (National Theatre Studio), Purlie (Bridewell Theatre), Blues In the Night (National Tour), Mardi Gras (Prince of Wales Theatre), the original London cast of Elegies For Angels and Punks And Raging Queens (King's Head Theatre and Criterion Theatre).
Film includes Fantastic Beasts And Where To Find Them, Genius, Woman In Gold, Locked In, How To Lose Friends And Alienate People, The Successor, An American Haunting, French Kiss, Superman and Soloman And Sheba.
Television includes 9/11: The Twin Towers, Casualty and Wit.
Ammar Duffus | Yusuf Nwachukwu
Trained at Royal Central School of Speech and Drama.
Theatre includes The Woman In the Moon (Shakespeare's Globe), Twelfth Night (National Theatre) and If We Got Some More Cocaine I Could Show You How I Love You (Old Red Lion Theatre).
Film includes Harry Potter And The Half Blood Prince.
Television includes Doctors.
Rachel Handshaw | Xiomara Yepez
Trained at Royal Conservatoire of Scotland and Sarah Lawrence College.
Theatre includes Primetime (Royal Court Theatre), Don't Sleep There Are Snakes (Park Theatre and Simple8), A Doll's House (The Space), The Lonely Soldier Monologues (Cockpit Theatre), Crowd (Theatre503), The Helen Project (Lost Theatre), Penelope Who Really Cried (White Bear Theatre), Rhinegold (The Yard), Liberty Equality Fraternity (Traverse Theatre, Edinburgh, and Tron Theatre, Glasgow), Lethe and The Rise And Fall Of Lucas Petite (The Arches, Glasgow) and The Wars Of The Roses Trilogy (Scottish Youth Theatre).
Film includes Snowden, Mission Impossible: Rogue Nation, Edge Of Tomorrow and The Fifth Estate.
Book online at www.finboroughtheatre.co.uk
Tuesday, 12 September - Saturday, 30 September 2017
Tuesday to Sunday evenings at 7.30pm. Saturday and Sunday matinees at 3.00pm.
Prices until 17 September 2017 - Tickets £16, £14 concessions, except Tuesday evenings £14 all seats, and Friday and Saturday evenings £16 all seats. Previews (12 and 13 September) £12 all seats. £10 tickets for Under 30's for performances from Tuesday to Sunday of the first week when booked online only. £12 tickets for residents of the Royal Borough of Kensington and Chelsea on Saturday, 16 September 2017 when booked online only.
Prices from 19 September 2017 - Tickets £18, £16 concessions, except Tuesday evenings £16 all seats, and Friday and Saturday evenings £18 all seats.
Performance Length: Approximately two hours with one interval of fifteen minutes.