Casting Announced For JEANNIE at the Finborough Theatre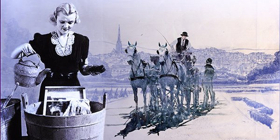 A 1930s comedy for Christmas, Jeannie by rediscovered female playwright Aimée Stuart will open at the Finborough Theatre for a four-week limited season on Tuesday, 27 November 2018 (Press Nights: Thursday, 29 November and Friday, 30 November 2018 at 7.30pm).
It is 1936 in a "wee one-eyed" town in Scotland. Jeannie is a drudge for her mean controlling father, but dreams of a different life. When she receives a large inheritance, she seizes the opportunity to finally escape to the glamour and sophistication of European travel.
During her stay in Vienna, she encounters Stanley, a washing machine inventor from Yorkshire, and then a real Viennese Count. But Jeannie is no pushover. She knows her own mind, she is a stickler for the truth, and she hates scroungers...

A 1930s version of the Cinderella story, Jeannie is a charming light romantic comedy, ideal for the Christmas season, and unseen in London since 1940.
Jeannie's author Aimée Stuart was one of the West End's most successful female playwrights between the wars - and a fascinating character in her own right - staunchly feminist, and never afraid to tackle controversial subjects which led to some of her plays being banned by the Lord Chamberlain. The original production of Jeannie was an instant hit, transferring both to the West End and Broadway and turning Barbara Mullen who played the title role into a star overnight. It was also filmed with Michael Redgrave and Kay Hammond.
Playwright Aimée Stuart (1886-1981) was born in Glasgow. She first came to prominence when she wrote the passionate memoir, An Airman's Wife (1918). Two further novels were published before she began to write plays with Philip Stuart including Nine Till Six (1930). Jeannie (1936) was the first play she wrote after his early death, followed by a string of further hits including the almost-openly lesbian play Love of Women (1937) and Lace On Her Petticoat (1951). Many of her plays were made into films, and she also wrote additional dialogue for a number of acclaimed films including Leslie Howard's The Gentle Sex (1943) and The Wicked Lady (1945).
Director Nicolette Kay returns to the Finborough Theatre where she directed Seed, Love Child and Hurried Steps. She is Artistic Director of New Shoes Theatre and has directed and toured work in venues as diverse as NIDA in Sydney, Battersea Arts Centre, Lancaster Playhouse, the MAC and the Demarco Gallery, Edinburgh. Her productions and co-translations of plays written by the highly respected feminist writer Dacia Maraini have been featured in publications and anthologies worldwide. She trained as an actress at the Drama Centre London and played leading roles for the Cambridge Theatre Company, in repertory, The Gate Theatre and The Young Vic.
The cast is:
Evelyn Adams | Maggie/The American Woman
Trained at Italia Conti.
Theatre includes Horrible Histories (National Tour), Where The Wild Things Are (Unicorn Theatre), The Ringer (Gaiety Theatre), Mother Goose (The Theatre, Chipping Norton), Institute of Impossibility (Belgrade Theatre, Coventry), My Name is Hunger (Park Theatre), Father of the Bride (The Mill at Sonning), The Ghost Train (Brockley Jack Studio Theatre), Dry Rot (National Tour) and Count Oederland (Arcola Theatre).
Film includes Gravity, Meet Me on the Southbank, Deadinburgh and The Secret Life of Butterflies.
Television includes Seven and Me and Doctors.
---
Max Alexander-Taylor | Waiter/Porter/Ensemble
Trained at the Royal Conservatoire of Scotland.
Theatre while training includes London Road (Royal Conservatoire of Scotland), Spring Awakening (Dundee Repertory Theatre) and Side Show (West Brewery).
---
Kim Durham | Father/Clerk/Herr Ober
Theatre includes The Faith Healer (Gate Theatre, Dublin), The Lady from the Sea and Beauty and the Beast (Birmingham Rep), A Christmas Carol (Library Theatre, Manchester), Sitting Pretty (Theatre of Comedy), The Wind in the Willows, Othello, Our Country's Good, The Rivals and Man of the Moment (Swan Theatre, Worcester).
Film includes Mike Bassett: England Manager.
Television includes Inspector Morse, The Tenant of Wildfell Hall and New Tricks.
Radio includes over one hundred radio dramas, including twenty years in The Archers.
Kim recently completed a long full-time position as a Senior Acting Tutor and Course Leader for the MA in Professional Acting at Bristol Old Vic Theatre School.
---
Mairi Hawthorn | Jeannie
Trained at Guildhall School of Music and Drama.
Theatre includes Macbeth (Stafford Festival Shakespeare) and Wishbone (The Bunker).
Theatre while training includes Balm in Gilead, As You Like It, The Same Deep Water As Me, Crazy For You, How To Succeed In Business Without Really Trying, The Merchant of Venice, Medea and Uncle Vanya.
Television includes Game of Thrones.
---
Carol Holt | Bessie/Mistress
Trained at Welsh College of Music and Drama.
Theatre includes Billy Liar (Ashcroft Theatre, Croydon), Great Pretenders (New End Theatre, Hampstead), How The Other Half Loves (Coliseum Theatre, Oldham), The Shell Seekers (Nick Brooke Productions), Mixed Feelings (TEG Productions), What The Butler Saw and Two (Dukes Playhouse, Lancaster), Norman Conquests (Harrogate Theatre), Blithe Spirit (Harrogate Theatre) and The Resistible Rise of Arturo Ui (Library Theatre, Manchester).
Film includes The Bris and Small Time Revolutionary.
Television includes Doctors, Emmerdale, Coronation Street, Pearly Gates, The Royal Today, The Royal, Is Harry on the Boat, Surprising Stars, Baddiel's Syndrome and Bob Martin.
---
Madeleine Hutchins | Mrs.Whitelaw/The Blonde
Trained at East 15 Acting School.
Theatre includes Mrs.Warren's Profession (McCarter Theatre, Princeton), Hay Fever, As You Like It and You Never Can Tell (National Tour), Stone Cold Murder, Reasons to Be Pretty, Boeing Boeing, Don't Misunderstand Me and Don't Lose the Place (English Theatre, Hamburg), Unnatural Tragedy which was nominated for an OffWestEnd Award (White Bear Theatre), Before I Sleep which won the Peter Brook Award (dreamthinkspeak), Macbeth and A Midsummer Night's Dream (TourdeForce), Shaw's Women (Jane Nightwork Productions) and Confessions Off Broadway (Grand Theatre, Swansea).
Film includes Nasty which premiered at the BFI London Film Festival and for which Madeleine won the Award of Merit at The IndieFEST Film Awards and Best Actress at Fly Film Festival.
Television includes Fright Bites, Thanks For the Memories and Candice Renoir.
Radio includes Seal Longing.
---
Matthew Mellalieu | Stanley
Trained at Drama Centre, London.
Theatre includes After the Dance (Theatre by the Lake, Keswick), As You Like It (Shared Experience and Theatre by the Lake, Keswick), Henry V and Macbeth (Globe Education), Julius Caesar, As You Like It, A Midsummer Night's Dream, The Wind in the Willows, Romeo and Juliet and The Nativity (Iris Theatre) and The Tempest (Rosemary Branch Theatre).
Film includes Remora, Dark Show, The Rise of the Krays, The Brother and Made of Honour.
Television includes Casualty, Love, Lies and Records, Still Open All Hours, Doctors, Rovers and Hollyoaks.
---
Patrick Pearson | The Count
Trained at the Central School of Speech and Drama.
Theatre includes The Madness of George III (National Theatre), When We Are Married (Whitehall Theatre), A Piece of My Mind (Apollo Theatre), Great Balls of Fire (Cambridge Theatre), The Mousetrap (St Martin's Theatre), Eastern Star (Tara Arts Theatre), A Perfect Retreat (Bush Theatre), Take a Chance on Me (New End Theatre, Hampstead), An Inspector Calls and Mary Rose (Greenwich Theatre), Point Valaine (Chichester Festival Theatre), The Duchess of Malfi and Time and the Conways (Bristol Old Vic), What the Butler Saw (Royal Lyceum Theatre, Edinburgh), The School for Wives and Tom Jones (Leeds Playhouse) and The Writing Game (Birmingham Rep).
Film includes The Best Exotic Marigold Hotel, The Nutcracker and Privates on Parade.
Television includes The Government Inspector, Closing Numbers, EastEnders, New Tricks, Hostages, A Dangerous Man, Bad Girls, Casualty, The Bill, Lovejoy, Poldark, Too Good to be True, The Worst Witch, When We Are Married, Dangerfield, Goodnight Sweetheart, Pie in the Sky, Hetty Wainthrop Investigates, Brass, Nice Work, The Contractor, Frederick Forsyth Presents, Vote for Them, The Death of the Heart and We'll Meet Again.