Cast Announced for Comedian Sara Pascoe's PRIDE AND PREJUDICE Adaptation at Nottingham Playhouse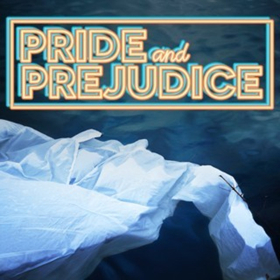 Nottingham Playhouse Theatre Company and York Theatre Royal announce casting for their brand new comic adaptation of Jane Austen's Pride and Prejudice by Sara Pascoe.
The most famous love story our country has ever produced, yet the women don't work, the servants don't speak, and who cares how filthy rich Mr Darcy is when he is so arrogant and RUDE? Georgian England was a world where men had property whilst women had smelling salts and piano lessons.
In a brand new comic adaptation by stand-up comedian Sara Pascoe, with an original score from Emmy the Great and directed by Susannah Tresilian (Director of Posh at Nottingham Playhouse in 2015), prepare yourself for a playful, truthful and occasionally disrespectful take on this brilliant novel.
Matt Whitchurch
will play Mr Darcy alongside Bethan Mary-James as Elizabeth/Teacher Elizabeth. Cast as the Bennet sisters are Rebecca D'Souza as Jane/Modern Jane,
Alice Haig
as Kitty/Modern Kitty,
Charlotte Lucas
and Modern Charlotte, Rachel Partington as Mary/Modern Mary, Miss Darcy, Miss de Bourgh and Mrs Hurst and
Olivia Onyehara
as Lydia/Modern Lydia and Miss Bingley. Also cast is
Matthew Romain
as Mr Bingley/ Mr Collins,
Alex Sawyer
as Wickham/Modern Wickham, Colonel Fitzwilliam and Mr Gardiner and Kerry Peers as Mrs Bennet/Modern Mrs Bennet, Lady Catherine de Bourgh, Mrs Gardiner and the Housekeeper. Sara Pascoe is an actress, writer and one of the most accomplished comedians in the country. She has an impressive array of TV credits including the BAFTA nominated Twenty Twelve (BBC2), W1A (BBC2), Campus (C4), The Thick of It (BBC2) and Being Human (BBC3). As a stand up, Sara has guest starred on Live at the Apollo (BBC), Taskmaster (Dave Channel) and performed a headline show for the Live from the BBC TV series. Sara is a regular guest on Frankie Boyle's New World Order series and can frequently be seen on panel shows such as QI and Have I Got News For You (both for the BBC). Sara has enjoyed great success with her previous solo live shows, with sell-out Edinburgh fringe runs and an Edinburgh Comedy Award-nomination in 2015 for 'Sara Pascoe vs History'. Sara subsequently toured the latter show across Australia and New Zealand, including the Melbourne International Comedy Festival. Sara's debut book "Animal" was released in May 2016 (published by Faber & Faber) to widespread critical acclaim - and she has recently completed an extended sell-out UK stand-up tour of the same title. Sara is currently writing her 2nd book, a radio series for BBC radio 4 and will take her new solo live show, LadsLadsLads to the 2017 Edinburgh Festival CAST BIOGRAPHIES:
Matt Whitchurch
Midsummer Nights Dream (Liverpool Everyman); We Know Where You Live (Finborough Theatre); Labyrinth; Pine (Hampstead Theatre). Bethan Mary-James The Revenger's Tragedy (Nottingham Playhouse); All My Sons (Talawa/Royal Exchange); Moon On A Rainbow Shawl (Talawa/National Theatre). Rebecca D'Souza Inside Out Of Mind (Lakeside Arts and National Tour); The Memory of Water (The Old Joint Stock, Birmingham); White Peacock (Nottingham Playhouse Roundabout Theatre Company).
Alice Haig
Richard III (USA Tour); The Brink (Orange Tree Theatre); 84 Charing Cross Road (
Salisbury Playhouse
). Rachel Partington Thirteen (Tobacco Factory Theatres); The Two Gentleman of Verona; Treasure Island (Redgrave Theatre); The Glass Menagerie (Talisman Theatre).
Olivia Onyehara
Time and the Conways (Nottingham Playhouse); Private Lives (Mercury, Colchester); The Watchers (Southwark Playhouse).
Matthew Romain
Before the Party (
Salisbury Playhouse
); Sleeping Beauty (
Watermill Theatre
); The Inn at Lydda; Hamlet (world tour); King Lear; Hamlet (Shakespeare's Globe). Kerry Peers Much Ado About Nothing, A Street Car Named Desire, One Flew Over the Cuckoo's Nest (Theatre Clwyd); Sherlock Holmes (
West Yorkshire Playhouse
); Anne Frank (York Theatre Royal & Tour); Billy Liar (Liverpool Everyman/Playhouse).
Alex Sawyer
Rosencrantz and Guildenstern are Dead (The Old Vic); Alice (Octagon Theatre); Room (Development) (Theatre Royal Stratford).
LISTINGS: Nottingham Playhouse
Friday 15 - Saturday 30 September
Evenings 7.45pm
Matinees Saturday 23 September 2.30pm, Thursday 28 September 1.30pm
Press Night Tuesday 19 September 7pm York Theatre Royal
Wednesday 4 - Saturday 14 October
Evenings 7.30pm
Matinees Saturdays 7 and 14 October 2.30pm, Thursdays 5 and 12 October 2pm
Press Night Wednesday 4 October 7.30pm BOX OFFICE INFORMATION: Nottingham Playhouse
www.nottinghamplayhouse.co.uk
Box office 0115 941 9419 York Theatre Royal
www.yorktheatreroyal.co.uk
Box office 01904 623568