Award Winning Production Of Liane Grant's HALF ME, HALF YOU Comes to The Tristan Bates Theatre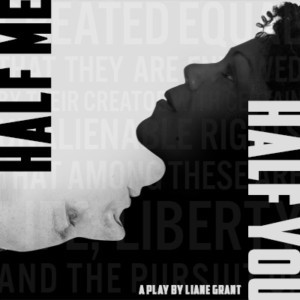 What if you were black, gay and a woman in America right now?
Jess and Meredith are a married, interracial, gay couple living in New York in 2017 - the era of Trump - weathering a new wave of intolerance, discrimination and oppression, which is sweeping the nation and seeping into their home.
16 years later, Maya, a biracial British teen is forced into American life, braving the aftermath of a second civil war, and changing Meredith's life irrevocably.
WINNER of the Fresh Fruit Festival (New York) OUTSTANDING PLAYWRIGHT 2018 AWARD, for her remarkable writing debut, Liane Grant's Half me, half you returns after its highly praised 2018 run in New York and London. It confronts the reality of the current global climate and explores the consequences for future generations, while reminding us that we are all simply people searching for love and acceptance.
***** "a drama that excels" (Entertainment Focus) ***** "spectacular" (Outerstage New York)
**** "powerful and heartbreaking" (Everything Theatre)
*Q&A will be hosted by Terri Paddock. Confirmed panel members are Olivier Award winning actor/director Maria Friedman, Chief Executive of Stop Hate UK, Rose Simkins, and Femi Oluwole, Co-founder and Chief Spokesperson for Our Future Our Choice with cast/creatives.
CAST: Liane Grant, Toccara Cash, Kalea Williams, Laura Shipler Chico
CREATIVE TEAM:
Director: Leah Fogo
Producers: Liane Grant & Roxanne Lamendola (RoL'n Productions)
Designer: Justin Williams & Jonny Rust
Lighting Design: Holly Ellis
Sound Design: Scott Stait
Publicity Design: Katie Gabriel Allen
SM Emily Lawes | DSM: Melissa Berry
TICKET LINK: https://www.tristanbatestheatre.co.uk/whats-on/half-me-half-you
BOX OFFICE: 020 3841 6611