Factory Presents THE MEN IN WHITE This Fall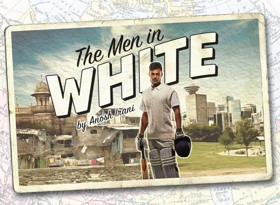 Factory presents its 49th Season "Canada at Your Doorstep," six provocative works in the Mainspace that challenge and interrogate popular narratives of Canadian identity. The 2018-2019 season begins with the return of Dora Award-winning playwright Anosh Irani(Bombay Black) to Factory, and the Toronto premiere of his latest play, THE MEN IN WHITE, directed by Philip Akin.

Abdul's Vancouver cricket team wants to end its losing streak by recruiting his younger brother Hasan, a talented "all-rounder" from India. One problem is that he is a professional chicken cutter from the wrong side of town - a fact not lost on some of his teammates, let alone the immigration authorities. Bringing Hasan to Canada will take more than just a plane ticket, and not all of the team agree it is worth the cost.

Alternating between the Dongri neighbourhood of Mumbai, and a Vancouver locker room, this touching and funny story follows a charming band of feisty misfits as they discover that home can be found in a sport, and unite family across nations.

THE MEN IN WHITE is a heartwarming tale of love, life, and how to hit a googly!

Award-winning playwright and author Anosh Irani has published four critically acclaimed novels (The Cripple and His Talismans, The Song of Kahunsha, Dahanu Road, and The Parcel), and the shortlisted Governor General's Literary Award Anthology, The Bombay Plays: The Matka King and Bombay Black. Irani's work has been translated into eleven languages. The premiere production of Bombay Black won five Dora Mavor Moore Awards including Outstanding New Play. THE MEN IN WHITE, which will be published by House of Anansi this September, was nominated for three Jessie Richardson Awards, including Outstanding Original Script, when it premiered in Vancouver in 2017.

Dora Award- and Silver Ticket Award-winning director Philip Akin has been acting and directing for over 40 years, and is a founding member, and current Artistic Director, of Obsidian Theatre. Recent directing credits include Of Marriage and Men, 1837: The Farmer's Revolt, Master Harold and the Boys / Shaw Festival; The Humans / Royal Manitoba Theatre Centre; hang, Up the Garden Path, Venus' Daughter / Obsidian Theatre;Passing Strange / Acting Up Stage and Obsidian Theatre; and Midsummers Night's Dream/ Fountain School of Performing Arts at Dalhousie University.

The cast of THE MEN IN WHITE features Chanakya Mukherjee (Macbeth in Action / Shakespeare in Action, Tough! / Canadian Rep Theatre) as Hasan and Gugun Deep Singh (Much Ado About Nothing / Tarragon Theatre, The Greatest Love Story Ever Forgotten / Toronto Fringe Festival) as Abdul, both making their Factory debuts; Tahirih Vejdani (Portia's Julius Caesar / Shakespeare in the Ruff, Elektra / Stratford Festival) asHaseena, a customer of Hasan; recent graduate of the Factory Mechanicals Actors Training Program Farid Yazdani (Suits TV series, Glengarry Glen Ross / Producer at Lower Ossington Theatre) as Ram, a batsman and bowler on the cricket team; Dora Award-nominated Sugith Varughese (Little Pretty and The Exceptional / Factory, Kim's Convenience / CBC TV) as Randy, the team captain; Dora Award-nominated Cyrus Faird(Trudeau and Levesque & Trudeau and The FLQ / VideoCabaret, Fortune and Men's Eyes/ Birdland Theatre) as Doc, a surgeon and batsman; and John Chou (I/ Desiderata Theatre Company, The Fan Tan King / Pan Asian Repertory Theatre) making his stage debut as Sam, a fellow teammate.

THE MEN IN WHITE runs October 13 - November 4, 2018, with the official opening night on Thursday, October 18 at 8pm.
www.factorytheatre.ca/2018-19-season
More Hot Stories For You