Body Percussion Festival to Return to Harbourfront Centre This December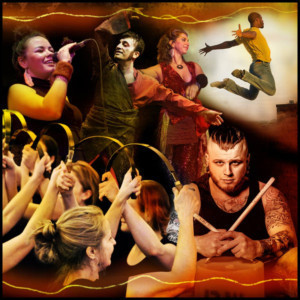 Body Percussion Festival returns to the stage at Harbourfront Centre Theatre for the second time since its sold-out inaugural festival back in 2014.
The festival includes a vibrant group of local, provincial and national artists and will take place on December 1st and 2nd at 8:00pm with a matinée on December 3rd at 3:00pm.
The first festival of its kind in Canada, Body Percussion Festival features dance, voice and movement arts that create music and rhythm through the body, footwear, and instruments that act as extensions of the body. Join the excitement and take part in the participatory workshops on Saturday, December 2nd led by artists performing in the festival.
Body Percussion Festival is curated by Artistic Director Viv Moore, whose eccentric journey in dance has led her through English Music Hall, Clog, and, Butoh, amongst many other forms. The festival highlights the contagious energy of rhythm, playfulness and surprising humour that emerge from skilled improvisation, choreography and interplay between artists and the audience.
Playful, surprising, exhilarating, this is a program where even finger-snapping is raised to a spectacular art form. For Viv Moore, Body Percussion Festival is a testament to "how many forms of dance can be enjoyed by all, and how many points of entry there are into dance...Our hope is that all audience members will return home thinking, 'Wasn't that extraordinary!' but also, 'I could do that!' - that it's just the body making sounds, that everybody has a body, and that it all might be possible."
Moore has sought out both community-based and professional artists to participate in the festival to curate three unique performances with six performers for each show. The festival's eclectic group of artists include: Inuit Throat Singer, Iva; Montreal Gumboot Dancer Sipho Ndlela, originally from South Africa; Indigenous Artist Brian Solomon performing 'Dances to Acknowledge the Land'; Kapa Haka Dance by Whakatopu Kotahi; English Sword Dance with Toronto Women's Sword; Body Percussion by former Stomp performer TRoy Sexton Rhythm Works; Belly Dance with Roula Said; Ottawa Valley Step Dancers Kerry and Tom Fitzgerald; 2012 Canadian Beatbox champion, Scott Jackson; Bharatanatyam Dance with Nova Dance; Ethnic Contemporary with Sashar Zarif; A Capella Singing and Vocal Percussion with Jane Miller; Tap Dancer Travis Knights; Flamenco Dance performed by ViDAnza; Body Percussion and Georgian Polyphony by MusiCamp; and Body Percussion with Body Percussion Ensemble of Toronto.
Audience members of all age groups are welcome to take part in three participatory workshops on Saturday, December 2nd. Master the basic techniques of Inuit Throat Singing with Iva, from 11:00am to 12:00pm; learn the power of Body Percussion, and the keys to making music with claps, stomps, snaps and body noise with TRoy Sexton Rhythm Works from 12:15pm to 1:15pm; and learn the history and origin of South African Gumboots Dance with Sipho Ndlela, from 2:45pm to 3:45pm. All workshops will be held in the Brigantine Room, located in the Bill Boyle Artport at Harbourfront Centre.
---
Performances:
Harbourfront Centre Theatre
December 1st, 2nd, 3rd, 2017
Tickets: $12 - $30; Children 14 years and under $10
Discounts for Seniors, Students and Arts Workers
To purchase tickets, click HERE.
Workshops:
Brigantine Room
December 2nd, 2017
Tickets: $10 each
To purchase tickets, click HERE.
---
Based in Toronto, Ontario, Body Percussion Festival is dedicated to dance and other movement arts that create music and percussion through the body, footwear, and instruments that act as extensions of the body. This creative and fun-filled event makes a special bond between performer and audience through novel improvisations, choreography and sounds that can only be derived from the body, as no music instrumentation is used at all. All the artists are new to the festival, and we are proud to give Canadian talent this unique chance to showcase their Body Percussion skills.
Related Articles View More Toronto

Stories

Shows
More Hot Stories For You