BWW Review: THE MUSIC MAN Hits All the Right Notes at the Stratford Festival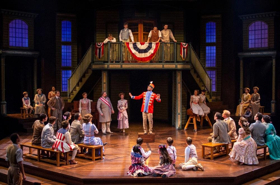 Last night marked the opening of the Stratford Festival's production of Meredith Willson's THE MUSIC MAN at the Festival Theatre. In this show, music is responsible for bringing the children of River City back to their parents. Tonight, it also brought patrons of the Stratford Festival back to the theatre.
On Monday, at what was supposed to be the Festival's opening night performance of THE TEMPEST, the show could not go on. The performance was cancelled and the building was evacuated due to a bomb threat. It was an upsetting situation and although there was no doubt that the theatre was now completely safe, I'm sure it was still on the minds of performers and patrons alike, as folks filed into the Festival Theatre once again on Tuesday evening. All of that was soon forgotten and the magic of live theatre quickly took over as the overture to the classic Meredith Willson musical began to soar over the enthusiastic (and sold out) audience.
THE MUSIC MAN was last performed on this stage 10 years ago and based on the audience reaction last night; it is clearly a great time to do it again! Director/Choreographer Donna Feore's production hits all the right notes-with an incredibly talented company, beloved music such as "Seventy-Six Trombones" and "Til There Was You", and outstanding dance numbers, THE MUSIC MAN is sure to be a hit with audiences of all ages, all season long.
Both leads in this production, Daren A. Herbert as Harold Hill and Danielle Wade as Marian Paroo, are making their Stratford debuts. Herbert's Prof. Hill is full of charm as the con man/salesman who convinces a sleepy town that they are in need of a boys band in order to counter the alleged dangers of installing a new pool table in the billiards parlour. He has the townsfolk of both River City and Stratford wrapped around his finger with the number 'Ya Got Trouble', and lucky for us, he never lets go! Also delightful, is Danielle Wade as Marian (the librarian) Paroo. Marian is essentially the only citizen of River City Iowa to see through Harold's ruse. She initially tries to expose him, but once she sees the music, magic and joy that he has brought to her town, and specifically to her little brother Winthrop, she has a change of heart. Wade has a lovely singing voice and an ever present twinkle in her eye that fits well with Marian's quick wit. The chemistry between Herbert and Wade as they sing "Til There Was You" is undeniable.
What truly makes this production shine is that each and every performer is excellent. Steve Ross and Blythe Wilson are a comedic tour de force as Mayor Shinn and Eulalie MacKecknie Shinn; Mark Uhre is playful and charismatic as Harold's old friend Marcellus; Denise Oucharek brings both warmth and spunk to Mrs. Paroo; Devon Michael Brown and Heather Kosik are enchanting as young lovers Tommy and Zaneeta; and a star was born in Alexander Elliot's portrayal of young Winthrop Paroo. The ensemble of townsfolk, teens, and children is also excellent, with some memorable moments coming from the 'Pick A Little' ladies and from the quartet of George Krissa, Sayer Roberts, Robert Markus, and Marcus Nance (this quartet is so in synch that the actors' names are blending together).
Once again, we are not worthy of Donna Feore's choreography. The "Seventy-Six Trombones" number was utterly spectacular and deserved every moment of the mid-show standing ovation that it received on opening night. I would also be remiss not to mention the delight I felt at seeing both male and female performers doing various acrobatics. A back-flip is impressive. A back-flip while wearing a dress from the early 1900's is outstanding.
Dana Osborne's fantastic costumes not only transport the audience to 1912, but also help to tell us who each of these characters are. The set design by Michael Gianfrancesco immediately gives the audience a strong sense of what River City is all about. And one cannot comment on a show about the bringing a town to life with music without commenting on...the music! Music Director Franklin Brasz's 19-person orchestra is superb.
THE MUSIC MAN is a story about a man who unwittingly brings a town exactly what it needs, exactly when it needs it. After the events of opening night, I think it is fair to say that everyone in the audience felt that last night this show did just that for the entire Stratford community.
THE MUSIC MAN continues in Repertory until November 3rd.
Photo Credit: Cylla von Tiedemann
Based out of Stratford, Ontario, Lauren is an Occupational Therapist working in mental health by day and a BWW Contributor by night (or by matinee). (read more...)