BWW Interview: Damien Atkins on Aliens, UFOs, and His Examination of Extraterrestrial Encounters for WE ARE NOT ALONE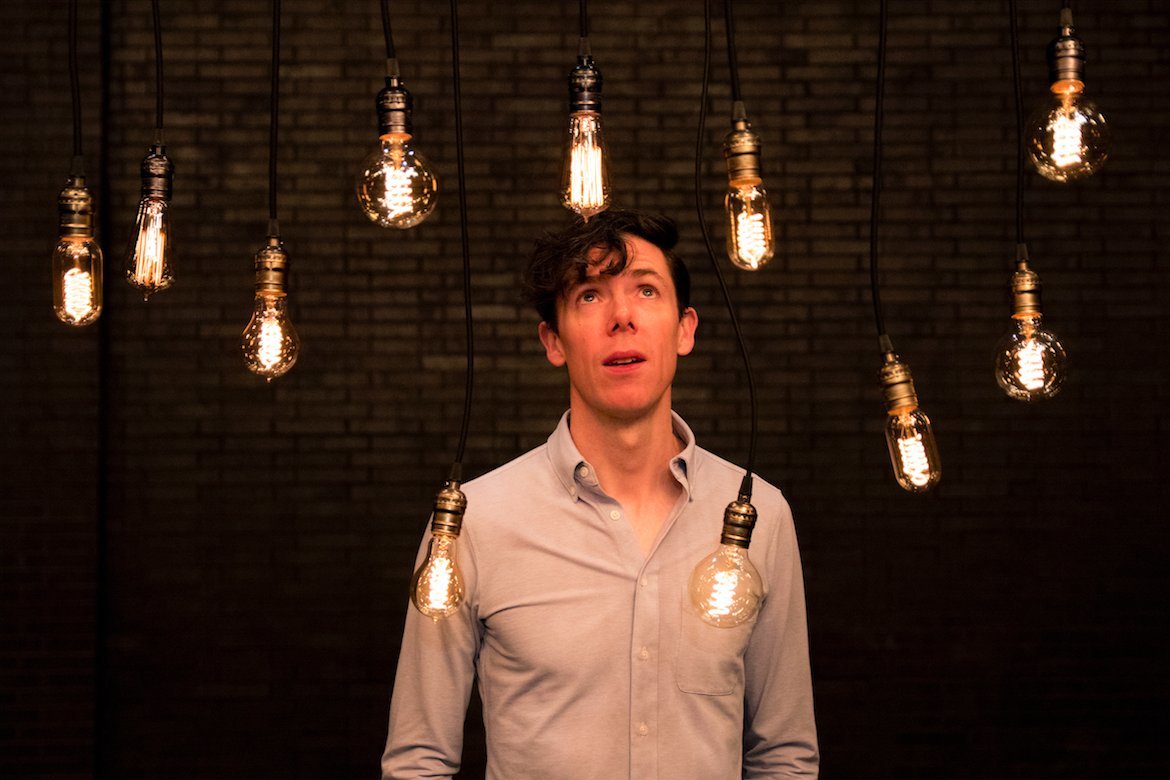 It's been four years since Damien Atkins's WE ARE NOT ALONE first premiered, but the play is finally making its Toronto homecoming at the Streetcar Crowsnest Theatre in a production directed by Chris Abraham and Christian Barry, and backed by Crow's Theatre, Segal Centre for Performing Arts, and 2b theatre company.
The play, researched and written by Atkins over the course of several years, delves into the experiences of individuals who have made contact with extraterrestrials and UFOs. Clocking in at around 95 minutes, the story follows the chronology of his investigation with the unknown.
Reaching Toronto has taken longer than Atkins had initially planned, but with the start of previews on January 7, 2019 and opening night on January 11th, Toronto audiences will finally have a chance to explore the story's key ideas surrounding belief - both in aliens and in each other. While the show is quite different from what premiered in Montreal a few years ago, Atkins believes that the changes will enhance his research, as well as the audience's experience.
"The play has undergone a lot of revising, and that's just kind of writer I am. When my play LUCY opened at Canadian Stage and then had a production six months later in New York, I completely revised the production just because you gain a lot of information from going through an entire run. Things that seem like problems become non-issues, and the things that really are problems become quite clear, so it's really helpful and useful to be able to look at a play again after the original premiere."
In order to revise WE ARE NOT ALONE to the extent Atkins has, he had to turn back to his binders full of interview notes, transcriptions, and recordings to pull stories and experiences that better encapsulated what he wanted the show to do.
"Part of revising is cutting out anything that's extraneous. Even something that you really love might go by the wayside. As a guiding principle, I made sure the play represents what actually happened as much as possible, so the play is 99 percent true. Generally, you have to take some dramatic license, but we really tried with this play not to do that as much as possible. So a lot of the revising is about tearing it down to what actually happened - the real truth and essence of what happened, and what I was really feeling. When I go back over the transcriptions and I look at some of the stuff I left out, it's incredible. There are amazing details that haven't made the final play. The whole process was such a rich experience."
Atkins explains that at the start of the project he, "wanted to write about getting older and wanted to write about aliens," and so with that fairly broad starting point, he had to begin his investigation where most research begins - the internet.
"I started watching a ton of videos and reading tons of articles. Given that many things on the internet feel kind of like they're of a dubious veracity, I felt the need for something more credible, if there was anything more credible. I found this book by journalist Leslie Kean called UFOs: Generals, Pilots, and Government Officials Go on the Record. I was really compelled by it and decided to see if I could contact her, and I did, so then we had an amazing conversation. I started recording all of these conversations that I had and she put me in touch with another expert from the UK - Nick Pope - and then I started reaching out and people started coming forward with their stories. Eventually, I went to a UFO conference in Phoenix, Arizona and I met a ton of people there. I told everybody I was writing a play and people were really excited about it and I started meeting everyday people and interviewing them."
While discussions about UFOs and aliens are not uncommon in our society, there are often strong opinions and a significant amount of judgment on the subject. Despite this, Atkins wanted to ensure the truth of his interviewees came through in the most respectful way possible.
"A lot of people take it seriously and a lot of people don't take it seriously. We want the play to be fun and interesting, but I also don't want to make fun of people as I don't think that's terribly mature or responsible as a human being. Over the course of the experience, I met lots of interesting people - some seemed very serious and some of them didn't, so I laid bare my own follies and my own prejudices and I make fun of myself, because sometimes I was impatient and intolerant. We really try not to make fun of actual experiencers (a self-descriptor many people who have made contact with extraterrestrials use) because some of the stories are really difficult and some are really heartbreaking."
"It really affected me - it made me question and reconsider how I listen in my life. The first thing people will ask when you tell them that you're writing a play about UFOs is if you're a skeptic or a believer, and my personal opinion, the place that I've come to now, is questioning whether it's even necessary to pick a side. You know, is it necessary to say, "Oh, I'm a skeptic," or, "Oh, I'm a believer?" As a society, we are now actively and usefully trying to break down false binaries - things like good and evil, man and woman, right and wrong. We're realizing that the truth lies in between these binaries, and I think skeptic or believer is one of them. So with this play, we're trying to ride that line. We want to make sure there's an element of fun and weirdness to the play, and I had a lot of fun, for the most part, investigating it - but there were also moments of unexpected seriousness and sadness."
These moments come from stories about what happened to experiencers, primarily the ones who made physical contact in some way with extraterrestrials. "When people are telling you about things that they say happened to their bodies, I think it behooves us to be careful about creating alternative narratives, other than the ones that they have offered. We've just come through a bunch of experiences where, you know, 50 women have to stand up and accuse someone like Bill Cosby of abuse before any of them were believed. That's a real problem, and the reason I bring that up is that I find a lot of women who had stories about things that have been done to their bodies and which they attribute to extraterrestrials - it doesn't really matter whether I think they're true or not. On some level, who cares what I think? When someone is talking about the autonomy of their body, you should listen."
While the play uses the subject of UFOs and extraterrestrials to tell the stories of experiencers, and shares Atkins's own journey during his research, Atkins has made sure that bigger conversations can stem from it.
"I do think it does lend itself to belief. I think it gets its basic ways of existing in the world, that, first of all, you get that basic question - are we alone in the universe? That is both an incredibly important question and a kind of meaningless question. It's important in the sense of how we think of ourselves either as unique or not at all unique, and what we do with that knowledge. But at the same time, does it really have any bearing on a person who is just working hard every day to put food on the table? Probably not."
"The play also takes basic questions as to how we listen to each other and how we treat each other. We live in an age where everybody's got an opinion about everything and it's easy to post your opinion, and I tend to think, really, how important is my opinion? Who cares? This constant offering of your opinion when it comes to somebody's private experience - I feel like we have too many opinions and not enough listening."
In terms of the audience's opinions on extraterrestrials, Atkins has worked hard to make sure all mindsets are welcome during the experience. "The major evolution in this production is we really want people to feel comfortable, and we want them to feel seen and valued as audience members. I speak right to the audience a couple of times throughout the play, and in fact, we sometimes take a poll of the audience to see how people are feeling about certain things. Even if I said to you, 'I want you to come in with an open mind,' that's not true - I want you to come in with whatever mind you have, and we'll deal with that."
"It's really about - I mean, it's there in the title: we are not alone. It's actually about convening in a room and talking about something. I'm going to do all of the talking, but it's the beginning of a discussion and hopefully, it will continue as you walk out of the theater."
---
WE ARE NOT ALONE runs through January 27 at Streetcar Crowsnest, 345 Carlaw Ave., Toronto, ON.
For more information, or to purchase tickets visit https://www.crowstheatre.com/whats-on/view-all/we-are-not-alone
Main photo: Damien Atkins by Paul Aihoshi