Isabella Perrone
Isabella Perrone is a writer with a love for musicals and theatre that goes all the way back to her childhood. Born and raised in St. Catharines, ON, she would blast Broadway cast albums at home on Saturday mornings and in the family minivan until she knew them by heart. She fell in love with arts journalism in high school when her local newspaper started a program to get young writers attending and reviewing local theatrical productions. 

That opportunity led her to pursue and complete a degree in Journalism at Ryerson University in downtown Toronto, surrounded by the largest theatre district in Canada. After finishing school in 2018, she joined BroadwayWorld and completed the Emerging Arts Critics programme to develop her abilities as an arts writer. Isabella's goal is to use her current position as BroadwayWorld Toronto's Lead Editor to promote live theatre and get more people interested in Toronto's thriving arts scene.
MOST POPULAR ARTICLES
LAST 30 DAYS
BWW Review: AS YOU LIKE IT Takes on A New Life in This Radical Retelling
Posted: Oct. 4, 2021


LAST 365 DAYS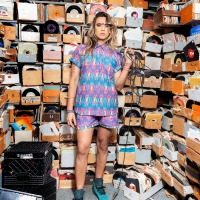 BWW Interview: Vivek Shraya on HOW TO FAIL AS A POPSTAR's Journey From the Stage to the Page
Posted: Feb. 27, 2021


BWW Review: AS YOU LIKE IT Takes on A New Life in This Radical Retelling
Posted: Oct. 4, 2021


BWW Interview: Esie Mensah on the Risks, Rewards, and Necessity of TESSEL
Posted: May. 30, 2021


BWW Review: AS YOU LIKE IT Takes on A New Life in This Radical Retelling

October 4, 2021

It's unlikely that there's ever been a production of AS YOU LIKE IT quite like this. Presented by Crow's Theatre, Cliff Cardinal's adaptation is promoted as a "radical retelling"—which is an apt descriptor, as it's as unexpected as it is engaging.
---
BWW Interview: Esie Mensah on the Risks, Rewards, and Necessity of TESSEL

May 30, 2021

Esie Mensah's new work TESSEL premieres on June 1, 2021—the first anniversary of Blackout Tuesday. The short film features 14 pioneering Black artists, including Mensah, who are given a space to share their stories and lived experiences.
---
BWW Interview: Vivek Shraya on HOW TO FAIL AS A POPSTAR's Journey From the Stage to the Page

February 27, 2021

It's been a little over a year since Vivek Shraya's one-woman show HOW TO FAIL AS A POPSTAR debuted in front of a live audience. In that time, she's released a novel, an anniversary edition of her 2010 collection of short stories 'God Loves Hair', and is just days away from the release of her latest project: a written adaptation of the play.
---
BWW Interview: Naomi Campbell on Luminato Festival's Digital Shift, Timely Works, and What Theatre Could Look Like In A Post-Pandemic World

June 11, 2020

Since early March, Toronto's theatre scene has been upended due to social distancing rules in place because of the pandemic. For many companies, this meant putting shows, concerts, and seasons on hold, but for Naomi Campbell, the Artistic Director of Toronto's Luminato Festival, it meant having to reimagine what the festival could look like in such strange times.
---
BWW Review: ROMEO AND JULIET swaps iconic dialogue for emotive movement in gorgeous National Ballet of Canada production

March 14, 2020

It's a tale that's captivated audiences for hundreds of years, and although it contains some of the most iconic lines in theatre, it transitions to a non-spoken tale of forbidden love and tragedy seamlessly in this remount of the National Ballet of Canada's 2011 production.
---
BWW Review: LES BALLETS DE TROCKADERO DE MONTE CARLO And Guest Brooke Lynn Hytes Bring Camp, Laughs, And Sheer Talent To Classic Ballet

March 13, 2020

All-male ballet companies aren't uncommon, but one of the world's leading groups in the genre have taken classical ballet to a whole new level with a laugh-out-loud program of iconic works, performed gorgeously by a talented ensemble.
---
BWW Review: THE NEGROES ARE CONGREGATING Is A Powerful Examination Of Black Culture And Experience

March 5, 2020

PIECE OF MINE Arts and Theatre Passe Muraille's THE NEGROES ARE CONGREGATING is a wickedly smart, biting examination of what it's like to be a Black person in Toronto today. Through a series of vignettes, the three-person ensemble transform into dozens of characters to portray scenes focused on subjects like police brutality, racial profiling, and micro aggressions. With subject matter like this, it would be easy and understandable for the darker elements of the work to overwhelm. Thankfully, the variety of the ensemble's strengths helps to lift the piece to something that can discuss serious topics with black humour.
---
BWW Review: MOTHERHOOD THE MUSICAL Is A Heartfelt Celebration Of The Trials And Triumphs Of Moms

March 3, 2020

Lower Ossington Theatre's MOTHERHOOD THE MUSICAL is exactly what it sounds like, plus a little bit more. When a group of friends throw a surprise baby shower for a soon-to-be new mom, they end up exploring the highs and lows of motherhood, all they do for their families, and their relationship with the title 'mom.' It's not afraid to poke fun, make jokes, and get a little cheesy, but this show's got as much heart as a homecooked meal and a warm hug.
---
BWW Review: ANGELS' ATLAS is a Moving, Multi-Sensory Examination of Humanity

March 2, 2020

The National Ballet of Canada's multi-work program is, at its core, an examination of humanity. CHROMA is a hyper-modernist piece designed to show the capabilities of the human body; MARGUERITE AND ARMAND is a tale of love, pain, and death; and the central piece, the world premiere of Crystal Pite's ANGELS' ATLAS leans more into the concepts of humanity, nature, and spirituality.
---
BWW Review: US/THEM is a Necessary Examination of Tragedy Through the Eyes of Children

March 1, 2020

When tragedy strikes, most people can only try to imagine what the victims have experienced; and when children are among the affected, outside opinions tend to overtake individual in favour of a narrative of collective outrage.
---
BWW Review: Powerful Women Rise and Fall in LADY SUNRISE

February 25, 2020

Factory Theatre's LADY SUNRISE, directed by Nina Lee Aquino, tells the story of a group of vastly different diasporic Asian-Canadian women living in Vancouver. Despite their different places in life they all come to be connected through a single business deal, brought to life through ex-pageant girl and model Penny's (Lindsay Wu) connection to a shady condo developer, bringing her non-related auntie Tawny (Ma-Anne Dionisio) along as her financier.
---
BWW Review: AF Examines Human Nature Through Anishinaabe Mythology

February 22, 2020

Emotive, demanding dance pairs gorgeously with booming percussion in Red Sky Performance's AF, presented by Canadian Stage. Drawing inspiration from Anishinaabe mythologies, director Sandra Laronde and choreographer Thomas Fonua (in collaboration with performers) explore the foundations of George Orwell's 'Animal Farm' through a unique lens, in many ways breaking it down to its core ideas to present them in a way that's simultaneously modern and ancient.
---
BWW Review: The Music Industry Gets a Personal Take in HOW TO FAIL AS A POPSTAR

February 22, 2020

The music industry is a looming part of popular culture, and we so often hear its success stories a?' on the radio, in biographical novels and films, through documentaries, and more. What we don't normally get to hear is the experience of those who have tried, and tried, and tried to break into the world of pop music only to be met with hardship after hardship a?' which is what writer and performer Vivek Shraya does with her debut theatrical work, HOW TO FAIL AS A POPSTAR.
---
BWW Review: JUNGLE BOOK Heeds the Call of the Wild in an Imaginative, Beautiful Production

February 17, 2020

It's time to escape Toronto's urban jungle for a real one, and this journey is one for the entire family to take together. Rudyard Kipling's classic works are adapted and directed by Craig Francis and Rick Miller in this modern, multimedia take on a beloved story of the connection between humanity and nature. Produced by Kidoons, WYRD Productions and The 20K Collective and presented by Young People's Theatre, JUNGLE BOOK takes the story of Mowgli and his animal friends and refreshes it for kids today; in this version, Mowgli (Levin Valayil) is a 25-year old architect living in the urban jungle of New York City and struggling to reconcile the harsh nature of urban architecture with his roots in nature. His crisis halts when his sister sends him the 'Jungle Book' that he used to document his childhood adventures with the wolves who raised him, Baloo the bear (Matt Lacas), Bagheera the panther (Mina James), and more.
---
BWW Review: We might have had to wait for it, but HAMILTON exceeds expectations in Canadian premiere

February 15, 2020

HAMILTON has proven its lasting power in the five years since it debuted on Broadway, and after landing in several international locations, the mega-hit musical about America's ten-dollar founding father has crossed the border.
---
BWW Review: HANSEL AND GRETEL loses sight of its talented cast in an over-the-top, overwhelming production

February 10, 2020

The Canadian Opera Company's HANSEL AND GRETEL, directed by Joel Ivany, is a spectacularly detailed production; unfortunately, the sheer amount of things happening at every moment overwhelms the gorgeous music and talented cast.
---
BWW Review: THE SECOND CITY TOTALLY LIKES YOU Is A Cute, Crush-Worthy Take On Love And Relationships

February 4, 2020

It might not be the most gut-busting show from the company, but The Second City's new romance-themed show is still a fun, funny, and healthier alternative to stuffing your face with chocolates this Valentines Day.
---
BWW Review: THE BARBER OF SEVILLE goes full circus in the Canadian Opera Company's electrifying, funny production

January 26, 2020

The Canadian Opera Company's remount of THE BARBER OF SEVILLE, last performed in 2015, is a visually striking and pitch-perfect adaptation of one of opera's most well-known works. With staging by Spanish theatre troupe Els Comediants, director Joan Font beautifully blends 19th century sensibilities, modern architecture, and clownish costumes for an opera experience that defies any one genre.
---
BWW Review: The highs and lows of leadership are laid bare in MOTHER'S DAUGHTER

January 19, 2020

England's first female regent is often forgotten and relatively unknown, but in Soulpepper's remount of MOTHER'S DAUGHTER, Queen Mary gets her moment in the sun - whether she wants it or not.
---
BWW Review: LEGALLY BLONDE THE MUSICAL is a Bright Testimony to the Power of Women and Importance of Self-Love

January 19, 2020

There's never been a shortage of movies-turned-stage musicals, but where many achieve to go beyond their inspirations, LEGALLY BLONDE THE MUSICAL is a show that stays true to what makes the cult-classic film so beloved a?' and in doing so, is just as relevant and timely in 2020 as the movie was in 2001.
---