ASPECTS OF LOVE Season Extended At Hayes Theatre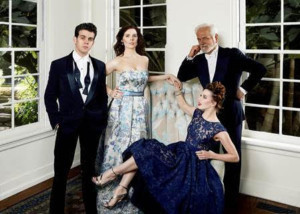 The Sydney season of Andrew Lloyd Webber's musical Aspects of Love has been extended by popular demand to 6 January 2019 with final seats available now from www.hayestheatre.com.au. Audiences and critics have been left astounded at how majestic the production is and how extraordinary the performances have been.
Alex Dillingham, a young, obsessive student travelling through France, falls in love with the alluring, provincial actress Rose Vibert. As the pair embark on a passionate affair, the unexpected arrival of Alex's dashing, libertine uncle changes their lives forever. Based on David Garnett's novel of the same name, Aspects of Love is a story of passion, love and loss set against the backdrop of post-war France and Italy from the 1940's through to the 1960's. Passion, desire, family ties and friendship bind five people and three generations together as they come to appreciate how love changes everything...
Playing the role of the alluring actress Rose Vibert is Caitlin Berry while Jonathan Hickey plays Alex Dillingham, Rose's main love interest. The role of Alex's charming libertine Uncle George is played by Grant Smith with rising star Stefanie Jones playing the role of artist Giulietta Trapani. Newcomer Ava Carmont impresses as 15 year old Jenny Dillingham with Charlee Kwinter and Gemma Keighran sharing the role of Young Jenny. David Hooley plays Marcel Richard, Matthew Manahan as Hugo Le Meunier and Wendy Lee Purdy (Wicked UK/Ireland) as Elizabeth. Completing the cast are Hugh Barrington, Finn Alexander, Annelise Hall, Christopher Hamilton, Megan Kozak, Michaela Leisk and Sam Marques.
Aspects of Love boasts an impressive Australian creative team comprising of performer/musician Andrew J Bevis in his directorial debut (Tremont in Jerry Springer: The Opera - National Theatre, London), Musical Director Geoffrey Castles (Aladdin), Musical Staging Nathan M. Wright (High Society - Old Vic, London), Set Designer Steven Smith (Little Shop of Horrors), Academy Award and Tony winning Costume Designer Tim Chappel (Priscilla Queen of the Desert), Lighting Designer John Rayment (Walking with Dinosaurs) and Sound Designer Alan Lugger (Les Miserables).
Featuring the iconic songs Love Changes Everything, Seeing Is Believing and First Man You Remember, Aspects of Love comprises a stunning 12-piece orchestration. The soaring romanticism of Andrew Lloyd Webber's lush and emotionally complex score will be brought to life by members of the incomparable Ensemble Apex from The Sydney Conservatorium.
First seen at London's Prince of Wales Theatre in 1989, it made a star of Michael Ball and propelled him into the international arena. This new, intimately reimagined production of one of Andrew Lloyd Webber's greatest musicals is sure to take you on a thrilling and romantic journey through a tangled web of love and lust.
Tickets for Aspects of Love are now available online at www.hayestheatre.com.au or by calling the Hayes Theatre Co box office during business hours on (02) 8065 7337.