BWW Review: PETER JÖBACK, HUMANOLOGY CONCERT at Stora Teatern, Gothenburg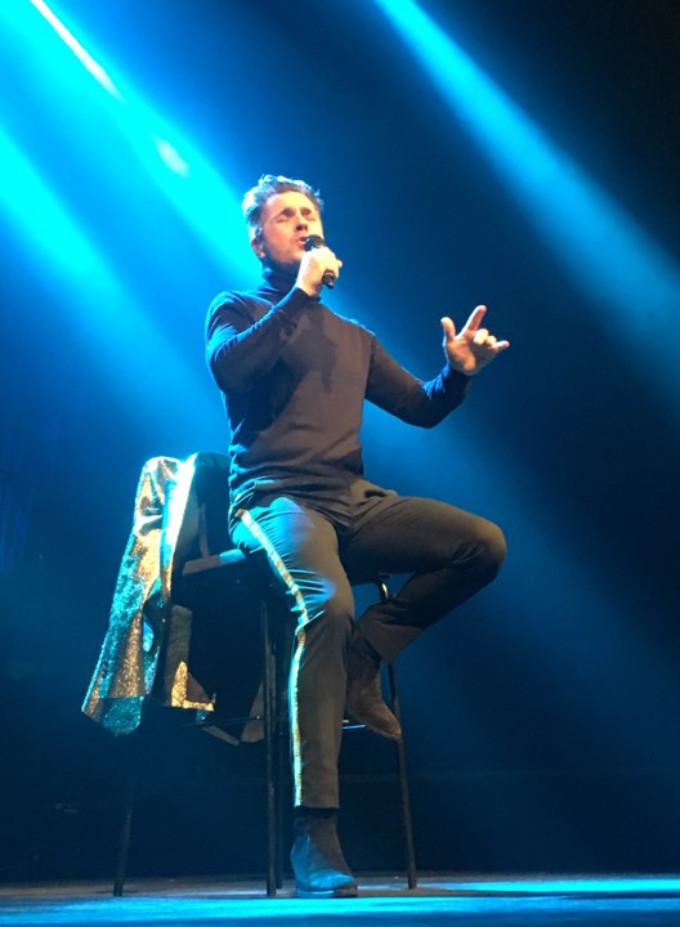 Peter Jöack in concert Humanology 10 of February
Last fall, Peter Jöback released the album Humanology where, unlike his other records, he has written all songs along with Kathryn Williams, Tobias Fröberg and Tobias Karlsson. Most of the songs were included in his pop theater "Med Hjärtat som Insats" which was played on Circus during the fall. But he thought it was so fun to play this new material so it was decided that they would make an exclusive gig at Stora Teatern in Gothenburg. The tickets sold out immediately so an extra concert was added and later it was decided to make it a summer tour.
At the concert tonight it was obvious that Peter was eager to perform the songs in this concert format. He shined on stage and was full of energy and happy to be back on stage with his band and Frida Öhrn as duet partner, choir and harmonica.. Frida Öhrn is a perfect duet partner for Peter. Her bright delicate voice complements Peter's voice and they make music magic in for example, Sing, Wicked Games and Everybody Hurts. With this album, Peter is really true to himself and feels incredibly confident both as a person as well as an artist.
The concert starts with "The Shape of You" which is the second single from Humanology and during the evening we hear most of the songs from the new album. I really liked all the songs the first heard them on Circus, but there they were also dressed with a cool slide show and super-delicious lighting. Tonight, however, it was simpler concert lighting in different colors so this made the songs show that they are as strong as they are. One of my favorites is the Bond-inspired "What if Tomorrow Never Comes" which was great even without the dramatic fire films. It was a mix of songs from Humanoloy and his earlier records from all genres. Hadn't expected any musical song as it more a pop concert but he sang "The gold turned to sand" from Kristina and "The Music of the Night" from Phantom of the Opera. Both in new arrangements and I really liked the stripped-down version of The Music of the Night. Also enjoyed to hear "Jag har dig nu" which he made a very romantic video together with Isabella Scorupco. At the end of the concert he sang some of his more disco-inspired songs like Dancing and Believer and invited the audience to dance with him. The evening ended with some quieter songs. One of the best songs he ever made is the wonderful Call Me By Your Name. It is really amazing on the album, but live with Peter and just a piano, it is magical, goose bumps and shivers. His tribute to Stockholm grows every time I hear it. Peter has an audience that has followed him for many years, which he is aware of and dedicated "How Great It Is" to the audience. And when he sang it the lyrics had a whole new meaning, perfect song at the end of a concert.
The concert time was announced to 1.5 hours but it lasted about 2 hours, which was probably due to Peter's small talk between the songs. He was so confident in himself in a way I never seen before and diverted from the script several times. He just added things which pop into his mind. Thanks to that, the evening's concert became the most vibrant and personal concerts I have seen with Peter.
The summer tour starts in Linköping the 18th of May and tickets are on sale.
https://www.livenation.se/artist/peter-j%C3%B6back-tickets
Related Articles View More Sweden

Stories

Shows