BWW Review: ANNIE at Intiman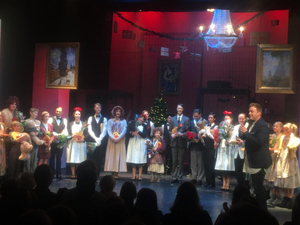 Opening night for Annie at Intiman, 15 of February in Stockholm
Annie is one of the most beloved family musical. It opened in 1977 and the first set in Sweden was in 1979 with Pernilla Wahlgren as one of the alternating Annie. Since then Pernilla has been one of Swedens most beloved musical star and artist. That role of Annie is now being shouldered by Juliette Glader and Kimberly Rydberg and in the evening's premiere it was Juliette who charmed the entire audience with her happy, positive and energetic Annie. She both sings and dances as a full-fledged musical artist. If she just wants to continue on stage herself, I think it is a girl who will appear in musicals for a long time to come. I was very impressed as well by all the other children playing the orphanage children. They all contribute together with the rest of the ensemble to rise this set to a musical of high and even level.
Annie is taking place during the depression in the 1930s in the United States, but despite that, the musical is permeated with joy and positivity, thanks to Annie's way of looking at life. No matter how bad it is, you can always turn it into something good. Even if you only have newspapers as sheets, well then you have something to read in bed and so on. The opposite of Annie is Miss Hannigan, the orphanage's director. For her, everything is just sad and boring, but a wonderful character to watch in the musical. It annoys her immensely when Annie gets the chance to stay for two weeks over Christmas at the world's richest man Mr. Warbucks (Kristian Ståhlgren) and his assistant Grace Farrell (Elin Bemark).
Annie is a classical musical with a lot of singing and dancing and there are very few music lovers who have not heard Tomorrow , here sung with great intensity by Annie. Beautiful big ensemble dance numbers in classical versions. Even tap dancing in each act. The choreographers Daniel Larsson and Emil Söder had put them on exactly the right level to get that musical feel you want as an audience and it was much rejoiced over all the dance numbers.
This set of Annie really puts Stockholm on the map as a strong musical city along with the other musicals that are going on right now and showing what breadth we have on musical artists and that it is constantly being filled with new young talents.
Annie will be playing on Intiman until April 19th. I highly recommend that you bring the whole family to see this version of Annie.