Review Roundup: PAINT YOUR WAGON at The MUNY; What Did The Critics Have To Say?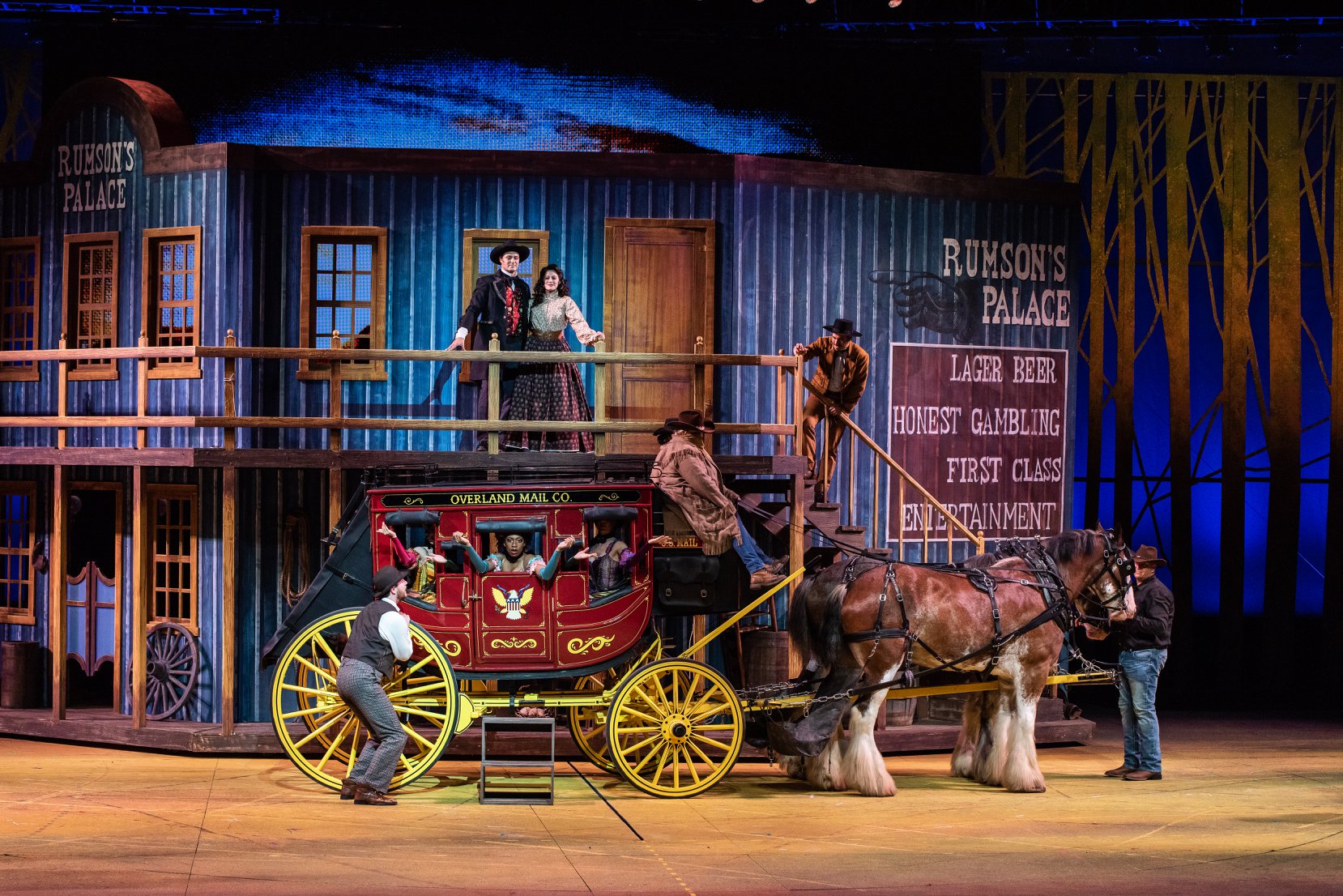 The Muny's sixth production of its 101st Season, Lerner and Loewe's Paint Your Wagon, officially opened on July 27, 2019.
This high-spirited cast features Matt Bogart (Ben Rumson), Mamie Parris (Cayla Woodling), Omar Lopez-Cepero (Armando), Bobby Conte Thornton (William), Maya Keleher (Jennifer Rumson), Allan K. Washington (Wesley), Preston Boyd (Jake), Austin Ku (Ming Li), Raymond J. Lee (Guang Li), Rodney Hicks (H. Ford) and Michael James Reed (Craig Woodling). A golden ensemble completes this cast, including Akilah Ayanna, Juan Caballer, Matthew Davies, Richard Gatta, Sally Glaze, Michael Milkanin, Trina Mills, Pascal Pastrana, Michael Seltzer and Cooper Stanton. The company is also joined by the Muny Teen youth ensemble.
Let's see what the critics have to say!
Calvin Wilson, St. Louis Post-Dispatch: With a book and lyrics by Alan Jay Lerner and music by Frederick Loewe, "Paint Your Wagon" has spent most of its existence as the show best known for inspiring a 1969 film in which Clint Eastwood sings. But with a new book by Jon Marans, this ambitious and thoughtful musical is a highlight of the Muny season. Director and choreographer Josh Rhodes elicits fine performances - particularly from Parris and Bogart, whose romantic chemistry just about glows, and Lopez-Cepero, who exudes charisma as Ben's right-hand man. And the songs - among them "I Talk to the Trees," "Wand'rin' Star" and, of course, "They Call the Wind Maria" - are terrific.
Tanya Seale, BroadwayWorld: Remarkable numbers include an entertaining "Gold Fever" where Bogart, Parris, and Lopez-Cepero are brilliant together, as well as a lively "There's a Coach Comin' In" which includes the entire energetic company with Fandango girls looking like colorful candy treats dancing in fanciful kick lines, legs up, bottoms out, full splits occurring one after another. "I Talk To the Trees" is a wonderous song where Lopez-Cepero gets to showcase his splendid tenor voice. "Carino Mio" delivers strong harmonies from Keleher and Lopez-Cepero, and of course, there's the musical's most recognizable tune, "They Call the Wind Maria," with Bogart leaving the audience almost breathless in his stunning solo while realistic lightning strikes hauntingly in the distance.
Mark Bretz, Laude News: The major strength of the show remains Loewe's music, and even there this re-imagining disappoints. Its greatest number, They Call the Wind Maria, was performed midway through the first act in the original version. Here, however, it's the penultimate tune in the second act. Its lyrics remain poetic and powerful and its melody haunting, but the revised book teases the audience with such late placement. Director and choreographer Josh Rhodes provides a number of lively, robust dances, primarily in the superior first act, and Sinai Tabak's musical direction takes full advantage of August Eriksmoen's orchestrations and inspired musical arrangements by Ian Eisendrath, Jason DeBord and Albert Evans. They even "use a few instruments never before played in a Muny production," notes Isaacson.
Related Articles
More Hot Stories For You