Review: Lerner & Loewe's PAINT YOUR WAGON Is Pure Gold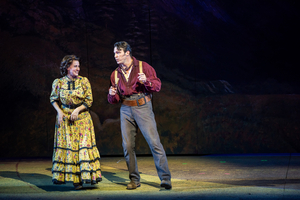 Few people seem to be familiar with Lerner & Loewe's Paint Your Wagon. Those who are usually mention the 1969 film of the same title, starring Lee Marvin and Clint Eastwood, known for being a ridiculously miscast and embarrassingly terrible flop. The musical, which originally appeared on Broadway in 1951, is similarly messy, and has gone pretty much unproduced for decades. Fortunately, however, playwright Jon Marans has redrafted the book, top-to-bottom, enhancing both the story line and its characters, and the result is a shiny-new masterpiece with new orchestrations and new dance and vocal arrangements. It is now an entirely enjoyable musical, complex in its structure, with an interesting setting, compelling plot, nuanced layers, appropriate social commentary, and characters you'll truly care about. You may not have seen Paint Your Wagon before. But let me assure you, you'll want to see it now, because this production shines.
The show opens on a fully-outfitted covered wagon marked "California or Bust!" It's the height of the California Gold Rush, and in a captivating number called "I'm On My Way" we meet various characters leaving their homes around the world for the promise of a better future. With Caite Hevner's soft-transition video design on the Muny's new screens we are guided west as the landscape changes, and boy, is it a beautiful ride.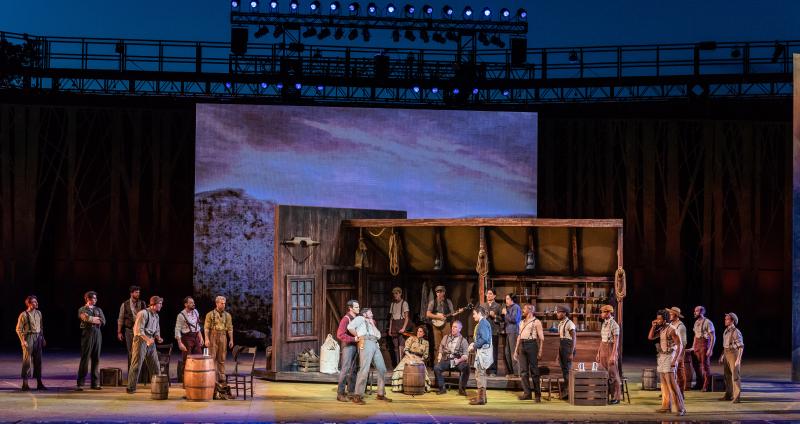 Our protagonist Ben Rumson (Matt Bogart) is a widowed tavern owner from Tennessee, who along the way meets Armando (Omar Lopez-Cepero), of Mexican descent, and after a near-scuffle they become friends and traveling companions on the way to the No Name City out west. Once arrived and ready for prospecting, Ben meets the Woodlings from Pennsylvania. Craig (Michael James Reed) is a controlling abuser and Cayla (Mamie Parris), being the only woman around, is mostly good for washing and hauling the miners' clothing. A pair of Chinese brothers, Ming Li (Austin Ku) and Guang Li (Raymond J. Lee) arrive to begin panning alongside the others but feel the pangs of overt discrimination. And then there is Wesley (Allan K. Washington), a house slave belonging to (and half-brother of) Jake (Preston Truman Boyd), a bigot from a plantation in South Carolina; H. Ford (Rodney Hicks), a recently freed and well-educated man from New York; William (Bobby Conte Thornton), an Irishman with a needy family back home; and many others who are here trying to make life better for themselves and their families.
Pressures are high in No Name City, though, as no one is yet striking a considerable amount of gold, and as there's a conspicuous lack of women. Even Satan won't waste his time here, the men lament in "No Name City." Living conditions are rough, too, and racial tensions are mounting. When Ben takes up for Cayla after Craig slaps her, Craig puts her up on the auction block to the highest bidder. Ben, who enjoys her company and wants to save her from further abuse, bids the money he's saved up for his college-age daughter's tuition and takes Cayla as his wife. Cayla, who is quite taken with Ben, is thrilled with this development, and settles in immediately to her new life. A problem arises, though, when Ben's daughter Jennifer (Maya Keleher) arrives to find the new arrangement, as it feels like a slap in her deceased mother's face. As things begin to smooth over, Jennifer and Armando establish a romantic connection, and though Ben's life dream is to own another tavern, this one a palace of a place where people of all backgrounds can come together and sit wherever they want, it's quite different when he thinks about the future of his own daughter. Armando isn't a suitable husband for his daughter, and everybody knows why.
There are so many lovely moments in this musical and to summarize it as succinctly as is necessary here leaves much unsaid about its merits. "Gold does strange things to men - having it, not having it" is but one of the theses in this wonderful piece of work. To skip seeing this production would be to miss an incredible story of love, loss, redemption, and forgiveness which highlights a patchwork of people, all who come together with rich backstories and heartaches and hope. In the end, a colorful new family is created among the pioneers who decide to stay after the rest of the caravan moves to more promising ground. It is an exquisite, touching look at what actually was and what still could be, if only. . ..
Remarkable numbers include an entertaining "Gold Fever" where Bogart, Parris, and Lopez-Cepero are brilliant together, as well as a lively "There's a Coach Comin' In" which includes the entire energetic company with Fandango girls looking like colorful candy treats dancing in fanciful kick lines, legs up, bottoms out, full splits occurring one after another. "I Talk To the Trees" is a wonderous song where Lopez-Cepero gets to showcase his splendid tenor voice. "Carino Mio" delivers strong harmonies from Keleher and Lopez-Cepero, and of course, there's the musical's most recognizable tune, "They Call the Wind Maria," with Bogart leaving the audience almost breathless in his stunning solo while realistic lightning strikes hauntingly in the distance.
The microphones cut out periodically throughout the performance on opening night, which was unfortunate. The tech is impressive, nonetheless. John Lasiter's lighting design is fresh with hues of blue and purple, oranges and reds, all of it working to enhance Michael Schweikardt's scenic design and, as mentioned, Hevner's gorgeous video projections. A Clydesdale-led coach makes an appearance in this show as well, to the great pleasure of the Muny audience.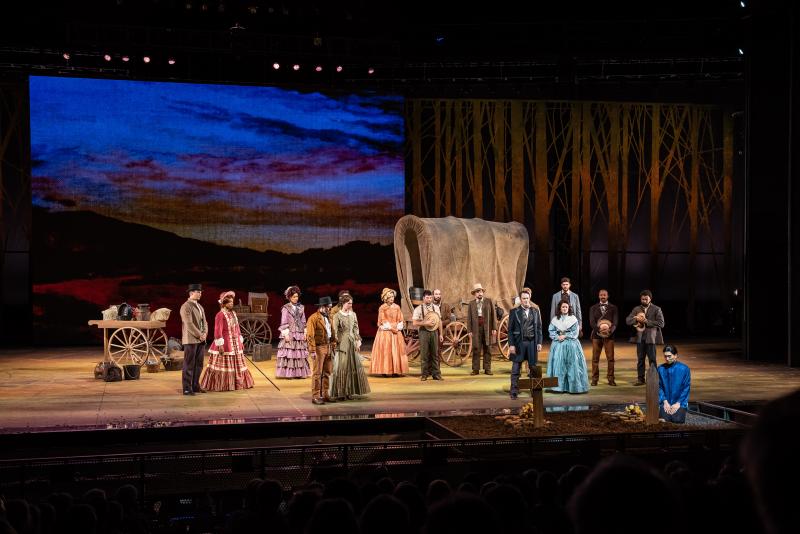 If you're on the fence about seeing this one, hop on over. It's a real treasure in which you'll feel you've struck a little bit of gold that no one else knows about. Lerner & Loewe's Paint Your Wagon with book and lyrics by Alan Jay Lerner, music my Frederick Loewe, new book by Jon Marans, music direction by Sinai Tabak, and direction and choreography by Josh Rhodes assisted by Lee Wilkins, plays at The Muny through August 2. For more information and tickets, visit https://muny.org/paint-your-wagon/.