Photos: Third Time's the Charm in New Line Theatre's OUT ON BROADWAY: THE THIRD COMING
New Line Theatre, "the bad boy of musical theatre," closes its 26th season of adult, alternative musical theatre with the world premiere of the third installment of New Line's own creation, the new revue OUT ON BROADWAY: THE THIRD COMING, running now through August 19, 2017, at the Marcelle Theater, the new blackbox theatre in Grand Center, St. Louis' arts district. Tickets are on sale now.
The New Liners broke all new ground with this series in 1996 and again in 2000. Third time's a charm. Twenty-one years after the first edition premiered, OUT ON BROADWAY: THE THIRD COMING is an original revue of musical theatre songs performed from the perspective of five gay men, an intimate evening of funny and emotional performances, with just five guys, a piano, and no microphones. Some songs will be brought back from the earlier editions, with new songs as well, including numbers from Heathers, Kinky Boots, Hamilton, The Book of Mormon, Dreamgirls, Songs for a New World, Follies, Cabaret, Ordinary Days, Cry-Baby, Bye Bye Birdie, Into the Woods, and other musicals. A SPECIAL BONUS!
Jason Robert Brown
has generously given New Line the rights to open our show with his brand new song, "Hope." The cast of New Line's OUT ON BROADWAY: THE THIRD COMING, includes
Dominic Dowdy-Windsor
,
Mike Dowdy
-Windsor,
Ken Hall
er,
Sean Michael
, and
Keith Thompson
. The show is directed by
Scott Miller
, with music direction by Nate Jackson, and scenic and lighting design by
Rob Lippert
. The first OUT ON BROADWAY opened in March 1996, featuring Chris Brenner,
Tracy Collins
, Quenten Schumacher,
Keith Thompson
, and Eddie Webb, with
Scott Miller
on the piano, It sold out every show, and was brought back in August of that year, again selling out the run. Reviewer
Mike Isaacson
wrote in The Riverfront Times, "United in song and spirit, the cast and audience celebrate the fusion of a Broadway past into the home for a community's political future." The cast recorded an original cast album a few years later (available on Amazon). OUT ON BROADWAY 2000 (affectionately known as OOB2K) opened in March 2000 for yet another sold-out run, this time with the same cast, except with Robb Kennedy replacing Quenten Schumacher, who had moved to Chicago. The Riverfront Times' "Best of 2000" issue said, "New Line Theatre's Out on Broadway 2000 gender-reversed Broadway and cabaret standards and provided dreamy entertainment. All that was missing was the clink of ice cubes and a blue haze of cigarette smoke." OUT ON BROADWAY contains adult language and content. TICKETS OUT ON BROADWAY: THE THIRD COMING runs August 3-19, 2017, on Thursday, Friday, and Saturday evenings, at 8:00 p.m., at the new Marcelle Theater, 3310 Samuel Shepard Drive, just three blocks east of Grand, in Grand Center. (See New Line's website for directions.) The first Thursday of each run is a preview. Tickets for mainstage shows are $25 for adults and $20 for students/seniors on Fridays and Saturdays; and $20 for adults and $15 for students/seniors on Thursdays. For other information, visit New Line Theatre's full-service website at
www.newlinetheatre.com
. All programs are subject to change. ABOUT NEW LINE THEATRE New Line Theatre is a professional company dedicated to involving the people of the St. Louis region in the exploration and creation of daring, provocative, socially and politically relevant works of musical theatre. New Line was created back in 1991 at the vanguard of a new wave of nonprofit musical theatre just starting to take hold across the country. New Line has given birth to several world premiere musicals over the years and has brought back to life several shows that were not well served by their original New York productions. Altogether, New Line has produced 81 musicals since 1991, and the company has been given its own entry in the Cambridge Guide to American Theatre and the annual Theater World. New Line receives funding from the Regional Arts Commission and the Missouri Arts Council, a state agency. New Line's 27th season will include LIZZIE in October, ANYTHING GOES in March, and YEAST NATION in June. For more information, visit
www.newlinetheatre.com
.
Photo Credit: Jill Ritter Lindberg


Mike Dowdy-Windsor, Sean Michael, Keith Thompson, and Ken Haller sing "Have I Got a Guy for You" to Dominic Dowdy-Windsor (right), with Nate Jackson on the piano, in OUT ON BROADWAY: THE THIRD COMING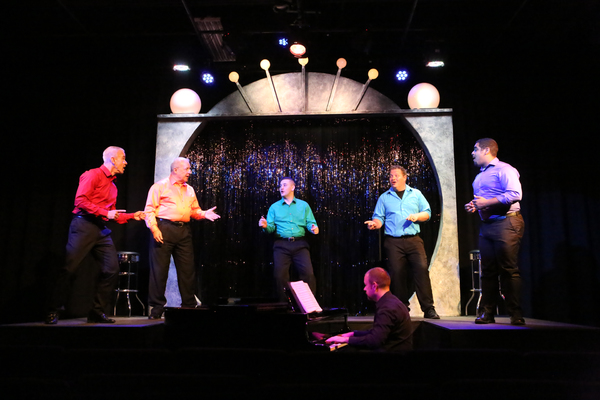 Keith Thompson, Ken Haller, Sean Michael, Mike Dowdy-Windsor, and Dominic Dowdy-Windsor singing "Heart and Music," with Nate Jackson on piano, in OUT ON BROADWAY: THE THIRD COMING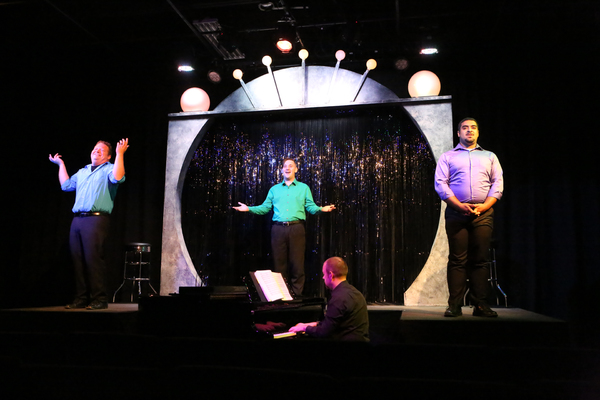 Mike Dowdy-Windsor, Sean Michael, and Dominic Dowdy-Windsor singing "Getting Married Today," with Nate Jackson on the piano, in OUT ON BROADWAY: THE THIRD COMING

Sean Michael (left) singing "You'll Be Back," with Ken Haller, Keith Thompson, Dominic Dowdy-Windsor, and Mike Dowdy-Windsor, with Nate Jackson on the piano, in OUT ON BROADWAY: THE THIRD COMING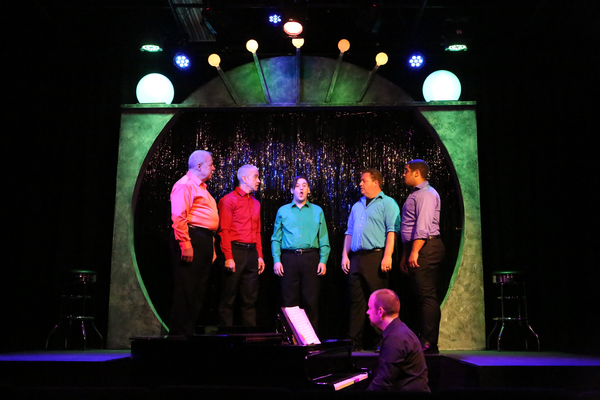 Ken Haller, Keith Thompson, Sean Michael, Mike Dowdy-Windsor, and Dominic Dowdy-Windsor, singing "Everything Possible," with Nate Jackson on the piano, in OUT ON BROADWAY: THE THIRD COMING

Dominic Dowdy-Windsor singing "Unusual Way," in OUT ON BROADWAY: THE THIRD COMING

Mike Dowdy-Windsor singing "Kindergarten Boyfriend," in OUT ON BROADWAY: THE THIRD COMING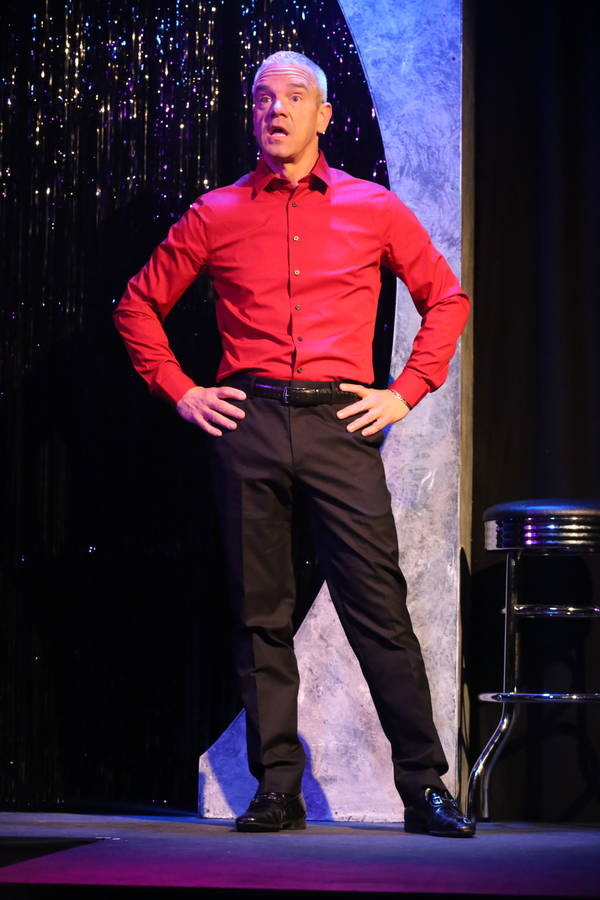 Keith Thompson singing "You Can Always Count on Me," in OUT ON BROADWAY: THE THIRD COMING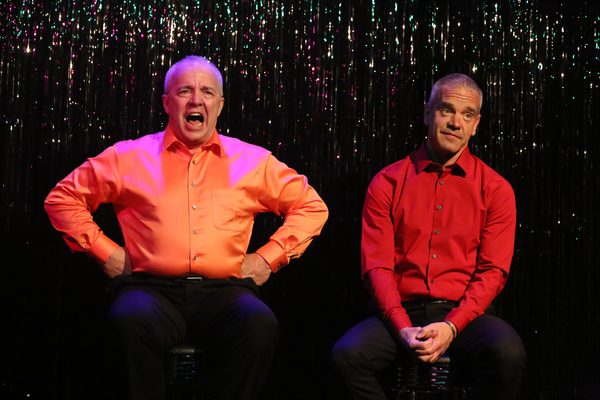 Ken Haller and Keith Thompson singing "Bosom Buddies," with Nate Jackson on piano, in OUT ON BROADWAY: THE THIRD COMING,

Dominic Dowdy-Windsor (left), singing "Family," with Ken Haller, Sean Michael, Keith Thompson, and Mike Dowdy-Windsor, with Nate Jackson on the piano, in OUT ON BROADWAY: THE THIRD COMING

Dominic Dowdy-Windsor singing "Mrs. Remington," in OUT ON BROADWAY: THE THIRD COMING

Mike Dowdy-Windsor, Ken Haller, Sean Michael, Keith Thompson, and Dominic Dowdy-Windsor singing "Sleepy Man," in OUT ON BROADWAY: THE THIRD COMING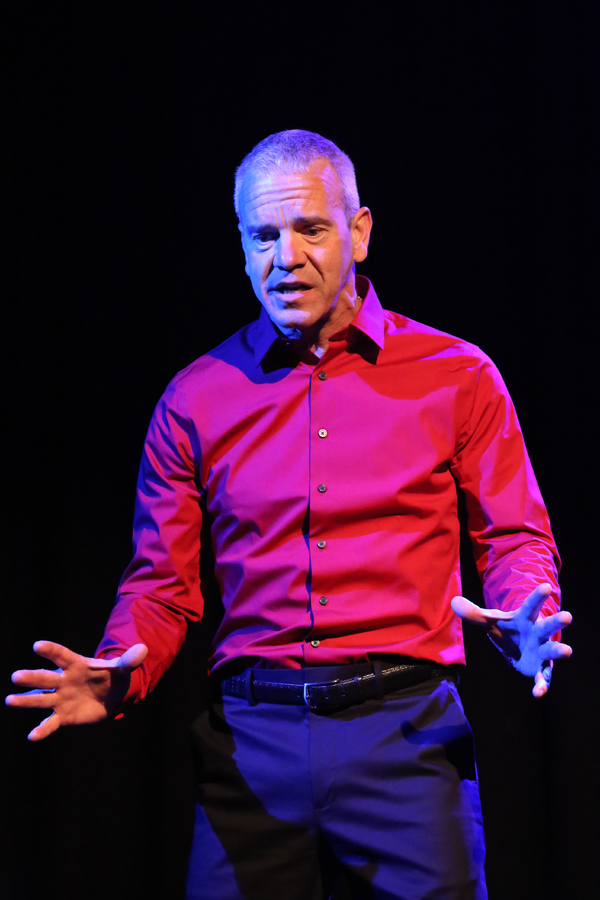 Keith Thompson singing "One of the Good Guys," in OUT ON BROADWAY: THE THIRD COMING

Mike Dowdy-Windsor and Dominic Dowdy-Windsor singing "Fine," in OUT ON BROADWAY: THE THIRD COMING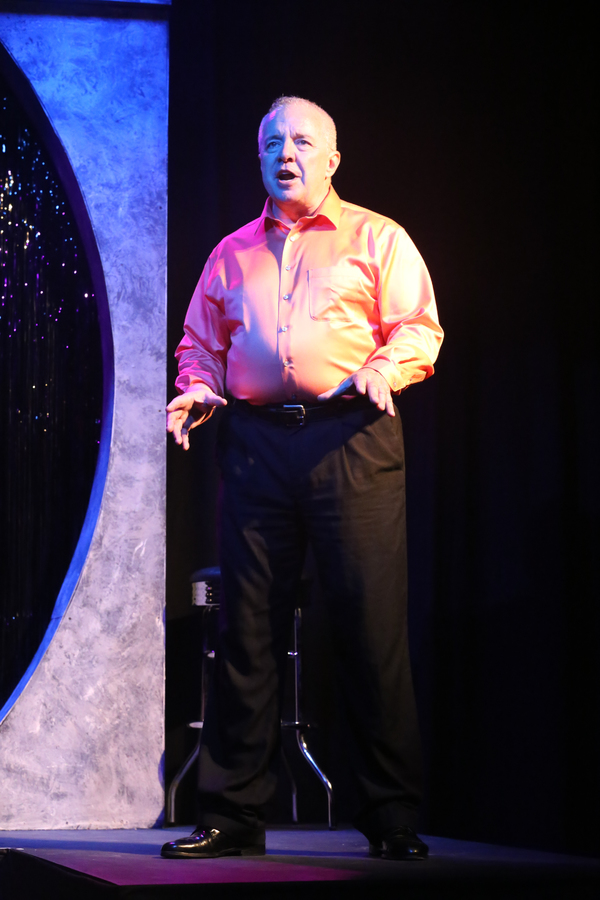 Ken Haller singing "Could I Leave You?" in OUT ON BROADWAY: THE THIRD COMING

Sean Michael singing "You'll Be Back" in OUT ON BROADWAY: THE THIRD COMING

Ken Haller, Keith Thompson, Sean Michael, Mike Dowdy-Windsor, and Dominic Dowdy-Windsor, singing "Everything Possible," with Nate Jackson on the piano, in OUT ON BROADWAY: THE THIRD COMING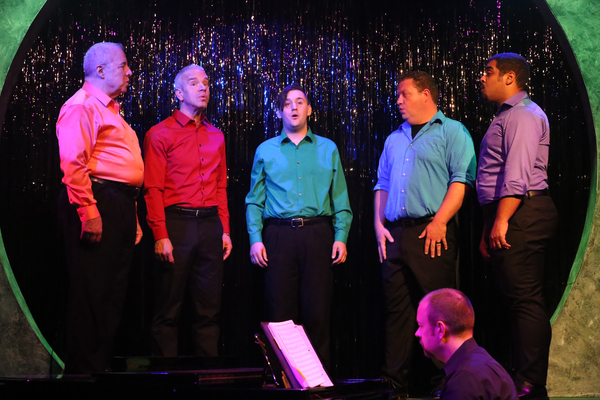 Ken Haller, Keith Thompson, Sean Michael, Mike Dowdy-Windsor, and Dominic Dowdy-Windsor, singing "Everything Possible," with Nate Jackson on the piano, in OUT ON BROADWAY: THE THIRD COMING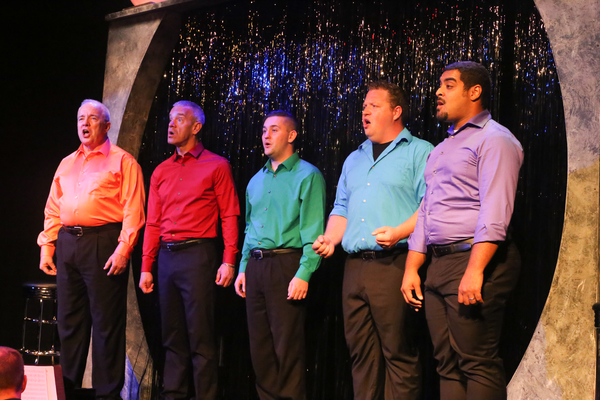 Ken Haller, Keith Thompson, Sean Michael, Mike Dowdy-Windsor, and Dominic Dowdy-Windsor, singing "You Are the Light," in OUT ON BROADWAY: THE THIRD COMING