Cristiano, Andrea Galata, Leo Freire And Chiara De Caroli Lit Up The Stage In Seoul With 'All Around You' Live Show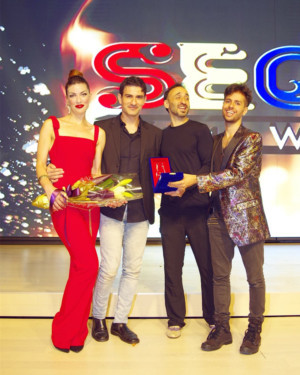 Cristiano, Andrea Galata, Leo Freire and Chiara De Caroli AKA "team wild" lit up the stage of the 2018 Seoul Web Fest with the international launch of new single All Around You, featuring live music by Cristiano and Freire, a dance performance by Galata and De Caroli and LED gear by Broadway designer David Crittenden.
Special Guests at the Award Ceremony Night with their show, the group was also participating to the competition with Exvolver, music video that got awarded as Best 360VR project, repeating their previous Asian accomplishment at the 2017 Asia Web Fest.
The concept of a spectacular, immersive experience grounded the ongoing collaboration of this group of artists and had its first debut with a show at the iconic Irving Plaza of New York, with a real-life 360 performance featuring a live dance performance of Andrea Galata and a special led gear t-shirt appositely designed for Cristiano by Broadway's costumer designer David Crittenden, present in Seoul with more enhanced features. More than just a concert, a cross-media experience involving led, music and live dance for a performance that literally is "all around you".
More Hot Stories For You