UofSC Play TOP GIRLS Explores Triumphs, Trials of Feminism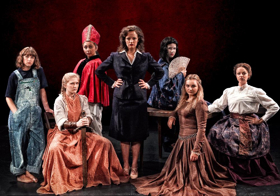 The University of SC Department of Theatre and Dance will present the Obie award-winning drama Top Girls at the Center for Performance Experiment, October 26 - November 4, 2017.
Performance dates are October 26 - October 29 and October 31 - November 4. Show time is 8pm for all performances. Admission is $10 and available only at the door. The Center for Performance Experiment is located at 718 Devine St., between Huger and Gadsden Streets, near the Colonial Life Arena.
The audience at the November 3rd performance is invited to stay after the show for a post-show discussion, facilitated by the Women's Rights and Empowerment Network (WREN).
Set in the business world of the 1980s, this feminist masterpiece by esteemed British playwright Caryl Churchill is a witty and thought-provoking look at the sacrifices women make to achieve success in a male-dominated society. Churchill begins her inventive script with a surreal dinner party in which a young businesswoman, Marlene, celebrates her recent work promotion with a group of barrier-breaking females from across the ages. Once the party ends, however, we're witness to the devastating personal cost of Marlene's ascension up the corporate ladder, both to her family and herself.
"A blistering yet sympathetic look at women who achieve success by adopting the worst traits of self-made men... Truly original." - The New York Times
Director
Lindsay Rae Taylor
, a second-year MFA Directing candidate, says that despite the play's 1980s backdrop, its exploration of sexism and socio-economic division asks questions that are still relevant today. "With this play, Churchill asks audiences to define feminism for themselves," Taylor says. "What is it, and what are the sacrifices women are forced to make in trying to find a place in a typically male world? And, on the flip side of that, what about the women who aren't allowed the luxury of moving forward with their careers - who stay at home - what does that mean for them? Who are the casualties of feminism, and how has feminism had a negative impact on some women in society?" While Churchill's work is known for challenging social norms, the director says the audience shouldn't expect to be "preached" to, or to even leave with a sense of resolution. "What I'm drawn to with this piece is that Churchill is able to approach it in a very objective way," Taylor says. "The show doesn't tell you, 'This is the way it is.' You'll feel that you're in one of two camps when you leave, or you might be split between the two." Cast in the production are graduate acting students Kimberly Braun (as Marlene) and Libby Hawkins, and undergraduate students Amelia Bruce, Amber Coulter, Liv Matthews, Kelsey McCloskey, and Cassidy Spencer. Designers for the production are MFA Design students Carly Sober (scenic), Tyler Omundsen (lighting) and Anna Ison (costume), and undergraduate student Charlotte Zuraw (sound). "We're having a great time exploring the complexities of these women, as well as the dark side of what it is to be female in a man's world," says Taylor. "But there's a human level to the play, too. It's focused on women, but this story speaks to humanity as a whole, asking a lot of questions about what we did to get where we are."
Photo: Shown, from left: Cassidy Spencer, Liv Matthews, Amber Coulter, Kimberly Braun, Kelsey Mccloskey, Amelia Bruce, Libby Hawkins
More Hot Stories For You