Cape Town Singing Sensation Fagrie Isaacs To Host Ultimate Love Song Collection show In Cape Town This March
The show is set for Saturday 4 March 2023.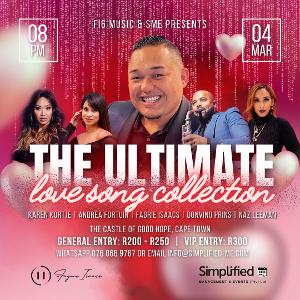 Soulful Cape Town-born singer and songwriter Fagrie Isaacs, is set to grace the stage at The Castle of Good Hope on 4 March 2023 for a musical celebration of love.
The show, dubbed The Ultimate Love Song Collection, sees Isaacs share the spotlight with South African musical greats; Andrea Fortuin, Nazneen Leeman, Karin Kortjie, and Donvino Prins under the musical direction of Charlton Daniels.
"I have put together a magnificent cast to take the audience on a musical journey of love songs that can only be described as 'THE ULTIMATE LOVE SONG COLLECTION'", he said.
Although his previous show at Hillsong Church, Century City in November last year cemented his claim as one of the best Luther Vandross tribute acts, Isaacs has opted to go with a broader repertoire for this concert.
"It is no secret that Luther Vandross is my favourite artist of all time, and I could not think of doing a show expressing myself through love songs and not include songs from the legend himself as I believe that good songs all have stories and no-one told them better than him, but I will also be doing songs from some of my other favourite artists," he said.
With almost 35 years of experience entertaining audiences across the world, Isaacs brings his incredible stage presence and soulful voice to a show
"I will be performing songs from Luther Vandross, Peabo Bryson, James Ingram, Tom Jones, and Percy Sledge to name a few but I will also be performing some newer songs because there are a few amazing love songs from the last decade that I would like to showcase," added Isaacs.
Isaacs believes that the beauty of his upcoming production is in the music's ability to appeal to all ages.
"I love happiness and so I want to spread joy and happiness through the songs that I sing, so I most enjoy being able to connect with my audience and see the smiles on their faces when I'm performing. Sometimes it is as if I can see a song taking someone back in time and connecting with a younger version of themselves even though it is just for a short while, it is an amazing thing to witness," he said.
Tickets for the show range from R200 to R300 and can be booked by simply sending a WhatsApp to the SME Booking line on the number 076 866 9767 and following a few simple instructions. Bookings enquiries can also be made via email: info@simplified-me.com