Cape Town City Ballet Presents CINDERELLA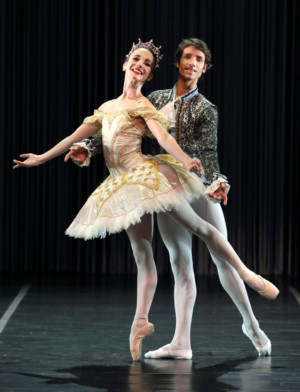 Following the groundbreaking Mozart and Salieri, Cape Town City Ballet (CTCB) will next present Cinderella at the Artscape Opera House from 5 to 21 October 2018.
The production, accompanied by the Cape Town Philharmonic at select performances, will incorporate new digital elements by design luminary Peter Cazalet who returns to once again work alongside Veronica Paeper, a creative coup by Acting Executive Director Tracy Li.
Paeper, who will also direct this production, first choreographed Cinderella for CAPAB Ballet in 1975 and, like Cazalet, will re-work aspects of the charming, feel-good classic that has enchanted dance audiences around the world for decades.
In a move that is sure to delight Capetonian balletomanes, Paeper has cast former CAPAB and CTCB ballerina Janet Lindup into the deliciously over-the-top role of the Ugly Sister Daffodil opposite Johnny Bovang and Mervyn Williams as Violet. Both Ugly Sister roles are typically taken by males and there's no doubt Lindup's sense of humor will be a delightful addition to the stellar CTCB lineup.
International guest artist Maxime Quiroga will return from France to dance the role of Prince Charming opposite Senior Principal ballerina Laura Bosenberg. Quiroga, seen most recently in the title role in Marc Goldberg's Mozart and Salieri, will alternate with Daniel Szybkowski and Conrad Nusser while the role of Cinderella will be shared between Bosenberg, Kirstel Paterson and Mariette Opperman. The Fairy Godmother will be danced by Caitlin Smith, Leane Theunissen, Claire Spector and Hannah Ward. Buttons will be performed by Tusile Tenza, Craig Pedro and Stephen Underwood, all three of whom, together with Jordan Roelfze, will also share the role of the Jester. Craig Pedro and Stephen Underwood will be seen as the Dancing Master.
Cinderella is presented in three acts and set to Prokofiev's stirring score, with Brandon Phillips conducting Cape Town Philharmonic at certain performances.
The season runs at the Artscape Opera House on 5 to 21 October 2018 with performances on Fridays at 7:30pm, Saturdays at 2:00pm and 7:30pm and Sundays at 3:00pm. Tickets cost from R120 to R350 from Artscape Dial-a-Seat on 0214217695, online via http://www.artscape.co.za/event/cinderella/ and via Computicket outlets or 08619158000.
A special performance aid of CTCB's Outreach and Development programme takes place on Friday 19 October at 16h00 with tickets at R100 each.