The Wanderers on Stage Videos - Off-Broadway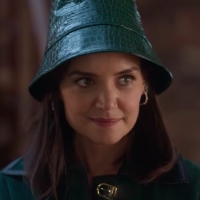 by Michael Major - Feb 23, 2023
The trailer for Rare Objects, starring, written, directed, and produced by Katie Holmes, has been released. The film also stars Tony winner Alan Cumming, Julie Mayorga, Derek Luke, and Saundra Santiago. Rare Objects is based on Kathleen Tessaro's 2016 novel of the same name, which Holmes adapted for the big screen. Watch the new video trailer now!
by Michael Major - Jan 18, 2023
Katie Holmes appeared on The Tonight Show with Jimmy Fallon last night to discuss returning to the stage in The Wanderers, revealing her backstage superstitions. Holmes also discussed working with Alan Cumming on her new film, the 25th anniversary of her debut film The Ice Storm, and more. Watch the complete interview video now!
by In Rehearsals - Jan 16, 2023
Rehearsals are now underway for Roundabout Theatre Company's New York premiere of The Wanderers by Anna Ziegler, directed by Barry Edelstein. The cast features Katie Holmes as 'Julia Cheever,' Sarah Cooper as 'Sophie,' Lucy Freyer as 'Esther,' Dave Klasko as 'Schmuli,' and Eddie Kaye Thomas as 'Abe.' Meet the company in this fun, new video!