The Play That Goes Wrong on Stage Videos - Off-Broadway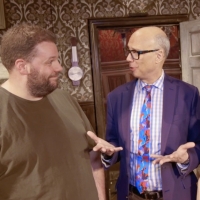 by Backstage With Richard Ridge - Mar 18, 2022
The Play That Goes Wrong has taken on audiences in London, on Broadway, and far beyond. Now the beloved play is running off-Broadway at New World Stages (340 West 50th Street), where it is still cracking up theatregoers eight times a week.

by BroadwayWorld TV - Apr 19, 2019
Today, April 18, the producers of The Play That Goes Wrong are celebrating the birthdays of Emperor Ferdinand I of Austria, Eliot Ness and Kate Hudson by releasing new video of the brilliant new cast of the show, and simultaneously insuring that this release is the only time that the emperor, Mr. Ness and Ms. Hudson will ever get a hit on Google in the same place.

by Stage Tube - Apr 19, 2019
In celebration of Earth Day, we are thrilled to announce "Green Goes Wrong: Paper Conservation". Cast and crew members ofThe Play That Goes Wrong, currently running at New World Stages, have created the first in a series of videos about how to be greener backstage, and in general.