Update - Broadway Shutdown Extends To September 6 - Click Here
Vanya and Sonia and Masha and Spike - Broadway
Riffing on some of Anton Chekov's most time-tested themes, Christopher Durang proves in his hysterically funny and surprisingly affecting new romp, Vanya and Sonia and Masha and Spike, that whether you're in 19th Century Russia or 21st Century Pennsylvania, the human condition never changes. Vanya (Pierce) and Sonia (Nielsen) have never left the confines of their childhood home - a rambling farmhouse in Bucks County, PA - while having to witness the glamorous exploits of their sister, Masha (Weaver), a famous movie actress, from afar. A surprise visit from Masha and her 20-something boy toy, Spike (Magnussen), throws the normally quiet household int0 utter upheaval as its residents and visitors get swept up in an intoxicating mixture of lust, rivalry, regret, and the sudden possibility of escape. Only one thing is certain: no one will get out of this without looking absolutely ridiculous!
Video preview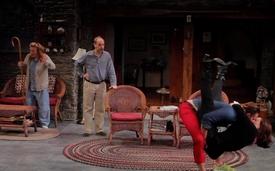 Schedule
Running Time: 2 hours and 30 minutes, including one 15 minute in
Featured Reviews For Vanya and Sonia and Masha and Spike
Review: Christopher Durang's 'Vanya and Sonia and Masha and Spike' is a zany joy - Associated Press
Sigourney Weaver, a longtime collaborator with Durang, plays Masha with flamboyant overacting. She's clearly having a ball; the whole cast is.... Director Nicholas Martin thankfully doesn't rush things, allowing the actors the freedom to extend a scene just a little further with merely a look....It's all a bit silly, a tad daffy and very, very sweet. Thankfully, for a show that both lampoons and honors Chekhov's themes, it doesn't end with the sadness that usually dominates that revered playwright's work. In fact, you can hear the Beatles sing "Here Comes the Sun."
Not your dad's Chekhov - NY Post
Hyde Pierce and Nielsen make the most of their monologues — his a fierce tirade about how Vanya preferred the life of his youth; hers a heartbreaking phone call setting up a date — and their timing is flawless. Hyde Pierce is a master of the slow burn, while Nielsen's wild-eyed Sonia often looks as if her train of thought has a loose caboose.
Vanya and Sonia and Masha and Spike Broadway Cast