Vanya and Sonia and Masha and Spike - 2013 - Broadway
Riffing on some of Anton Chekov's most time-tested themes, Christopher Durang proves in his hysterically funny and surprisingly affecting new romp, Vanya and Sonia and Masha and Spike, that whether you're in 19th Century Russia or 21st Century Pennsylvania, the human condition never changes. Vanya (Pierce) and Sonia (Nielsen) have never left the confines of their childhood home - a rambling farmhouse in Bucks County, PA - while having to witness the glamorous exploits of their sister, Masha (Weaver), a famous movie actress, from afar. A surprise visit from Masha and her 20-something boy toy, Spike (Magnussen), throws the normally quiet household int0 utter upheaval as its residents and visitors get swept up in an intoxicating mixture of lust, rivalry, regret, and the sudden possibility of escape. Only one thing is certain: no one will get out of this without looking absolutely ridiculous!
Video preview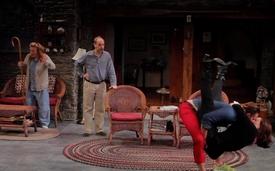 Schedule
Running Time: 2 hours and 30 minutes, including one 15 minute in
Featured Reviews For Vanya and Sonia and Masha and Spike
STAGE REVIEW Vanya and Sonia and Masha and Spike - Entertainment Weekly
The play may be - okay, is, definitely - overstuffed. Fortunately, the performances are first-rate. Durang's old Yale Drama pal Weaver and Nielsen, his favorite character actress of late, know his brand of eccentric comedy better than anyone. Nielsen, especially, is at her bug-eyed, bobble-headed best - really, this is a good thing, particularly when she's impersonating Maggie Smith. And sure, Hyde Pierce's second-act harangue against technology, TV, and self-stick postage stamps goes on about five minutes two long - though the Frasier star's delivery couldn't be more spot-on....But restraint has never really been Durang's thing...Whatever he borrows from long-dead Russian playwrights, Vanya and Sonia... is entirely, indisputably, oh-no-he-didn't classic Durang.
Time Out Theater Review: "Vanya And Sonia And Masha And Spike" - NY1
We get too few comedies on Broadway, much less ones with the breezy wit and satirical bite of "Vanya and Sonia and Masha and Spike". Like the play's lonely, bitter characters, I'm so happy that I can stop complaining.
Vanya and Sonia and Masha and Spike Broadway Cast