Unknown Soldier - 2020 - Off-Broadway Tickets, News, Info & More
Cleaning out her grandmother's home, Ellen Rabinowitz discovers a mysterious photograph of an anonymous soldier, tucked away in a box of keepsakes. And so begins Daniel Goldstein and Michael Friedman's sweeping, elegiac musical about a woman's journey to unearth the secrets buried in her family's past. Spanning three generations, Unknown Soldier unravels a delicate tangle of family lore, as Ellen chases the extraordinary story that unlocks her history and charts her future.
History:
Premiere
Run Type:
Limited Run
Market:
Off-Broadway
Previews:
February 14, 2020
Closing:
March 29, 2020

Address:
416 West 42nd St.(between 9th & 10th Aves)
New York,NY10036
Unknown Soldier Off-Broadway Cast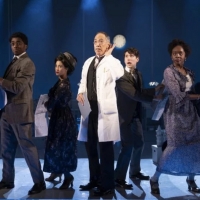 by Michael Dale - March 10, 2020
For BLOODY BLOODY ANDREW JACKSON, Michael Friedman whipped up an emo rock score that comically skewered white male privilege. For LOVE'S LABOUR'S LOST his music and lyrics embraced the open-hearted awkwardness of lovers testing the waters of adulthood, and in THE FORTRESS OF SOLITUDE, they nostalgically provided a tapestry of pop harmonies, soul and rap. And then there was the abundance of fresh material created for The Civilians, the investigative theatre company he co-founded.
by Chloe Rabinowitz - December 30, 2019
Playwrights Horizons (Artistic Director Tim Sanford, Managing Director Leslie Marcus) today announced the cast and creative team of Unknown Soldier, a sweeping, elegiac chamber musical that melts time, spanning three generations as it follows a woman's journey to unearth the secrets buried in her family's past. With a book and lyrics by Daniel Goldstein, making his New York writing debut, Unknown Soldier is also the last work from the late, beloved Michael Friedman (music and lyrics) to be premiered in the city. Together, they created a work that profoundly illustrates the search into the existences of those who've passed, connecting the love and loss, hope and regret of two womena?'and a country forever scarred by wara?'across a century. Unknown Soldier follows Ellen Rabinowitz, a woman who's inherited her grandmother's homea?'and with it, a clue that her understanding of her family and of herself are incomplete. Directed by Trip Cullman and choreographed by Patrick McCollum, this New York premiere production will take place in the Mainstage Theater at Playwrights Horizons (416 West 42nd Street), February 14-March 29, 2020.
Unknown Soldier Frequently Asked Questions
What productions of Unknown Soldier have there been?
Unknown Soldier has had 1 productions including Off-Broadway which opened in 2020.
Twitter Watch