The Big Knife - 2013 - Broadway
Roundabout Theatre Company presents an electrifying new production of Clifford Odets' classic tale about keeping your integrity in the face of success. In the golden age of Hollywood cinema, actors may have all the glory, but studio execs have all the power. The Hoff-Federated studio has had its most successful star, Charlie Castle, over a barrel ever since it helped cover up a mistake that could have ended his career. When a woman with insider knowledge threatens to come forward, the studio heads will stop at nothing to protect Charlie's secret... but how far is he willing to go before he quits the movie business for good? Set in a glossy world of rumor mills and rocky friendships, Clifford Odets' The Big Knife is a riveting, bitingly funny look at how challenging it can be to stay true to yourself when everyone expects you to play a part.
This is the first new Broadway production since The Big Knife premiered on Broadway in 1949, directed by Lee Strasberg.
Video preview
Photo preview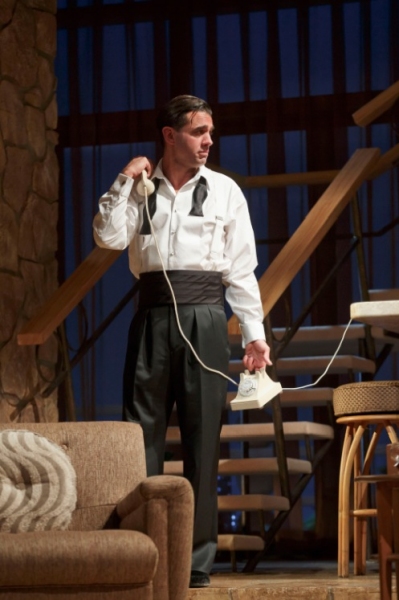 Featured Reviews For The Big Knife
'The Big Knife' Broadway Review: Bobby Cannavale Gleams as a Tarnished Golden Boy - New Jersey Newsroom
Director Doug Hughes and his designers provide an extremely glossy production that undoubtedly is meant to frame Odets' trashy story and its dubious protagonist in the most flattering light possible...Some viewers may well fall for the great charm that Bobby Cannavale sympathetically lends Charlie...But Richard Kind is slyly humorous as a folksy meltdown of Sam Goldwyn and Louis B. Mayer...With the exception of Marin Ireland, who simply seems uncomfortable in the ambivalent character of Charlie's semi-estranged wife, the remainder of the capable company handles their roles very well...Roundabout subscribers already booked for "The Big Knife" should be in the mood to swallow a big helping of stale cheese that is being served with the utmost skill.
'The Big Knife' revival pulls its punches instead of going for the kill - NY Post
The play moves along at a reasonably fast clip, and Odets paints a fascinating portrait of Hollywood as a machine that destroys people, marriages and ideals. Too bad the production only gives us a partial view, a CinemaScope movie seen on a computer screen.
The Big Knife Broadway Cast