That Championship Season - 2011 - Broadway
Two-time Olivier Award winner Brian Cox (The Bourne Identity), Jim Gaffigan (Salvation Boulevard), Golden Globe nominee Chris Noth (The Good Wife), Jason Patric (Cat On A Hot Tin Roof) and Golden Globe and Emmy Award winner Kiefer Sutherland (24) star in Broadway's classic drama That Championship Season.
Jason Miller's Tony- and Pulitzer Prize-winning play returns to Broadway for a strictly limited engagement. Directed by two-time Tony Award winner Gregory Mosher (A View From The Bridge), That Championship Season is a powerhouse drama about the promise of youth… and the challenge of staying in the game.
For over two decades, four players and the coach of a high school championship basketball team have gathered every year to re-live their greatest moment of glory. While three of the players have found small-town success, the fourth has never found his way. At this year's reunion, tensions boil over, and as the celebratory evening turns brutal, long-held secrets bubble to the surface and life-long bonds are shattered.
Video preview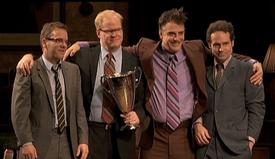 Featured Reviews For That Championship Season
That Championship Season - NY1
It seems unfair to judge any play written 40 years ago by today's standards, especially one that's so tied into the cultural climate of its day. As a museum piece the production succeeds. But if the producers were aiming higher, I'd have to say they dropped the ball.
The Faded Glory of That Championship Season - New York Magazine
The five-man squad onstage in That Championship Season is a not unimpressive bunch, a Hollywood casting director's "dream team" of sorts: If not quite the Jordan-Magic-Bird miracle of the '92 Olympics, they're certainly within a halfcourt shot of the 2000 Carter-Hardaway-Garnett incarnation. Kiefer Sutherland, Chris Noth, Jason Patric, the comedian Jim Gaffigan, and the great Brian Cox have united to resuscitate Jason Miller's brined-in-testosterone 1972 Pulitzer-winner, a vicious little Watergate-era object lesson in bonding and betrayal, bad leaders and blind followers, feet of clay and hearts of stone. It's the anti-Lombardi. N.B.: That doesn't make it good.
That Championship Season Broadway Cast