That Championship Season - 2011 - Broadway Tickets, News, Info & More
Two-time Olivier Award winner Brian Cox (The Bourne Identity), Jim Gaffigan (Salvation Boulevard), Golden Globe nominee Chris Noth (The Good Wife), Jason Patric (Cat On A Hot Tin Roof) and Golden Globe and Emmy Award winner Kiefer Sutherland (24) star in Broadway's classic drama That Championship Season.
Jason Miller's Tony- and Pulitzer Prize-winning play returns to Broadway for a strictly limited engagement. Directed by two-time Tony Award winner Gregory Mosher (A View From The Bridge), That Championship Season is a powerhouse drama about the promise of youth… and the challenge of staying in the game.
For over two decades, four players and the coach of a high school championship basketball team have gathered every year to re-live their greatest moment of glory. While three of the players have found small-town success, the fourth has never found his way. At this year's reunion, tensions boil over, and as the celebratory evening turns brutal, long-held secrets bubble to the surface and life-long bonds are shattered.
Video preview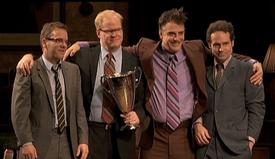 Featured Reviews For That Championship Season
Rebound not worth a shot - New York Post
The most exciting moment in "That Championship Season" comes when Jason Patric's character, Tom, falls down a flight of stairs. For a couple of seconds, you're involved in what's happening: Wow, that was something! Is he OK? How long did he have to rehearse that stunt? And then it's right back to sleep.
Male bonding in 'Season,' with great cast - Newsday
Despite its creation in a tumultuous era, this never was a more than a solid piece of middlebrow message-naturalism. And despite the care and affection lavished on the handsome production, it remains a male-bonding parlor drama that signals its big secrets more clearly than it justifies a high-profile revival. Granted, the bar was set high on this one. Last season, Mosher directed a staggering production of "A View From the Bridge," starring Liev Schreiber and Scarlett Johansson, revealing unimagined depths in Arthur Miller's melodrama. When Mosher chose Kiefer Sutherland, Jim Gaffigan, Chris Noth, Jason Patric and Brian Cox for this conventional piece of curdled mid-America, one could be forgiven for thinking the director had something special in mind for it.
That Championship Season Broadway Cast