Old Times Broadway
Clive Owen makes his Broadway debut in Old Times, the unsettling drama of desire and blurred realities by Nobel Laureate Harold Pinter. Owen is Deeley, a man quite looking forward to meeting Anna, his wife Kate's friend from long ago. But as the night goes on, Anna's visit quickly shifts from an ordinary sharing of memories to a quiet battle for power. Douglas Hodge, a frequent performer and director of Pinter's works, directs the haunting and passionate revival.
Video preview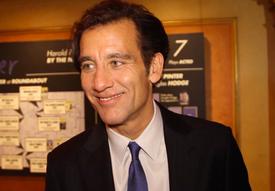 Photo preview
Schedule
Running Time: One hour and five minutes, with no intermission
Featured Reviews For Old Times
'Old Times' review: Clive Owen's dazzling Broadway debut - Newsday
s it possible to be dazzled by the cast, especially by Clive Owen in his Broadway debut, stunned anew by the elusive meanings of Pinter's "Old Times" and yet appalled by the production?...Let's say that director Douglas Hodge's tricked-up staging of this 65-minute 1971 gem is bizarre, at best, and betrays a lack of trust in the lean, unnerving brilliance we know as Pinteresque. Hodge...chose to superimpose an over-animated, high-concept spectacle on a playwright whose menace radiates from silence and things unsaid...The drama, such as it is, is built on innuendo and insinuation, not overacting and special effects. Owen is deliciously slick, but not too slick, and, every so often, intentionally, fantastically obnoxious as Deeley...Eve Best...has an imposing elegance as the guest who married well, and Kelly Reilly, as the wife, has the quiet feline languor of one who feels the desire simmer off the others in the room...Printed scripts are not holy writs but, at least in this case, Pinter knew best.
'Old Times' Broadway Review: Clive Owen, Kelly Reilly and Eve Best Reinvent Pinter - The Wrap
What's the opposite of deconstruction in the theater? I'm not sure. But that's what director Douglas Hodge does with "Old Times" in this Roundabout production...In Hodge's "Old Times," the actors aren't playing the subtext necessarily. They share a feverish imagination that doesn't have much to do with the text, but nonetheless illuminates it in quirky ways...Hodge and company emphasize that defiance...Owen, in his Broadway debut, gives us a Deeley who's not only soused from the get-go but fey in an attractively disheveled sort of way...For theatergoers who are tired of sitting through all those Pinter pauses, Hodge pushes his actors to speak rapid fire, often on top of each other; and when they do take a breath, it's much more than a pause. It's often a long, silent interlude in which they lounge around, smoke cigarettes, or strut as if readying themselves for the next barrage of words.
Old Times Broadway Cast