Old Times - 2015 - Broadway
Clive Owen makes his Broadway debut in Old Times, the unsettling drama of desire and blurred realities by Nobel Laureate Harold Pinter. Owen is Deeley, a man quite looking forward to meeting Anna, his wife Kate's friend from long ago. But as the night goes on, Anna's visit quickly shifts from an ordinary sharing of memories to a quiet battle for power. Douglas Hodge, a frequent performer and director of Pinter's works, directs the haunting and passionate revival.
Video preview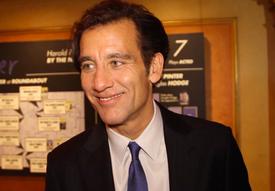 Photo preview
Schedule
Running Time: One hour and five minutes, with no intermission
Featured Reviews For Old Times
Review: Chilly, enigmatic 'Old Times' returns to Broadway - Associated Press
That Thom Yorke is the first from the creative team to greet you at the new revival of "Old Time" is the first indication you're in for an unsettling show...There's lots of lounging around, staring at each other and trying to repress the bubbling longings beneath the polite chitchat. This is a play where crossing or uncrossing one's legs is fraught with meaning...Clive Owen makes his Broadway debut with jaunty menace in this Roundabout Theatre Company production opposite the British actresses Eve Best and Kelly Reilly, both lovely and enigmatic and ferociously elegant in not-so-retro costumes by Constance Hoffman. Owen's edgy, masculine charm and absurdist sense of humor are on show and Best, as Anna, is completely believable as the object of lust for at least one of her dinner companions. Reilly has less script to work with and so often must communicate her uneasy marriage and unburied past with just soulful eyes and by pivoting her body.
Old Times - TimeOut NY
Christine Jones's set is undeniably forceful -- a back wall covered with a vertiginous vortex that lights up, the "converted farmhouse" specified in Pinter's stage directions rendered as an island of high-gloss black surfaces upon which chic modern furniture floats (close observers will note a turntable moving very slowly). Combined with incidental music by Radiohead's Thom Yorke (industrial and menacing, as you'd expect), the mood is abstract, ghostly, interior. Problem is, the play already does all that: The designers are overdoing it...Owen and Reilly are quite good: He's coiled, boastful and sexy, with an edge of sleaze; she languorously transfers herself from divan to chair as if wafted by a draft, her sloe-eyed, sleepwalker presence belying a savage final attack. As the third wheel, Best, normally a steely presence, seems stranded between her costars' choices: too bland and self-contained when she should be spiky and aggressive...Despite overdetermined design and asymmetrical performances, Pinter's precise, lyrical language comes through with crystalized, cutting force.