Misery - 2015 - Broadway
Two-time Emmy Award winner and Golden Globe Award winner Bruce Willis will makes his Broadway debut opposite three-time Emmy Award winner and two-time Tony Award nominee Laurie Metcalf in MISERY.
MISERY, written by two-time Academy Award-winner William Goldman (The Princess Bride, Butch Cassidy and the Sundance Kid) who wrote the screenplay for the Academy Award-winning film and based on the acclaimed novel by Stephen King, is directed by Will Frears (Omnium Gatherum).
Successful romance novelist Paul Sheldon (Bruce Willis) is rescued from a car crash by his "Number One Fan," Annie Wilkes (Laurie Metcalf), and wakes up captive in her secluded home. While Paul is convalescing, Annie reads the manuscript to his newest novel and becomes enraged when she discovers the author has killed off her favorite character, Misery Chastain. Annie forces Paul to write a new "Misery" novel, and he quickly realizes Annie has no intention of letting him go anywhere. The irate Annie has Paul writing as if his life depends on it, and if he does not make her deadline, it will.
Video preview
Photo preview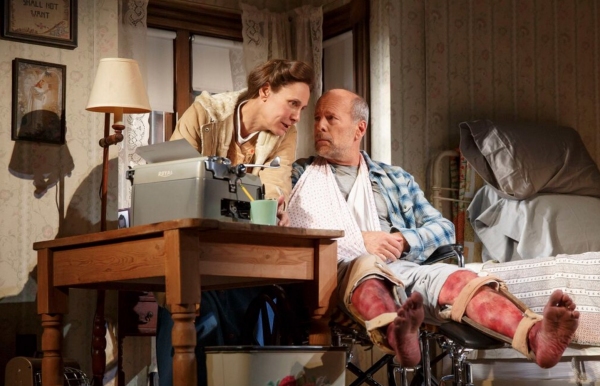 Schedule
Running Time: One hour and 30 minutes, with no intermission
Featured Reviews For Misery
Misery review – Bruce Willis sighs hard in stage chiller - Guardian
When Misery cooks, it is in the Grand Guignol moments, particularly the scene of hobbling, so why not go ahead and make that Guignol so much grander, sillier, more deliciously absurd? Had the violence been increased, as well as the comedy and the sense of sexual sublimation, Misery might have been a real scream.
Theater: Strong But Cracked "Bridge," Miserable "Misery," And Pledging "Allegiance" - Huffington Post
Willis struggles to project to the back of the theater and delivers most every line in a low-key, off-hand manner, whether he's asking for some water or trying to convince Annie not to kill them both. While his fumbles with the lines are not surprising (he hasn't been on stage in decades) even Metcalf stumbled here and there on the night I saw it, a distressing sight for such a veteran... Somebody knows something, because the reviews won't matter here. Willis will either decide Broadway was a bad idea or dive into something better down the road. Metcalf will hungrily move on to the next, more demanding, more interesting part. And Goldman will hopefully turn again to something more challenging and fulfilling, like that stage adaptation of The Princess Bride.