Misery - Broadway
Two-time Emmy Award winner and Golden Globe Award winner Bruce Willis will makes his Broadway debut opposite three-time Emmy Award winner and two-time Tony Award nominee Laurie Metcalf in MISERY.
MISERY, written by two-time Academy Award-winner William Goldman (The Princess Bride, Butch Cassidy and the Sundance Kid) who wrote the screenplay for the Academy Award-winning film and based on the acclaimed novel by Stephen King, is directed by Will Frears (Omnium Gatherum).
Successful romance novelist Paul Sheldon (Bruce Willis) is rescued from a car crash by his "Number One Fan," Annie Wilkes (Laurie Metcalf), and wakes up captive in her secluded home. While Paul is convalescing, Annie reads the manuscript to his newest novel and becomes enraged when she discovers the author has killed off her favorite character, Misery Chastain. Annie forces Paul to write a new "Misery" novel, and he quickly realizes Annie has no intention of letting him go anywhere. The irate Annie has Paul writing as if his life depends on it, and if he does not make her deadline, it will.
Video preview
Photo preview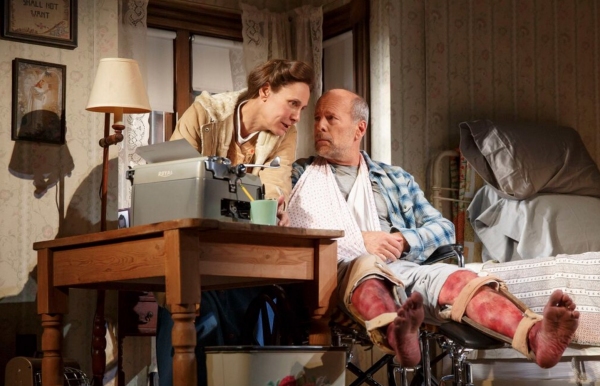 Schedule
Running Time: One hour and 30 minutes, with no intermission
Featured Reviews For Misery
Broadway Review: 'Misery' With Bruce Willis, Laurie Metcalf - Variety
The eek! factor is largely missing from "Misery," starring a laid-back Bruce Willis as the bed-bound author held hostage by his "greatest fan," played here by Laurie Metcalfe. Despite the physical intimacy imposed by its stage setting, William Goldman's theatrical version of the 1987 Stephen King novel lacks the stifling sense of claustrophobia that made Rob Reiner's 1990 movie version starring Kathy Bates and James Caan so unnerving. Or maybe the atmosphere of fear and dread was just wiped out by the show's undercurrents of arch humor.
Review: Bruce Willis Is Comatose in New Play 'Misery' - Associated Press
In the end, "Misery" isn't total misery. It's just weird. Apart from the fact that it's a completely unnecessary adaptation, you oddly start to root for the monster, not the bona fide action hero. That's because Bruce Willis makes an appallingly ill-conceived Broadway debut in the thriller that opened Sunday at the Broadhurst Theatre. But Laurie Metcalf rescues the "Die Hard" stud by doing enough good acting for both of them.