London Assurance - 2019 - Off-Broadway Tickets, News, Info & More
In London Assurance, a high-spirited and farcical holiday treat, the vain and lustful Sir Harcourt Courtly travels to Oak Hall to meet his bride-to-be, the charming young Grace Harkaway, whose hand comes with £15,000 a year. But when the beautiful and vibrant Lady Gay Spanker joins the party, Sir Harcourt becomes too enamored with her to notice that Grace is falling in love with his young son Charles, who has arrived in disguise, pursued by his creditors! A parade of eccentric characters and merry mishaps ensue in this classic comedy of manners.
(New York, NY)
132 West 22nd St.(between 6th & 7th Aves)
Twitter Watch
@irishrep
12/06/2021 02:17pm
Watch AUTUMN ROYAL - our first production back on stage since the shutdown - on demand through Dec 13! Bring thea… https://t.co/lzDkEEZhw8
London Assurance Off-Broadway Cast
by Courtney Savoia - January 3, 2020
Written by Dion Boucicault, London Assurance, takes audiences on a wild ride through the eyes of eccentric characters and missteps along the way! Centered around Sir Harcourt Courtly and his betrothal to Grace Harkaway and the hilarity that ensues when they each end up falling for another person, including Sir Courtly's own son, this play is full of twists, turns, and plenty of quirky moments.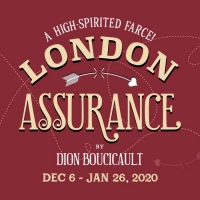 by Review Roundups - December 16, 2019
Irish Repertory Theatre presents London Assurance, written by Dion Boucicault (The Shaughraun) and directed by Charlotte Moore (The Plough and the Stars).