Living on Love - 2015 - Broadway
World-renowned soprano Renee Fleming takes to the stage as celebrated diva Raquel De Angelis. When Vito, her larger-than-life maestro husband, becomes enamored with the lovely young lady hired to ghostwrite his largely fictional autobiography, Raquel retaliates by hiring her own handsome, young scribe to chronicle her life as an opera star. Sparks fly, silverware is thrown, and romance blossoms in the most unexpected ways in this brand new hilarious comedy.
This production, which also starred Ms. Fleming and was directed by Ms. Marshall, was first produced and presented in July 2014 in Williamstown Massachusetts by the Williamstown Theatre Festival (Jenny Gersten, Artistic Director) by special arrangement with Scott Landis, Philip Morgaman, Bob Bartner, Roger Berlind, Just For Laughs Theatricals, Glass Half Full Productions, and TNT DynaMite Productions.
Video preview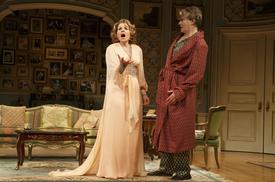 Photo preview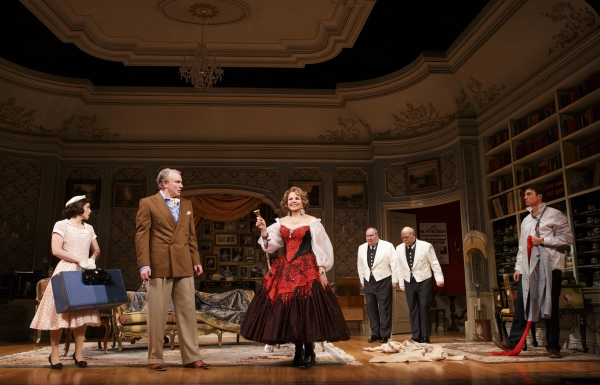 Schedule
Running Time: Two hours and 15 minutes, with one intermission
Featured Reviews For Living on Love
Theater Review: A Domesticated Renée Fleming in Living on Love - Vulture
Living on Love, as directed by Kathleen Marshall, is tacky and weirdly downmarket, as if divas and maestros could only be made palatable to contemporary audiences by turning them into frenetic buffoons...And while Sills has the craft and comic experience to scale up his performance to Broadway levels, I'm sorry to say he's the only one of the four leads who can convincingly project this weak material to the back of the house...It is certainly very strange to report that Fleming, one of the great operatic sopranos of the last three decades, cannot. She is lovely, she is game, and you always sense her niceness. But these qualities domesticate Raquel's monstrousness; she isn't fierce enough to make her middling antics funny...What's oddest is that, without music, Fleming can't seem to find a natural shape for her lines...This distinction becomes clear when, after teasing us with snippets of arias throughout the play, Fleming finally lets loose with a whole song: "Always." Now we realize what we've been missing.
Review: Renée Fleming Plays Against Type in 'Living on Love' - New York Times
Renée Fleming seems like far too nice a woman to be playing a diva...Even screeching and preening like a peacock in mating season, Ms. Fleming glows with good nature, good sportsmanship and the reassuring sanity of a hostess at a fancy dress party who knows that all these silly high jinks shall pass. If such amiability makes Raquel less a monster than the script dictates, it also makes the show less a chore to sit through...DiPietro's version seems more like a forgotten bottom-drawer comedy from the 1930s...in fairness, everybody in "Living on Love" appears to be having a fairly good time...Though most of the jokes are so tired you expect them to nod off by themselves, the cast delivers them with go-for-broke gusto...It's only when [Fleming] sings...that Raquel becomes the passionate, larger-than-life figure she is said to be. The glimpse of real grandeur in that voice makes this trifle of a play seem even smaller. ... Raquel (Fleming) and her husband (Mr. Sills) belong to the breed of outsize, badly behaved theatrical couples who have been showing up at least since the salad days of George S. Kaufman and Noel Coward...
Living on Love Broadway Cast