Living on Love Broadway
World-renowned soprano Renee Fleming takes to the stage as celebrated diva Raquel De Angelis. When Vito, her larger-than-life maestro husband, becomes enamored with the lovely young lady hired to ghostwrite his largely fictional autobiography, Raquel retaliates by hiring her own handsome, young scribe to chronicle her life as an opera star. Sparks fly, silverware is thrown, and romance blossoms in the most unexpected ways in this brand new hilarious comedy.
This production, which also starred Ms. Fleming and was directed by Ms. Marshall, was first produced and presented in July 2014 in Williamstown Massachusetts by the Williamstown Theatre Festival (Jenny Gersten, Artistic Director) by special arrangement with Scott Landis, Philip Morgaman, Bob Bartner, Roger Berlind, Just For Laughs Theatricals, Glass Half Full Productions, and TNT DynaMite Productions.
Video preview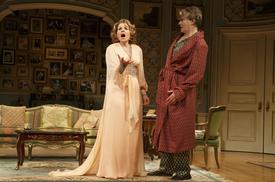 Photo preview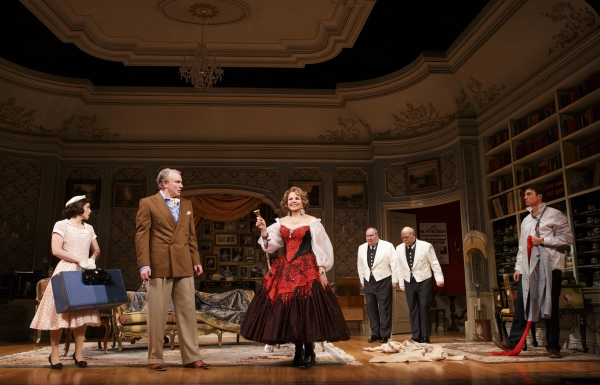 Schedule
Running Time: Two hours and 15 minutes, with one intermission
Featured Reviews For Living on Love
Review: Renee Fleming delightful in madcap 'Living on Love' - Associated Press
The four time Grammy Award winner [Fleming] is a delight...able to lovingly goof on her refined world with an insider's grin...DiPietro...has a knack for writing for daffy characters and this play has a half-dozen of them. It feels comforting, like an old black-and-white film, and yet there's a newness here, too...the play centers on an aging soprano, played by a bejeweled Fleming, and her lothario Italian conductor husband...A fantastic Douglas Sills plays him like an impish boy beneath an exterior of shocking slicked-back arrogance and heavily accented English...One of the play's joys is the performances of two stuffy servants...who sing along to arias as they elegantly change the props between scenes or answer bells perfectly in sync...The play is directed with comedic aplomb by three-time Tony Award winner Kathleen Marshall...The material could be accelerated and made into a farce, but Marshall never lets the comedic elements upstage the slightly looney characters themselves.
First Nighter: 'Living on Love' Proves Insufficient, Even With Renée Fleming - Huffington Post
Another way to look at it has to do with snow globes. Raquel and Vito collect them. A few dozen are displayed on a series of shelves. Some are even hurled before final fade-out. But what do you usually do with snow globes? You turn them upside down, shake them and then watch the fake snow fall through the water enclosed for a perhaps a minute of bland prettiness. What you get when you cross this crossed Private Livesand Kiss Me, Kate are a few moments of bland silliness.
Living on Love Broadway Cast