In Transit - 2016 - Broadway
Featuring an a cappella score from the talents behind Frozen and Pitch Perfect, IN TRANSIT is a new, modern musical, bringing to life a vivid tapestry of characters and music in the city that never sleeps... or stands still. Inspired by the vibrant rhythms of life on the subway, IN TRANSIT follows the intertwining lives of eleven New Yorkers, all hoping to catch the express train to success, love and happiness- and the stops they make along the way.
With a book, music and lyrics by Academy Award winner Kristen Anderson-Lopez (Frozen), James-Allen Ford, Russ Kaplan and Sara Wordsworth and vocal arrangements by Deke Sharon (Pitch Perfect, "The Sing-Off"), IN TRANSIT is directed and choreographed by three-time Tony Award winner Kathleen Marshall (Anything Goes, Nice Work If You Can Get It).
Video preview
Photo preview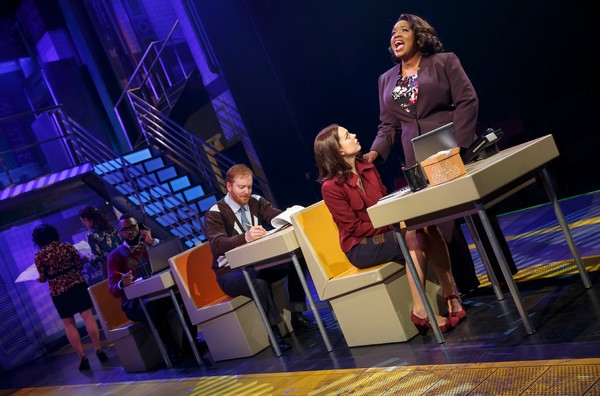 Featured Reviews For In Transit
'In Transit' review: Sanitized subway musical in a capella - Newsday
The 100-minute musical - really, a collection of songs about mostly unrelated people in career and romantic transition - is meant to be inspired by the rhythms of the subway. This comes through best with the rumbling beats and virtuosic sound effects made by Boxman, a wise subway eccentric and one-man band played by beatbox artist Steven "HeaveN" Cantor. Otherwise, it's a stretch to find the subway-rhythm idea as more than a pretext for getting together 11 actors to portray 40 very sincere and familiar characters - the struggling actress/office temp (Margo Seibert); the obsessed dumped girlfriend (Erin Mackey); the engaged gay guys (Justin Guarini and Telly Leung), one of whom is in the closet to his pious but kindly Texas mother (Moya Angela); and the former Wall Street guy (James Snyder) fired for pressing "send all" on an indiscreet email and now, unbelievably, left without enough to take the subway.
'In Transit': Theater Review - Hollywood Reporter
The appeal of paying Broadway prices for such an experience can be debated. More to the point, In Transit, while boasting engaging performances, features cliched characters and situations too bland for a sitcom, let alone theater.