Interview: Debut of the Month - IN TRANSIT's Gerianne Perez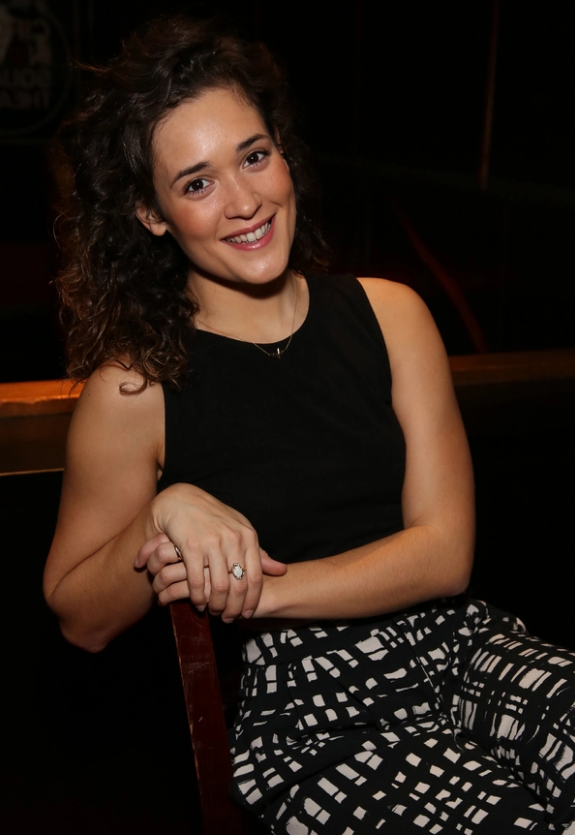 Gerianne Perez makes her Broadway debut as 'Kathy' in In Transit, a new a cappella musical which follows the intertwined lives of 11 New Yorkers whose careers are a work in progress and who are faced with the challenges of navigating city life, and upholding relationships with lovers, family and friends. With a book, music and lyrics by Academy Award winner Kristen Anderson-Lopez (Frozen), James-Allen Ford, Russ Kaplan and Sara Wordsworth and vocal arrangements by Deke Sharon, In Transit is directed and choreographed by three-time Tony Award winner Kathleen Marshall.
Today, the talented actress speaks to BWW about making her Broadway debut, and shares her hope that In Transit will help people feel a little less alone in their journeys from point A to point B!
[NOTE: BroadwayWorld's fabulous photographer Walter McBride captures images of the Broadway stars profiled in our monthly column in a special photo shoot. Check out the pics of Ms. Perez throughout the feature!]
What were your initial thoughts when you first heard about this groundbreaking a cappella musical?
Well, I was ecstatic to say the least! The a cappella nerd in me couldn't wait to see what kind of story could be told with just the accompaniment of the human voice. Needless to say I was aching for the chance to audition and be seen for In Transit because my introduction to singing actually came from doing a cappella in middle school. It was sort of my gateway into learning how to use my voice and read music so I'm eternally grateful for the art form. Once I read the script, it surpassed my expectations in every way possible. I knew that Broadway was about to be hit with a musical and a sound that would rock it to its core.
What do you think it is about a cappella music that fascinates audiences?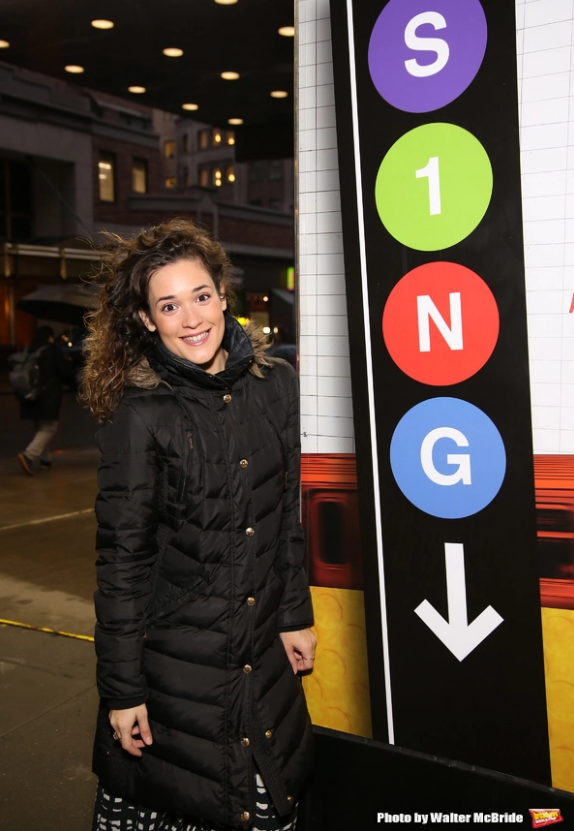 To me, I think it's because it's one big magic trick. When you watch an a cappella show done well, it's hard to believe that all of the sounds are being made with just the human voice and body. It's got this un-believability factor that I think can really wow an audience. One of my favorite things that I hear from people at the stage door is when they say, "about halfway through the show I completely forgot you guys were the only sound I was hearing!" It's captivating to watch a group of 11 singers do the job of an entire orchestra while also executing a musical. A cappella, at its core, is raw and exposed which I personally think makes it all the more powerful.
What is it about the genre that appeals most to you?
Honestly, I think it's because every singer is existing as a sort of "vocal support system" if you will. You can be singing solo in one number, and the next number be singing background vocals for someone else. It's sort of a great equalizer, if that makes any sense. Another thing that I love about a cappella is it gives you the chance to experiment with your voice by making all sorts of different sounds. Deke Sharon, our vocal arranger and a cappella guru, has this uncanny ability to make the human voice sound like just about any sound or instrument possible. For example, one day during tech he gave us all vocal lines to perfectly mimic individual sounds that you would hear in a New York City soundscape. They're anything from a dog barking, to varying car horns, to ambulance sirens that come to a screeching crescendo at a huge moment in the show for our leading lady, Jane.
This show really requires cast members to be a quadruple threat, in the sense that they must sing, dance, act and perform a cappella. Can you talk about the audition process, which I assume must have been a bit grueling?
It was definitely the most intense audition process I've had so far, but in the best way! My first audition was actually a tape that I submitted to casting (I was out of town doing a production of In the Heights at the time). Once I got back into the city, I had a work session with casting and Rick Hip-Flores, our music supervisor, in which I performed the entire sides packet, was vocalized to check for range, and given a few vocal lines from the show to sight-read. I was then brought in for the final callback where I performed the material from the show for the role that I currently understudy, was vocalized in front of the entire creative team, was given material to sight-read, and asked to sing a song from my book. Then, because of the nature of how ensemble-driven our show is, I was asked to do character improv based on descriptions that members of the creative team gave me. I was also asked to break out any dialects I had in my back pocket as well. I believe when I walked out of the room and checked my phone, about 15-20 minutes had gone by!
I read that the cast had varying degrees of previous experience singing a cappella. How difficult was it to solidify the sound and learn to stay perfectly in sync with one another?
Well, actually the first two weeks of rehearsal were spent solely with the cast in a room together learning the vocal material. We didn't start staging until after that which I think was essential to the process. We had to get this cast of singers to exist as a completely cohesive a cappella group, you know? I think that time just sitting in a room and listening to each other gave us the chance to really match tone and get us working as a functioning vocal unit. The in-ear monitors were the other piece of the puzzle that enabled us to really tap into blending with each other as well. The most brilliant part of our sound design is that we could ask to hear certain voices pulled forward in our mix depending on what we need per song and vocal line. That truly allows us to hear what
we need to blend and match pitch with one another.
What are some of the challenges and differences between this show and other musical theater projects you've been involved in?
Interestingly enough, I think one of the most difficult parts of the process was matching the choreography to our varying vocal lines. At times we'll be doing this very percussive, syncopated movement while singing long legato harmonies in a song. It definitely took a bit of time to adjust to! Another challenge that's a bit different from other projects is how in every number the cast is singing back up for the lead on a song. So if a lyric changed for one lead vocal line, it actually ended up changing the lyric for all 10 people singing backup. That was definitely something that happened a few times during our preview process.
Can you talk about the way in which the NY subway serves as a metaphor for the journeys these characters undergo?
The subway is perhaps the most quintessential character in our show, much like it is in most people's lives who primarily use public transportation to get to and from where they need to go. It's this big nuisance that we all depend on and frequently complain about but without it, we'd all sort of be stranded. In our show, the subway also exists as this overarching metaphor for life-when you're in the transit system and you are not where you "were" but not yet where you're "going"- you're in a sort of limbo state or "in between stations" if you will. It's truly the connections that we make along the way that make the journey meaningful.
Can you relate to some of the character's stories? Is there one in particular you most relate to?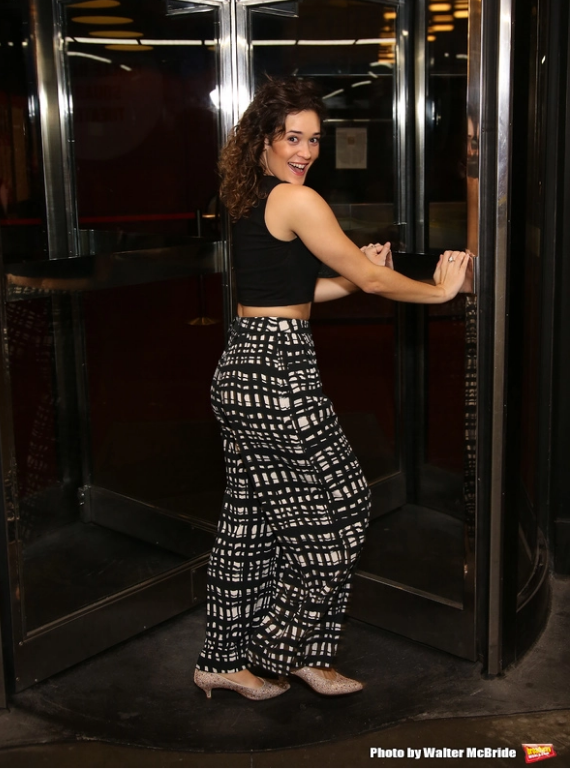 Oh definitely! I think I personally relate most to Jane and Ali. Jane, because I actually was an actress working at an office temp job before I booked my Broadway debut in In Transit. I'd actually sit at my computer doing work but also daydreaming about someday being on Broadway. Funny story, I actually got the call about In Transit while sitting at that very desk! Thankfully, I had the world's best/most supportive co-workers so they were nothing but happy for me when I told them the news. The more difficult storyline for me to read in the script was actually Ali, though. A couple of years ago, I went through a pretty torrential breakup (similar to Ali's plot line) and threw myself into exercise and dieting. I kept thinking that if I could just be the best possible version of myself, I would be able to move on from losing, what I thought at the time, was the love of my life. I'm not ashamed to say that I get choked up just about every night when I watch the "Moving Song" and Ali takes her first step in leaving that broken relationship behind her.
What is the main idea you hope audiences take away with them after seeing the show?
Well, I hope for many things, honestly! My biggest one is that people leave the show feeling like they're just a little less alone in their journeys to get from point A to point B. These days, it feels like everyone is "en route" to their next big job, relationship, apartment, and they're always trying to get somewhere. My favorite line in the show comes from the character Boxman (our vocal percussionist) when he says "How are you gonna get where you're going, if you don't know how to be where you are?" That's sort of what I'd consider the mantra of our show to be, and the biggest lesson I hope people walk away with. It's super easy, especially in this big city, to get wrapped up in your same every day hustle and routine. I truly think this show encourages you to take in the world around you so you can truly be present in the moment, here and now.
What was it like to make your Broadway debut in In Transit?
It has been surreal in every way, shape, and form. I could've never, in my wildest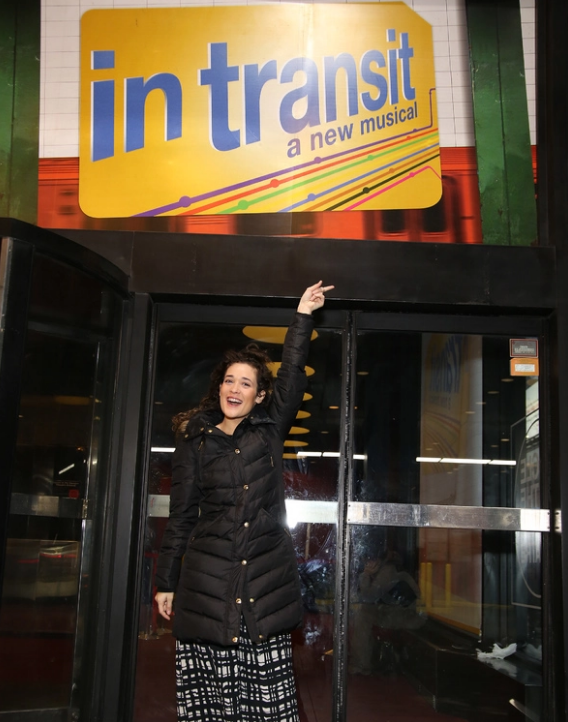 dreams, known that my debut would be originating a role in a new musical doing something that Broadway has never seen before. I've gotten to work with the most incredible creative team who has supported me and every other beautiful member of this cast along this crazy ride. Every night I go out on stage, I am able to play a role that was uniquely designed to fit my strengths and quirks and I don't ever, even for a moment, take it for granted. There was this moment that happened after our first invited dress rehearsal that I'm pretty sure I'll remember for the rest of my life. We had just done our first full run-through of the show in front of an audience, which we hadn't yet been able to do in our tech process, and the second the house lights came up for the curtain call the gravity of what we had just accomplished hit me like a brick wall. I literally started profusely crying as we did our bows. Now, I'd like to think I'm not an overly emotional person, especially in public, but that moment of joyousness and pride deserved nothing less than a pure, unashamed release of gratitude for this journey.
About Gerianne Perez: Gerianne began her professional career in the award-winning production of Volleygirls at the Signature Theatre alongside Susan Blackwell and Monica Raymund (of SISU THEATRICAL PRODUCTIONS). This production was noted as the NYMF 2013 "Best of Fest", "Best Ensemble", "Most Promising New Musical", and Huffington Post's "one of the best shows of 2013. " She then went on to star in Bubble Boy at Hamilton Stage written by Cinco Paul and Ken Daurio, creators of the hit film Despicable Me, followed by another star turn as the classic Rizzo in Grease at North Shore Music Theatre. Gerianne has also developed roles in new musicals such as Eva in We are the Tigers (Over the Moon Productions), Chelsea in Fable (NYMF 2014), and Josefa in Revenge with Music for UnsungMusicalsCo.'s 2014 developmental reading series at Lincoln Center.
She has appeared on stages from New York City to Shanghai, and venues including 54 Below, Joe's Pub, Town Hall, Skirball Center for the Performing Arts, and the Beacon Theater. Gerianne Pérez is a proud graduate of NYU's Tisch School of the Arts and their conservatory program at CAP21.