Update - Broadway Shutdown Extends To September 6 - Click Here
Glengarry Glen Ross - Broadway
Glengarry Glen Ross is a 1984 play written by David Mamet. The play shows parts of two days in the lives of four desperate Chicago real estate agents who are prepared to engage in any number of unethical, illegal acts from lies and flattery to bribery, threats, intimidation and burglary to sell undesirable real estate to unwitting prospective buyers.
Video preview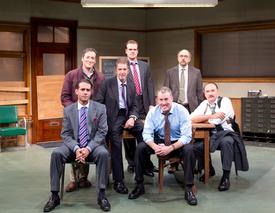 Photo preview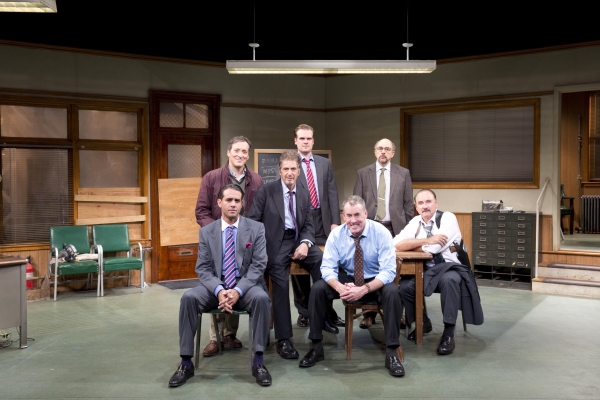 Schedule
Running Time: 1 hours and 45 minutes (one intermission)
Featured Reviews For Glengarry Glen Ross
Fugue for Wrung-Out Tinhorns - New York Times
The fight has gone out of the once-robust boys from "Glengarry Glen Ross,"...That sense of defeat has always lurked beneath the speeding dialogue of "Glengarry." But in Daniel Sullivan's deflated production...subtext has been dragged to the surface and beached like a rusty submarine. This is a "Glengarry" for a recessionary age...Whether comic or bitter, dialogue is often allowed to resonate in empty air...Much of the beauty of this play comes from its revved-up rhythms....though Shelly may be flushed with new confidence, he hardly inspires it...By the way, it doesn't look as if Shelly is addressing his fellow employees; his gaze is focused directly on us, the folks out there in the dark. This performance places Shelly firmly and dominatingly at the center of "Glengarry," which needs to be a tight ensemble piece. There's not much the other actors can do to compete with or even balance Mr. Pacino's grandstanding...The production's strange combination of comic shtick and existential weariness makes it feel rather like a long-running sitcom being filmed before a live audience that knows its characters' signature tics and flourishes by heart.
Glengarry Glen Ross, Gerald Schoenfeld Theatre, New York - Financial Times
Even in an only reasonably involving production, such as the new Broadway revival starring Al Pacino, we are reminded that, whatever the state of the playwright's recent fortunes – his latest play, The Anarchist , is being pulled from Broadway two months early after disastrous notices – his earlier work remains powerful enough to spawn envy.
Glengarry Glen Ross Broadway Cast