Fully Committed - 2016 - Broadway
Modern Family's Jess Tyler Ferguson returns to Broadway in the role of a lifetime!
Starring five-time Emmy Award nominee Jesse Tyler Ferguson and directed by Tony nominee Jason Moore (Pitch Perfect, Avenue Q), FULLY COMMITTED is the "hilarious and touching" (Time Out New York) comedy that takes a sharp skewer to the backside of the restaurant biz.
You think you're having a bad day at work? Meet Sam. He covers the red-hot reservation line at one of New York's most exclusive restaurants, juggling desperate diners, scheming socialites, name-dropping wannabes, celebrity divas, panicked waiters and a fame-hungry chef. And in this side-splitting tour-de-force, Ferguson plays all 40 characters!
Video preview
Photo preview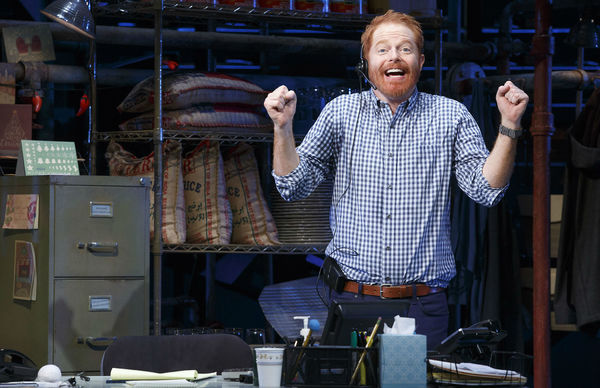 Schedule
Running Time: One hour and 30 minutes, with no intermission
Featured Reviews For Fully Committed
'Fully Committed': Theater Review - Hollywood Reporter
In Fully Committed, Jesse Tyler Ferguson plays Sam, the hapless staffer left to man the phone lines solo at the most in-demand high-end restaurant in Manhattan. Aided only by lightning-fast shifts of his voice and physical mannerisms, he also plays Sam's bosses and co-workers, as well as his family, friends and professional associates, and the constant stream of customers on the end of his phone line, lobbying vociferously for a table. The virtuoso performance is one that begs to be described as a comedic tour de force, and unquestionably, Ferguson's efforts command applause, as do those of director Jason Moore, who has provided almost non-stop business for the actor to juggle.
It's Restaurant Week on Broadway: Jesse Tyler Ferguson romps in 'Fully Committed' - Washington Post
"Fully Committed" has essentially a one-joke premise, which becomes apparent after about 20 minutes of ringing phones; a slender subplot revolving around Sam's recently widowed dad in the Midwest, whose fondest hope is that Sam won't have to work on Christmas, does add a soupçon of genuine warmth. The sustained enjoyment comes from the impressively controlled mayhem activated by Ferguson, under Jason Moore's savvy direction. The actor not only manages to soothe Sam's savage callers, but also the most judgmental of the evening's ticketholders.
Fully Committed Broadway Cast