Fully Committed - 2016 - Broadway
Modern Family's Jess Tyler Ferguson returns to Broadway in the role of a lifetime!
Starring five-time Emmy Award nominee Jesse Tyler Ferguson and directed by Tony nominee Jason Moore (Pitch Perfect, Avenue Q), FULLY COMMITTED is the "hilarious and touching" (Time Out New York) comedy that takes a sharp skewer to the backside of the restaurant biz.
You think you're having a bad day at work? Meet Sam. He covers the red-hot reservation line at one of New York's most exclusive restaurants, juggling desperate diners, scheming socialites, name-dropping wannabes, celebrity divas, panicked waiters and a fame-hungry chef. And in this side-splitting tour-de-force, Ferguson plays all 40 characters!
Video preview
Photo preview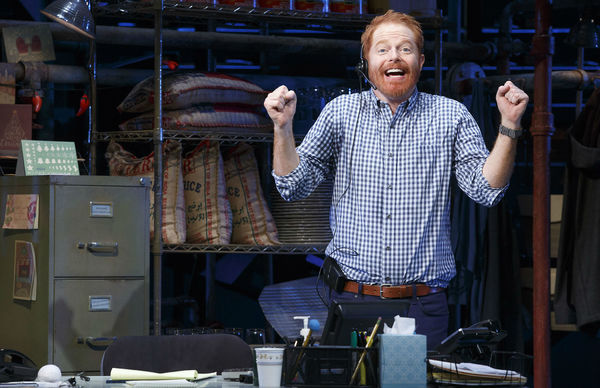 Schedule
Running Time: One hour and 30 minutes, with no intermission
Featured Reviews For Fully Committed
'Modern Family's Jesse Tyler Ferguson Is 'Fully Committed' (With Reservations): Broadway Review - Deadline
As it happens, I was once married to a restaurant like Sam's, and I can say with some authority that the hilariously aptly named Ms. Mode knows whereof she speaks...Tyler Ferguson navigates these human mountains and valleys, major torrents and tricky rivulets, with precision and even empathy; it's a virtuosic performance and the audience, you should pardon the expression, eats it up...At barely 70 minutes, Fully Committed is not so much a meal as an amuse-bouche, that clever little thingy the chef sends out before your meal to tickle your palate and show off his inventiveness, and is made of stuff you never heard of. A gulp and it's gone.
Theater Review: 'Fully Committed' - Bergen Record
He's not the world's greatest impersonator, and, especially at the beginning of the 80-minute show, some of the characters blur together. It's also distracting when he jumps out of his chair to briefly mimic the gestures of the unseen callers. But the show, directed by Jason Moore, soon settles down, and, despite not being a virtuoso of voices, Ferguson uses his performing skill and endearing personality to create a very engaging evening.
Fully Committed Broadway Cast