Fish In the Dark - 2015 - Broadway
Fish In the Dark is the new comedy written by Larry David, the creator and star of HBO's "Curb Your Enthusiasm" and co-creator of "Seinfeld." Fish In the Dark is directed by Anna D. Shapiro and marks Tony-winner Jason Alexander's Broadway return and features Jayne Houdyshell, Jake Cannavale, Jonny Orsini, Rosie Perez, and Jerry Adler.
Video preview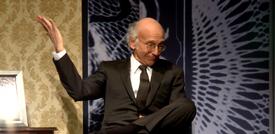 Photo preview
Schedule
Running Time: Two hours, with one intermission
Featured Reviews For Fish In the Dark
Theater Review: Fish in the Dark Is a New Domain for Larry David - Vulture
It's well built, occasionally thoughtful, and consistently very funny if not transcendently so. In short: You'll laugh, you'll cry - well, you'll cry when the Visa bill comes...for a playwriting debut, if not a Broadway acting debut, Fish in the Dark is amazingly confident and delivers what it promises. But it's got neither the cerebral gloss of Clybourne Park and Stage Kiss (to name two recent laugh riots) nor the solid emotional underpinnings of much older comedies like The Odd Couple, which is, after all, about men's loneliness. It's going for something else, and almost gets there."
Larry David Cracks Wise On Broadway – Not That There's Anything Wrong With That: Review - Deadline
Very funny. Occasionally very, very funny. Four-stars funny. If that's all you need to know about Larry David's Fish In The Dark...then read no more...Or maybe not. I'm not usually one to put a price on art but you may want to know a little more before shelling out...for a show that's as good as some episodes of Curb Your Enthusiasm and Seinfeld. (If that seems like praising with a damned feint, you've caught my drift.) Of course in this case you're getting the added thrill of seeing Larry David shrug, blink, holler, wince, pace and blurt, up close and personal. As a fan of both TV series, I can understand the attraction. I'm with you. On the other hand, to sample an image from the show itself -- a dining table laden with curated paninis, baby micro-greens, artisanal bagels, organic crudités and Diet Coke -- the show is too much of a muchness...Through it all, and under the fleet direction of Anna D. Shapiro, Larry David pays Larry David, also very convincingly...Of course, this is the age of binge-watching, so two hours of shtick can be satisfying. Or give you heartburn.
Fish In the Dark Broadway Cast