Update - Broadway Shutdown Extends To September 6 - Click Here
Fish In the Dark - Broadway
Fish In the Dark is the new comedy written by Larry David, the creator and star of HBO's "Curb Your Enthusiasm" and co-creator of "Seinfeld." Fish In the Dark is directed by Anna D. Shapiro and marks Tony-winner Jason Alexander's Broadway return and features Jayne Houdyshell, Jake Cannavale, Jonny Orsini, Rosie Perez, and Jerry Adler.
Video preview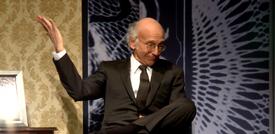 Photo preview
Schedule
Running Time: Two hours, with one intermission
Featured Reviews For Fish In the Dark
Review: Larry David's Broadway Play Is a Tedious Dead Fish - Associated Press
If you're wondering if you'll like Larry David's Broadway debut, "Fish in the Dark," you need to ask another question: Do you like "Curb Your Enthusiasm"? That's because David's new stage comedy is like his 30-minute HBO show, only stretched out over two hours so that what is usually a cringe-worthy appetizer on TV has grown into a tedious and self-indulgent main course onstage. What opened Thursday at the Cort Theatre will surely delight fans of David, the "Seinfeld" and "Curb" master of observational humor, who stars and wrote "Fish in the Dark." But it may leave others frustrated that a great cast, set and director were wasted...David stalks the stage like an overgrown, wiry insect -- a bespectacled Daddy Longlegs comes to mind -- as he stuffs his hands in his pockets or waves his arms around to sell his outrage. A self-satisfied smirk never seems far from his lips...Director Anna D. Shapiro keeps the action as brisk as a sitcom but this cold fish of a play would likely have ended up on the cutting room floor if it was made for TV...Talk about the one that got away: David had a chance to do something special here with a new medium and a game cast, but he chose to spin his wheels. He chose to go faux.
Fish in the Dark, Cort Theatre New York, review: 'adrift' - Telegraph
The Seinfeld creator and Curb Your Enthusiasm star's venture into new found territory at age 67 has clearly intrigued an avid public, but is the play itself any good? Possibly, if you want to watch a celebrity from one medium reprise material from another: a "pretty ... pretty" reference arrives late in the second act to cheers from an adoring crowd fully au fait with its TV provenance. Others may wonder whether so scattershot a piece of writing would have got this far without its physically rangy, bespectacled star attached. On stage, David's Norman Drexel forever looks as if he's going to teeter backwards, his notably large hands sawing the air for comic effect...The narrative moves on from the familial rancour that often attends funerals to a rampant smuttiness that exists in deliberately dubious taste...There are jokes about balls and boobs, Dominique Strauss-Kahn and Gaza, the second of which brings down the house. But for every line that sticks...numerous others don't...Perhaps it's left to Fish in the Dark to suggest that this is our adulthood: one mean-spirited, sour gag or situation after another -- in which case please pass the beef.
Fish In the Dark Broadway Cast