Clybourne Park - 2012 - Broadway Tickets, News, Info & More
$50.00 to $127.00 (Premium seating from $137.00 to $199.00)
In CLYBOURNE PARK, which also won the Olivier Award for Best New Play, Bruce Norris imagines the history of one of the more important houses in literary history, both before and after it becomes a focal point in Lorraine Hansberry's classic "A Raisin in the Sun." In 1959, the house, which is located in a white neighborhood at 406 Clybourne St. in Chicago, is sold to an African-American family (the Younger family in "A Raisin in the Sun"). Then in 2009 after the neighborhood has changed into an African-American community, the house is sold to a white couple. It is through this prism of property ownership that Norris' lacerating sense of humor dissects race relations and middle class hypocrisies in America.
Video preview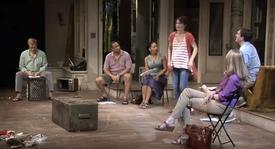 Photo preview
Schedule
Running Time:
2 hours 5 minutes (one intermission)
Featured Reviews For Clybourne Park
Clybourne Park: Theater Review - Hollywood Reporter
A lot has been written about Bruce Norris' 2011 Pulitzer winner – in its original Off Broadway run; its hit London production, where it won the Olivier Award for best play; and in its recent Los Angeles stop. So much, in fact, that it seems almost superfluous to weigh in so late on this meaty satirical swipe at ingrained prejudices and the way we address them – or fail to. But the fresh revelation is how well Clybourne Park plays on Broadway. In Pam MacKinnon's expert staging, this is provocative entertainment that generates as much uneasiness as laughter.
Clybourne Park Broadway Review - Faster Times
On the whole well-acted, and wonderfully directed by Pam MacKinnon making her own Broadway debut, "Clybourne Park" has provocative things to say about race relations, about community, about our failures at communication, about whether generational change is real change. It says them with humor and with insight. There are also some moving moments, and eerie moments that can pass for moving. The play is without question worth seeing, the reward of doing so the satisfaction not only of crackling theater but of keeping up with what's happening in the culture. But will "Clybourne Park" endure the way "A Raisin in the Sun" has? Will it stir people 50 years from now?
Clybourne Park Broadway Cast