Clybourne Park - 2012 - Broadway
$50.00 to $127.00 (Premium seating from $137.00 to $199.00)
In CLYBOURNE PARK, which also won the Olivier Award for Best New Play, Bruce Norris imagines the history of one of the more important houses in literary history, both before and after it becomes a focal point in Lorraine Hansberry's classic "A Raisin in the Sun." In 1959, the house, which is located in a white neighborhood at 406 Clybourne St. in Chicago, is sold to an African-American family (the Younger family in "A Raisin in the Sun"). Then in 2009 after the neighborhood has changed into an African-American community, the house is sold to a white couple. It is through this prism of property ownership that Norris' lacerating sense of humor dissects race relations and middle class hypocrisies in America.
Video preview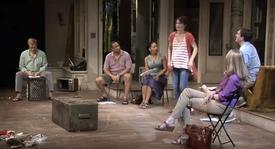 Photo preview
Schedule
Running Time: 2 hours 5 minutes (one intermission)
Featured Reviews For Clybourne Park
Clybourne Park: Theater Review - Hollywood Reporter
A lot has been written about Bruce Norris' 2011 Pulitzer winner – in its original Off Broadway run; its hit London production, where it won the Olivier Award for best play; and in its recent Los Angeles stop. So much, in fact, that it seems almost superfluous to weigh in so late on this meaty satirical swipe at ingrained prejudices and the way we address them – or fail to. But the fresh revelation is how well Clybourne Park plays on Broadway. In Pam MacKinnon's expert staging, this is provocative entertainment that generates as much uneasiness as laughter.
Broadway review: 'Clybourne Park' - Philadelphia Inquirer
The cast on Broadway has come from a production in Los Angeles, staged at the same time Philadelphia's Arden Theatre Company was running its own. The Arden's version, directed by Ed Sobel, came off a bit differently than the Broadway production, which opened Thursday night. The second act — when Norris really lets loose with his characters' intimations about racial issues surrounding the sale of a property to a white couple in a solid and upscale African American neighborhood — is mined more for laughs on Broadway, where it's directed by Pam MacKinnon. The Arden's production, while undeniably funny, was more intense as it progressed, giving the issues at stake a higher focus. While that's the interpretation I prefer, there's nothing awry about the show on Broadway, where it provides all the food for thought and lets you do the grazing by yourself.
Clybourne Park Broadway Cast