China Doll - 2015 - Broadway
A two-character play about a billionaire, Mickey Ross, who has just bought a new airplane for his young fiancee as he prepares to go into semiretirement; the other character is Carson, Ross's assistant.
Written by Pulitzer Prize and Tony winner David Mamet, CHINA DOLL will star legendary actor Al Pacino.
Mr. Pacino will be joined on stage by Fran Kranz (You Can't Take It With You, Death of a Salesman, "Dollhouse"), under the direction of Tony Award-winner Pam MacKinnon (The Heidi Chronicles, Edward Albee's A Delicate Balance, Edward Albee's Who's Afraid of Virginia Woolf?, Clybourne Park).
Photo preview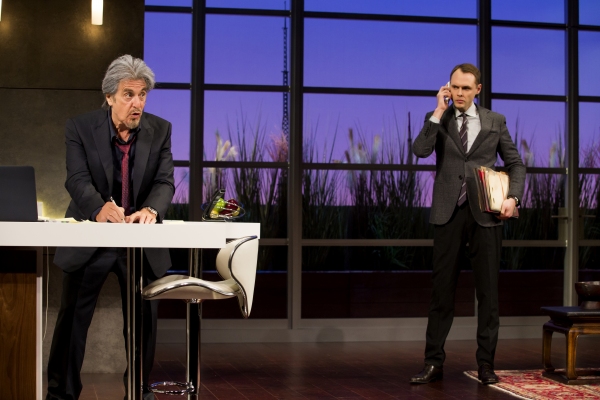 Schedule
Running Time: Two hours and 10 minutes, with one intermission
Featured Reviews For China Doll
'China Doll' review: Zero stars for dreadful David Mamet play with Al Pacino - NY Daily News
David Mamet said his new play, written for frequent muse, Al Pacino, would be "better than oral sex." Oral sex? "China Doll" is not even better than oral surgery. At least for that sort of medical procedure you get painkillers. And it's not a complete waste of time and money. "China Doll" - henceforth "China Dud" - is both. Pacino is Mickey Ross, who's on his cellphone for three-quarters of the show. Not the stuff of great drama...Director Pam MacKinnon...makes only one discernible contribution. She signed off on one of the clumsiest, least convincing fights ever on stage...Pacino fails to make phone calls anything but drudgery. He lacks authority playing this millionaire and he doesn't get traction from his customary eccentricities. The trademark shrugs, hand gestures, wide eyes and that gravelly voice feel like the same old, same old.
'China Doll' review: David Mamet, Al Pacino have unhappy reunion - amNY
For the most part, "China Doll" is a rambling, incoherent monologue. Since we never hear from the people that Pacino is speaking to by phone, it is the equivalent of a conversation where half the lines are missing...With big gestures and expressions, Pacino delivers a highly worked-up, outlandish performance that could be interpreted as a desperate attempt to add entertainment. Despite the play's problems, Pacino's theatrics throw it off further dramatically. The visual opulence of Pam MacKinnon's production is also questionable. It would be interesting to compare this with a leaner production of the play. But on second thought, it may be best to just put "China Doll" to rest.