China Doll - 2015 - Broadway
A two-character play about a billionaire, Mickey Ross, who has just bought a new airplane for his young fiancee as he prepares to go into semiretirement; the other character is Carson, Ross's assistant.
Written by Pulitzer Prize and Tony winner David Mamet, CHINA DOLL will star legendary actor Al Pacino.
Mr. Pacino will be joined on stage by Fran Kranz (You Can't Take It With You, Death of a Salesman, "Dollhouse"), under the direction of Tony Award-winner Pam MacKinnon (The Heidi Chronicles, Edward Albee's A Delicate Balance, Edward Albee's Who's Afraid of Virginia Woolf?, Clybourne Park).
Photo preview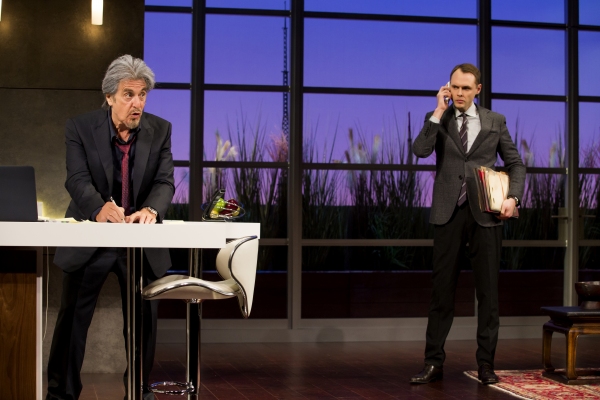 Schedule
Running Time: Two hours and 10 minutes, with one intermission
Featured Reviews For China Doll
Mamet's 'China Doll,' With Pacino in the Lead, Proves Fragile - NBC New York
Mickey spends most of "China Doll" yammering away in one-sided conversation...Pacino doesn't veer far from his usual delivery, working in a characteristically disheveled and hot-tempered fashion...Mamet raises subjects that feel provocatively timely. One need only skim the business pages to read about the Foreign Corrupt Practices Act, and a crack about politics...earns the biggest reaction of the night. But "China Doll" too often gets itself revved up with no place to go and no clear position. The climax, which occurs impossibly soon after the events that set it in motion, would have benefited from a firmer hand by director Pam MacKinnon ("The Heidi Chronicles"). "China Doll" is muddled, but it's still a treat to see Pacino, even if we're not always sure what he's doing.
Al Pacino grabs attention in Mamet's 'China Doll' - USA Today
In Mamet's new play, China Doll (*** out of four stars)...both businessmen and politicians take their lumps, but the latter emerge as the real scourge...During much of the play, Mickey is on the phone, making his case to different key players whom we neither see nor hear. The only other character present is his assistant Carson, a stoic but patently ambitious young fellow played with marvelous discretion by Christopher Denham...Pacino, stooping slightly, paces and gesticulates; his pauses and occasional mumbled lines (others are shouted, with sometimes alarming intensity) seem entirely in character...The play itself is not always coherent, veering from obvious political commentary...to recurring references to "seduction" and "protection" in male-female relationships...But if China Doll is sometimes shaky or confounding, it is never boring. Whatever Mamet's points, he and Pacino consistently engage us -- which is more than you can say for a lot of the folks the playwright is targeting here.