Catch Me If You Can - 2011 - Broadway
CATCH ME IF YOU CAN is based on the book and hit 2002 DreamWorks film of the same name directed by Stephen Spielberg with screenplay by Jeff Nathanson and book by Frank Abagnale, Jr.
CATCH ME IF YOU CAN captures the astonishing true story of Frank Abagnale, Jr., a world-class con artist who passed himself off as a doctor, a lawyer, and a jet pilot-all before the age of 21. With straight-arrow FBI agent Carl Hanratty on Frank's trail, we're off on a jet-setting, cat-and-mouse chase, as a jazzy, swinging-sixties score keeps this adventure in constant motion. In the end, Agent Hanratty learns he and Frank aren't so very different after all, and Frank finds out what happens when love catches up to a man on the run.
Video preview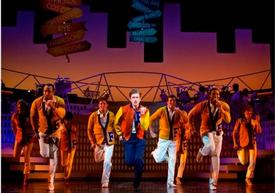 Featured Reviews For Catch Me If You Can
Catch Me If You Can - Variety
Strongest contribution is from the music department, with a big band sound coming from alive-and-onstage band. Conductor John McDaniel presides from a perch in the stage right corner, bobbing along to swinging orchestrations by Shaiman and Larry Blank. That musical sound and the perfs from Butz and Tveit (with assists from the briefly seen Butler and Hart) offer considerable entertainment value. Sadly, though, this "Catch" of the day is not especially compelling.
'Catch Me' doesn't capture art of the con - USA Today
One feat that Abagnale did not attempt was writing and starring in a stage musical about his youthful adventures. And now we know why. Not that Catch Me If You Can (* * ½ out of four), the new Broadway show based on the aforementioned film and autobiography of the same name, is a dud. Boasting a score by the famously witty team of Marc Shaiman and Scott Wittman and a book by Terrence McNally, Catch Me is too ambitious and stylish in its efforts to entertain and move us to induce boredom. The main problem with this production, which opened Sunday at the Neil Simon Theatre, is that only one of the two leading men is consistently compelling. And it's not the one playing Abagnale (Aaron Tveit).
Catch Me If You Can Broadway Cast