Catch Me If You Can - 2011 - Broadway
CATCH ME IF YOU CAN is based on the book and hit 2002 DreamWorks film of the same name directed by Stephen Spielberg with screenplay by Jeff Nathanson and book by Frank Abagnale, Jr.
CATCH ME IF YOU CAN captures the astonishing true story of Frank Abagnale, Jr., a world-class con artist who passed himself off as a doctor, a lawyer, and a jet pilot-all before the age of 21. With straight-arrow FBI agent Carl Hanratty on Frank's trail, we're off on a jet-setting, cat-and-mouse chase, as a jazzy, swinging-sixties score keeps this adventure in constant motion. In the end, Agent Hanratty learns he and Frank aren't so very different after all, and Frank finds out what happens when love catches up to a man on the run.
Video preview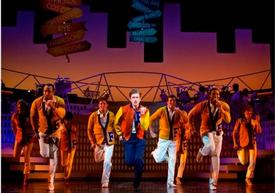 Featured Reviews For Catch Me If You Can
Catch Me If You Can - Backstage
Under Jack O'Brien's impersonal direction, the talented cast works hard to make an impression. As Frank, Aaron Tveit has stage presence, sings powerfully, and dances with pizzazz, but he's unpersuasive as a teenager and misses the character's vulnerability. The role of Hanratty has been retooled to fit Norbert Leo Butz's wonderfully shlumpy eccentricity, and the actor brings all his formidable musical comedy skills to bear on it, but even the heroic Butz can't transcend the synthetic material. As Frank's downward-spiraling father, Tom Wopat sounds the evening's sole notes of genuine humanity but can't finesse a final exit of extreme bathos. In the too little, too late role of Brenda, a young nurse Frank falls for, Kerry Butler offers her trademark ditziness and is saddled with the painfully pointless "Fly, Fly Away," a misguided attempt at a late-Act 2 showstopper.
'Catch Me If You Can' Looks Good But Lacks Heart - The Hollywood Reporter
There's nonetheless much to savor in a production polished to a high sheen. Marc Shaiman and Scott Wittman again prove themselves an ace songwriting team. Their score evokes cocktail lounges, glitzy floorshows, Rat Pack suaveness, mellow jazz and energized go-go, all wrapped up in Shaiman and Larry Blank's silky-smooth '60s-styled orchestrations. And Mitchell's choreography puts a vigorous period-appropriate spin on every number. As Hanratty, Butz (a Tony winner for Dirty Rotten Scoundrels) does nuanced work balancing the jaded, paunchy slob with the wisecracking professional, driven in his quest to catch Frank yet plagued by the melancholy awareness that his job is his life. The boyishly handsome Tveit, who turned heads in Next to Normal, graduates to a lead role with sparkling self-assurance, strong pipes and natural charm. He makes it easy to like Frank, even if the show makes it hard to love him.
Catch Me If You Can Broadway Cast